Whenever a person leaves his job it is always a good gesture to send a farewell letter to his or her colleague. So before you leave your job take a little time and compose a farewell letter to your colleague who had worked with you. Apart from that, writing a farewell letter also helps you to leave your job in good terms. You should never forget that the people who had worked with you are always an important part of your network. It is very important to keep in touch with your network as they may be very helpful to you in the future. They can also help you in your career in one way or the other. As such you should never miss this opportunity to write a farewell letter to your colleague if you ever resign from your post. But it is true that writing a farewell letter is a very emotional matter and it is very important to be very careful while composing the letter. You must know how to write an impressive farewell letter and that is the reason why we have come up with a standard farewell letter template, format as well as sample so that you can easily understand what to write and what not for composing an impressive farewell letter at the time of leaving the company.
Template for writing a goodbye letter to co-workers
The following is a standard template for writing a goodbye letter to co-workers or colleagues: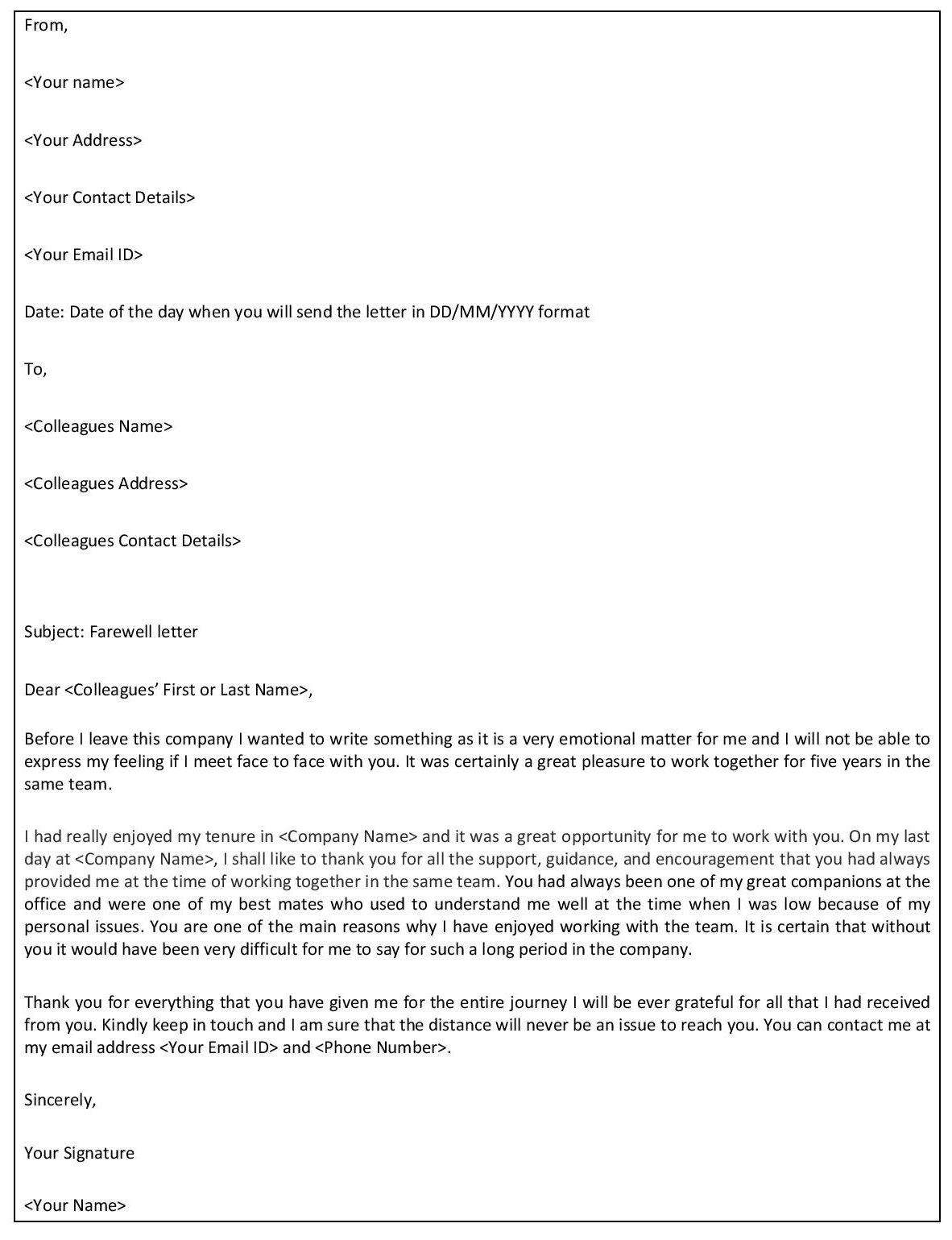 Format for writing a Farewell letter
Just like any other business letter, you must follow the following standard format while writing the farewell letter:
• You should always start the letter in a positive note and it is very essential to mention how comfortable and enjoyable it was for you to work with the co-worker or colleague.
• You should be thankful to your colleague and must express your gratitude to your colleagues. You should never forget to thank your colleague for the good time that you shared with him. If your colleague had helped you in achieving success it is a great opportunity for you to thank him on your last working day. You must express your gratitude to him and must tell him that it would have never become possible for you to achieve success without his support.
• It is certainly your personal choice whether to let your colleague know why you are leaving the job and where you are going but since the farewell letter is a kind of formal letter it is better not to specify all these details. If you feel that you should give these details to your colleague it is always a good idea to tell him about all these details while meeting him in person rather than expressing in the letter.
• You should always provide your contact details in the letter. This will help you to keep in contact with your colleague as he will be able to contact you at any time whenever he wishes.
• Last but not least you should go through the letter multiple times before sending the letter to your colleague so that you can make sure that there are no mistakes in the letter.
Apart from this check out the Holiday Calendar 2020.