Biking is a thrill that most seek for during an adventurous trip especially on route that are off-roads in the hill areas or some even like to just opt for bike rentals so as to get their hands on the latest model before anyone else to show off the exclusivity on the daily, in short that's the craze that drives in when you are struck with a good bike whether it's the modern KTM Duke or a good old classic like Royal Enfield, whatever your taste is, you will definitely find a bike on rent that suits you.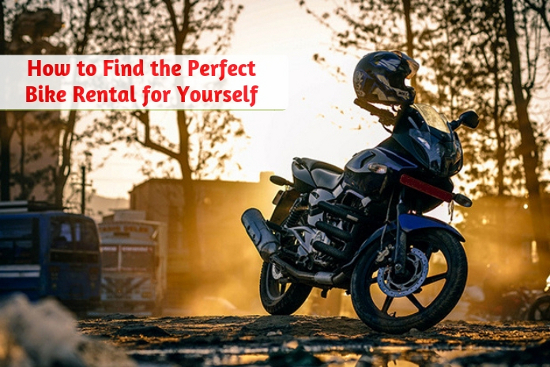 Now getting bikes on rent is common for most when they are going out on the trips whether solo or with friends but usually people get bikes on rent from local vendors either from their own place or the place they are going to visit. All of this can be very gruesome and can lead to a lot of paperwork and can get out of budget, that's why one should always look for better options available in the market in this day and age because who knows what good deal could be right around the corner, now who would want to miss out on that?
So, what are the tips that one should keep in mind while you rent a bike to cruise down the roads?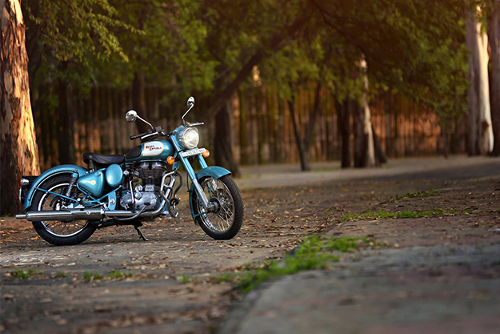 Here's how to make sure you are always in benefit overall when you rent a bike:
First and foremost, the question is where to look for renting? Now as most know local rentals are all available in the offline market but as we discussed how long and tiring can the whole process be and not to forget costly as well, so what one must do?
– Well the good thing about our growing economy is that there are plenty of brands who are coming up with their own schemes in order to provide efficient bike rentals to its consumers.
There are multiple ways one can just rent a bike online, submit documents and just wait for the delivery of their bike on the desired date given.
– Once you have your desired bike with you, make sure the company that you are opting for provides you with all the necessary bike papers so you are secured once you take your new rental ride out on the streets. Documentation check is very important both while providing your own for verification to the company as well getting the required papers at the time of delivery for the bike.
– Look for the desired bike on all the service providers sites, nowadays you can get any model whether it's basic or the latest in the market, you just need to look out for you taste and style and opt for the bike on rent that would fit for you, make sure you calculate the whole budget before making the decision because most companies provide the tenure without fuel, so definitely look into that first.
– Since we are on the topic of money, it's fair to discuss the final cost that would add up in your budget once you get a bike on rent, honestly renting as a whole industry only makes sense if you are looking for short term tenure periods for your needs or whether you want to switch up your style every now and then, in both the cases it is highly cost effective and works to fit right in your budget according to the needs.
– Never ever forget to carry spare toolkit along with you on a bike ride especially when one is going for a trip, doesn't matter if it is solo or with friends, a proper toolkit could help in even worse conditions for the bike, since it is common to get a puncture especially on an Indian roads, off road or not. On the side, it is also safe to have a small bottle of oil with the toolkit, you never know when one might end up needing it.
– Road rules and safety are often overlooked especially in India, so this tip should technically be at the very top in order to highlight the importance of this point that one must should always have their helmets in check and should always follow the enforced rules by the government for their own and other people's safety around them.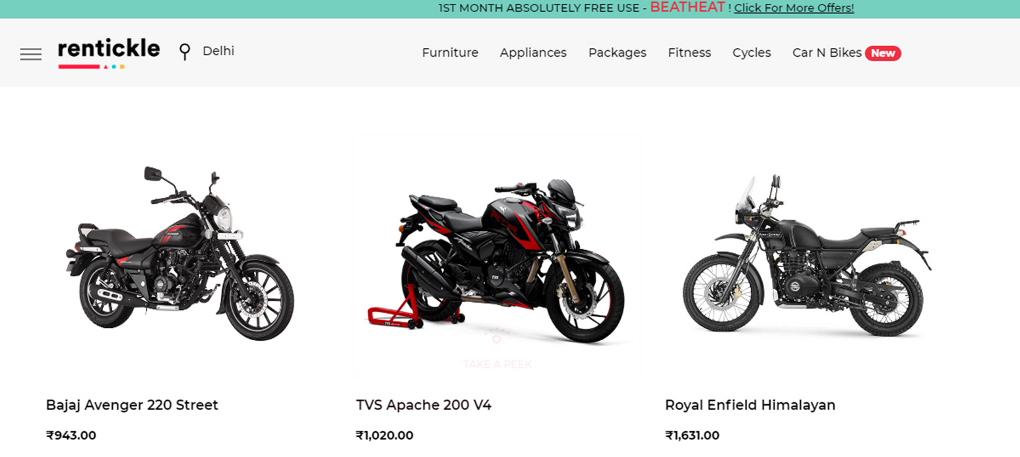 Now having said that, one must wonder which rental companies should he or she actually go for, so here's the list of few companies from where you can rent a bike for yourself:
Rentickle, wheelstreet, royal brothers, rent trip etc, and the list goes on – however if we really have to pick one then it would be Rentickle since we absolutely loved their bike collection, it's quite carefully curated with basic models to classic high end models but all provided within a specific price range which is quite budget-friendly considering how high can bike rentals really go these days, especially in the local markets.
Not only that, Rentickle also provides other categories like furniture and appliances and even cars along with bikes which is quite great!
They do come with additional benefits like Fast Delivery, Free maintenance, Easy Returns and Free Relocation.
Bike rentals as an industry has really grown a lot in the recent years since it's low cost and easy available in most cities and is just all around better than actually handling your own vehicle or invest money in buying a new one. And, all the added benefits are like a cherry on top, which works well for everyone.