The world we live in is data-driven. The digital age has revolutionized the way we produce and consume information, but few have fully adapted to this new reality. In order to be successful in this new environment, leaders must learn how to lead a data-driven culture.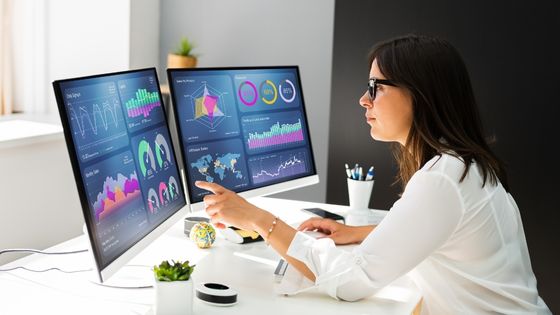 This blog intends to define what it means to lead in a data-driven world, provide examples of how companies are leading a data-driven culture, and suggest learning tools for individuals who want to incorporate more data into their decision-making process.
Learning to Interpret Data
One of the most important skills a leader can have to lead a data-driven culture is learning how to interpret data. There are many sources where one can find data such as surveys, gauges, and trend lines. Every piece of data presents itself differently and has its own strengths and weaknesses. To be an effective leader, one must be able to decipher these different types of information. Studying for an online MSAE degree can teach you the skills needed to excel in a data-driven world.
What it Means to Lead a Data-driven World
Leaders of innovative companies have the opportunity to define their organizations' culture and lead their people to become more involved with the data that matters most.
On the one hand, leaders can define how their company operates and act as role models by making decisions based on quantitative data. On the other hand, they can use new technology and experimentation in decision-making processes, allowing individuals within the company to approach problems with more insight rather than relying on a limited set of opinions.
Does an MS in Applied Economics Really Help?
Graduates of an MS in Applied Economics can go on to work in many different industries, but also have the flexibility to move into several roles that deal with quantitative data. Graduates can work at a bank, stock brokerage, hedge fund, or even a consulting firm.
Many organizations are increasingly asking their employees to take part in a culture that revolves around being data-driven. Whether this involves collecting information through surveys or using more advanced technology such as sensors and tracking devices, the most innovative companies are using quantitative information to gain a competitive advantage in the market.
Command a Higher Salary
There are many benefits to being a quantitative analyst. Despite the amount of experience you have, companies will still be willing to pay you more because they know that you have superior skills in the area of quantitative data. These companies may also offer bonuses based on what they see as your contribution to the company's success, particularly how you can inspire and lead others within the organization.
If you love working with numbers and want a career where you can help your organization learn how to make better business decisions, consider earning your Master of Science in Applied Economics online. Earning your online MSAE degree can help you be more prepared to lead a data-driven culture, whether at your current organization or in the next position.