Properly taking care of your appliances will ensure they last longer and always work in their optimal condition. But there are inevitable instances when they get damaged because of unforeseen circumstances. When these situations arise, the first thing to do is request professional assistance from a company that offers home appliance repair services.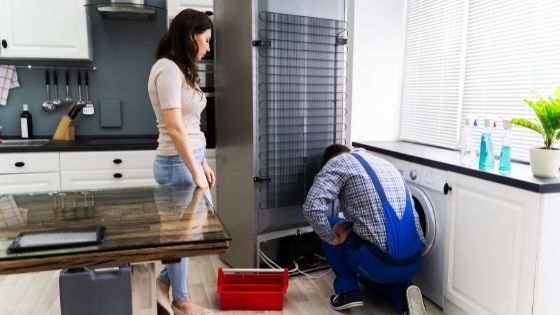 In most cases, the company will send a technician to your residence to check your broken unit. This is especially so if the damaged appliance is bulky and heavy, like a refrigerator, washing machine, or dryer. When looking for a technician to do appliance repair services, you shouldn't forget to ask them these important questions:
Question #1: How Long Have You Been Repairing Appliances?
An inquiry about this topic will help you get an idea of how much experience they have. If they've been in the business for over a decade, there's a huge chance of them being particularly skilled. This means it's highly likely they'll deliver great service and fix your broken unit quickly and properly. After all, spending many years repairing damaged appliances lets them acquire more knowledge and skills. They know the best tricks of the trade, so you can rest assured you are in good hands.
However, do not misjudge young professionals who are only starting. They might not have too much of an experience, but they surely received enough practical training from school and apprenticeships. So, they'll still be able to fix your broken home appliance, especially if it has only sustained minor damage.
Question #2: Do You Have Any References?
When hiring a technician, no matter if they're a young professional or a veteran in the field, you should always inquire about any references they can give. Trusted appliance mechanics will always provide you two or three people who they've worked with. They can either be colleagues or past customers that can vouch for their skills and professionalism.
Take time to contact these references to learn more about the technician you hired. You can ask about the technician's work ethic or any other question related to their occupation. This way, you can get an idea if they're the right person for the job or if you should ask their company to send another one.
In some cases, the technician might not be able to give references. Instead, they might direct you to some of the reviews on their website. Be sure to check them out, too. So if you're looking for a top-rated appliance repair technician, you can check out this website.
Question #3: How Much Will Home Appliance Repair Service Cost?
Asking about the estimated cost of the repair service lets you know whether it fits your budget. If you're a little short on funds, you can try haggling a bit and politely ask for a reasonable discount. Many technicians usually grant these requests and lower their rates by a small amount. Otherwise, you can respectfully tell them that you don't have enough money to pay for the costs. If the broken appliance is something you rarely use, you can try holding off the repairs until you have enough funds. You can also try looking for other companies who might do the repair at a lower rate.
If you already know the cost of repair and think that it fits your budget, you can ask a follow-up question. Try to learn what is covered by that amount. A good technician will give you a breakdown of the estimated cost, and you're free to scrutinize each item. A chunk of the amount you'll pay will be used to buy new parts to replace broken ones. Some will go to the labor fee of the technician, too.
Question #4: Do You Offer Service Warranties?
Always remember to ask about their warranty offers. Trusted companies are confident about the service they deliver to their customers, but they also offer a reasonable warranty. Inquire what it covers and how long it lasts. Most warranties grant clients with a free service. This is usually when the appliance suffers from the same kind of damage a few weeks after the technician fixed it.
These are the things that you should learn from your appliance repair technician before they start the job. Knowing the answers to these questions lets you make a sound decision whether you should push through with the repairs or try to find a new company.