In the pursuit of nurturing future talents and helping students excel academically, it is crucial for schools and educational institutes to provide effective JEE exam preparation programs. Introducing these special preparations in schools will not only make the students aware of the entire syllabus thoroughly but will also help them gain confidence when appearing for the same. The Joint Entrance Examination (JEE) is an important milestone for students aspiring to pursue engineering careers in India. Let's explore how to streamline JEE exam preparation in school, highlighting the benefits of integrated school programs in this journey.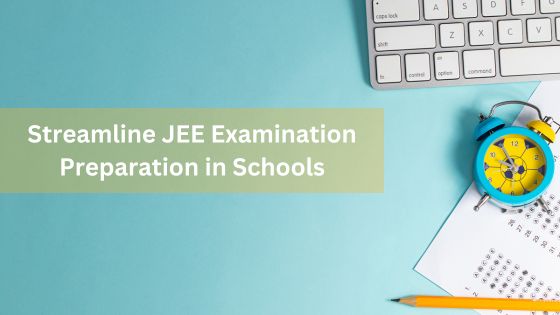 ● How JEE Exam Preparation Helps Schools
Before we look into the specifics, let's briefly understand the significance of JEE exam preparation. JEE is a highly competitive examination that serves as a gateway to prestigious engineering institutions across the country. By preparing students for this exam in schools, institutions can appeal to more engineering aspirants who want to crack and ace the exam. This way, schools can also groom and retain the top performers after the 10th examination. This enhances the academic prestige and excellence of schools that introduce JEE preparation.
● The Role of Schools and Educational Institutes
Educational institutions can play a pivotal role in guiding and supporting students through their JEE exam preparation journey. By establishing an effective and integrated program, schools can empower students with the necessary knowledge, skills, and strategies to excel in this competitive exam.
● Steps to Streamline JEE Exam Preparation in School
1. Comprehensive Curriculum – Ensure your curriculum aligns with the JEE exam syllabus and incorporates relevant topics, concepts, and problem-solving techniques. Balancing the regular curriculum and JEE-specific topics is crucial to avoid overwhelming students.
2. Experienced Faculty – Engage qualified and experienced faculty members who possess expertise in teaching JEE-related subjects. Their knowledge and guidance can significantly impact students' understanding and performance in the exam.
3. Mock Tests and Practice Papers – Regularly conduct mock tests and provide practice papers to familiarize students with the exam pattern and enhance their time management and problem-solving skills. This practice will also help students gauge their progress and identify areas for improvement.
4. Personalized Attention – Recognize that every student has unique strengths and weaknesses. Offer personalized attention and support to students, identifying their areas of improvement and providing targeted guidance. This individualized approach will enable students to overcome their challenges and perform better in the exam.
5. Technology-Enabled Learning – Embrace technology to enhance JEE exam preparation. Online learning platforms, such as the school-integrated program offered by Extramarks, provide interactive study materials, video lectures, and adaptive assessments to cater to diverse learning styles and make the learning experience engaging and effective.
● The Extramarks Advantage
Extramarks' school integrated program is a great solution that can benefit your institution in streamlining JEE exam preparation. The following are the several advantages of integrating their solutions:
1. Live Classes – Extramarks provides regular live classes for students that help them get knowledge on one to one basis and ensure they clear their doubts at the very beginning stage with the help of expert faculty.
2. Interactive Learning – Extramarks offers a unique blend of interactive content, including animated videos, simulations, and virtual labs, which make complex concepts easier to understand and retain.
3. Study Material – For a competitive examination, it's important that the student possess the right study material from a good source. Extramarks help students get the most accurate study material that ensures proper learning and easy acquiring of knowledge.
4. Progress Tracking – The platform provides comprehensive progress-tracking features, enabling educators to monitor individual student performance, identify areas of improvement, and offer personalized support.
5. Recorded Lectures – With the Extramarks application, students can get 24×7 access to a wide range of lecture recordings, notes, and video solutions, enabling them to learn at their own pace and convenience. It covers all the necessary concepts, providing comprehensive syllabus coverage so students stay ahead in their learning journey.
6. Adaptive Assessments – Extramarks' adaptive assessments analyze each student's strengths and weaknesses and generate customized question sets. This adaptive approach ensures that students focus on their areas of improvement, maximizing their exam preparation efforts.
By streamlining JEE exam preparation in schools and educational institutions, students can have a solid foundation to succeed in this competitive exam. Integrating an effective program, such as Extramarks' school integrated program, can significantly enhance students' understanding, engagement, and performance. Remember, preparing students for the JEE exam is not just about achieving high scores but also empowering them with lifelong skills and knowledge that will shape their future engineering careers.