When it comes to traditional outfits for men, there aren't many options to explore unlike women, but don't let the limited options stop you from looking like a Bollywood hero in a kurta for men. Kurta for men, however, comes in various styles and designs so you've got yourself quite a few options to explore for any given festive occasion.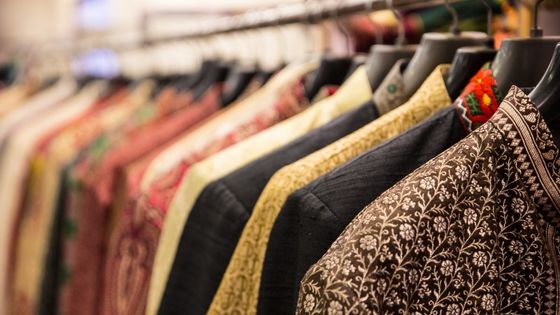 Now each style and design can be worn uniquely and we are here to help you in that department. All you need is to get the right tailored kurta and a right set of pants to go with that particular kurta. Let's break down a few kurta for men and different ways you can wear them.
1. Full-sleeved short kurta – This kurta for men can be worn with literally any set of pants. It also gives off a bit of a western vibe once to roll up the sleeves, and pair it with white or black slim-fit pants or jeans. Since a full-sleeved short kurta looks similar to a t-shirt, it can be worn with shorts as well.
2. Ethnic short kurta with mandarin collar – An ethnic printed short kurta with mandarin collar can we worn with white straight fit pants of dhoti-style pants, giving you an uber cool urban vibe. You can accessories your ensemble with kohlapuri chappals and some beaded bracelets.
3. Long textured kurta with mandarin collar – This type of kurta for men is the perfect select for festive occasions. The plus point of wearing a long full-sleeved kurta is it's got pockets! Now if you are going for a polyester material, you are for sure going to shine everywhere you go and might as well catch a few eyes on you. Pair it with white pajama pants and loafers for the bottoms. The maintenance of this kurta is not much either, all you need to do it put it in the washing machine and let the machine do it's job for you.
4. Embroidered long kurta – This full-sleeved long kurta has a band collar with 4-5 buttons surrounded by a beautiful embroidery. It also has pockets and 2 side slits for comfortable leg movement. Pair this kurta with white straight-fit pants and black or brown loafers.
5. Band collar mid length kurta – For semi-formal events, opt for a mid length printed or striped kurta with band collar and 3/4th sleeves and pair it with brown, white, beige or black tailored pants. It also features a pockets, button placket and a curved hemline, so it's a perfect kurta for men who wish to wear short kurtas but as short.
Keeping these kurta types and styles in mind, there's one more accessory/clothing that can change your entire ensemble, and that is a kurta jacket or a nehru jacket. A kurta jacket vest can be worn over a mid-length kurta. Just choose a solid mid-length kurta and layer it with a printed jacket vest in a contrasting colour, and as for the bottom, you can never go wrong with white churidar pants or pajamas.