The computer has become an essential part of our lives as well as in every field too. Today, the dependency on computers is increased and there is no field left where science and technology don't make their mark of excellence. The entire field whether it is social, professional, defence or many more completely depends on computers.
In this modern digital world, everything is computerised. We all are rushing towards new technology as it becomes a need for every single person. The advanced technology makes the work fast, and error-free, and meets the needs very conveniently and easily. In simple words, advanced computer technology makes everything in just one click.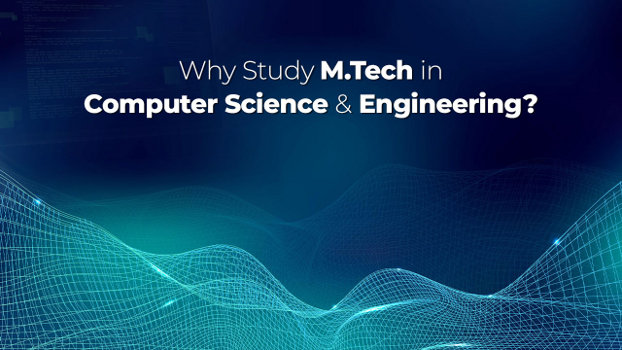 As the era is converting into digital form, young aspirants eagerly want to learn about the design and understanding of computers and its process. Thus, Computer Science and Engineering is the course that is demanded the most in the current scenario.
Today Computer Science Engineering is counted as a highly advanced and diverse field of education. Currently, the dependency on computers and technology is huge thus there are surplus opportunities opened in this particular field.
Having the best education to gain ample knowledge in M.Tech in Computer Science and Engineering is the most popular and significant course to join for the best career achievements.
What is M.Tech Computer Science And Engineering?
M.Tech Computer Science and Engineering (CSE) is a post-graduate program belonging to science stream students. The students who completed their B.Tech Engineering in Computer Science can pursue their masters in the same field. CSE is a course that deals with areas of computer science and its applications like designing, networking, algorithms, developing, and many more. This course also involves an understanding of programming languages and computational processes. It is a 2-year post-graduation program divided into 4 semesters including the area of study i.e. operating systems, cloud computing, advanced database management, computer graphics, and visualisations. In India, you will find countless Computer Science & Engineering colleges that offer Master in Technology courses in the domain of computer science and engineering.
Benefits Of Studying M.Tech CSE
1. Can Pursue Higher Education – Students who hold an M.Tech degree can continue their studies further. PhD is a great option to pursue higher education. Having a PhD will help you to start your career with great success in the field of research and development.
2. Plenty of Job Opportunities – Great qualifications always provide great opportunities. Professional students who hold an M.Tech degree avail better job opportunities in the industry because of the knowledge and better training in the particular field.
Students can get the scope to work in the fields of computer hardware and software implementation, web designing, database management, multimedia, gaming, web development, computer hardware, and software maintenance. There are some more career opportunities are-
Software Engineer
IT Support Technician
Software Programmer
System Engineer
Software Tester
Multimedia Programmer
Programmer Analyst
Project Manager
Software Developer
Data Analyst and many more.
There are numerous job opportunities for M.Tech degree holders to build up their careers in any field of work. Recruiting companies are always there to hire the best aspirant.
3. Starts Your Career With Better Salary Package – Companies always lookout for highly qualified and skilled candidates to perform in the industry and provide them with huge salary packages. Higher qualification always uplifts your salary packages and experience will automatically increase the annual salary packages simultaneously. Both government and private sector (IT industry) offer higher salary packages to master's degree holders. The average annual salary of M.Tech CSE ranges between INR 4Lacs to 7 Lacs.
4. Can Work In Diverse Fields – M.Tech Computer Science and Engineering provides you with the scope to work in different fields of science and technology. Students holding this qualification have great opportunities to work in various areas of computer engineering also. As this degree covers a wide area of knowledge and training about the principles of computer science and technology like Information Technology, Database Management, cloud computing, and many more. Thus, the doors are open to work in diverse fields in the industry. The candidates can work as professors, System Designers, Software Developers, E-Commerce Specialists, and many more.
Job Profiles in M.Tech CSE
Master's degree holder has many job profiles to work in both the government and private sector. Skilled and professional students have a variety of job profiles to work on. Here are some job profiles for the graduates of M.Tech Computer Science and Engineering.
1. Software Development Engineer – Job of the software development engineer is to develop the software, innovate, and maintain its functioning. They work in the development of new designs by testing different types of applications. The Average Annual Salary of a Software Development Engineer ranges between INR 6, 00,000 to 8,00,000.
2. Database Manager – The job of a Database Manager is to deal with database issues, look out for the database systems, and have to follow the protocols to ensure the safety and security of data. Companies hire professionals to maintain and develop their database systems. The Average Annual Salary of a Database Manager ranges between INR 2, 00,000 to 3,00,000.
3. System Analysts – They are the problem solvers. The main job of a system analyst is the responsibility to solve all the queries related to software and hardware. The Average Annual Salary of a System Analyst ranges between INR 1, 50,000 to 4,00,000.
4. Data Analyst – The data analyst's responsibility is to collect, analyse, restrict and interpret the collected data to gain valuable insights for the benefit of the company. They act like a bond between both data and client business which helps the business to make better plans to manage its business and its strategies. The Average Annual Salary of a Data Analyst ranges between INR 5, 00,000 to 7,00,000.
5. Web Developer – These professionals design the look and the layout of the website. A web developer must have a great knowledge of computer programming language to perform the development of the website. The Average Annual Salary of a Web Developer ranges between INR 4, 50,000 to 6,00,000.
Many top universities are there that offer undergraduate and postgraduate programs in computer science and engineering. The M.Tech in Computer Science and Engineering (CSE) is offered by the best university to students who desire to get the best education and training in the areas of engineering.
TERNA COLLEGE OF ENGINEERING, Osmanabad is one of the best M Tech colleges in Maharashtra. This institution of engineering is AICTE-approved and affiliated with Dr BATU Lonere. This engineering college is located in Osmanabad, Maharashtra, and offers both undergraduate and postgraduate courses in various engineering specialisations.
Their main aim is to train and improve the skills of the students to help them to be ready for the future. Their faculties are highly qualified, experienced and dedicated, and hardworking. The college has great infrastructure and facilities for the students. The academic ambience for students is maintained well to boost their learning experience.
M.Tech in Computer Science and Engineering course duration is 2-years with the availability of 18 seats. This course is a full-time course on campus only. It is one of the best engineering colleges in Osmanabad that provides full-time degree courses to all BTech graduates.
Eligibility Criteria
The eligibility criteria for the candidates to apply for M.Tech Computer Science and Engineering are-
Candidates must have graduated with a Bachelor's degree in the relevant field of Engineering and Technology from a recognized university.
Candidates should be passed with at least 50% marks in their bachelor's degree.
The entrance exam i.e. Graduates Aptitude Test in Engineering (GATE) should be cleared with a valid score.
There are many top recruiters like Infosys, TCS, Airtel, Accenture, Wipro, Capgemini, and many more that provide placements to skilled and trained students. For more information, you can visit their official website – www.coeosmanabad.ac.in.
Conclusion
MTech is one of the best professional degrees to take after the BTech course. Getting this master's degree from noted colleges like IIT, DTU, or TERNA Osmanabad is also a smart move towards a bright future. So why do you overthink? Take advantage of this article and plan your master's degree in the field of computer science and engineering.