Contrary to popular belief, engineering is not solely about construction projects. Numerous industries, including those in medicine, space, entertainment, transportation, and the environment, can benefit from engineering. Every invention depends in some manner on engineering for it to work. Depending on their responsibilities, engineers can work indoors, outdoors, or in laboratories.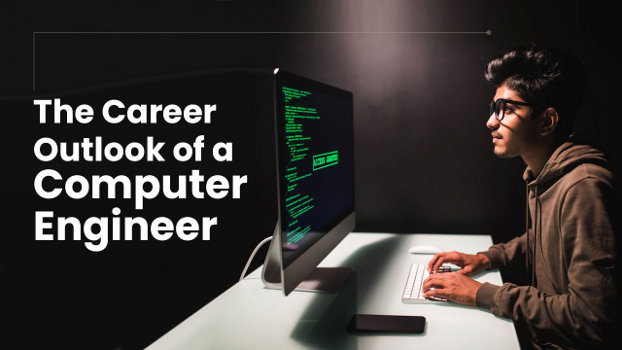 Engineering is mainly divided into four main branches, Chemical Engineering, Mechanical Engineering, Civil Engineering and Electrical Engineering. Computer Engineering is a sub-branch of Electrical Engineering and in this article, we will be talking about the career outlook for a Computer Engineer.
What is Computer Engineering?
The study of computer hardware and software development and evolution is known as computer engineering. It combines software creation and design, hardware-software integration, and electronic governance of computer systems. It deals with designing circuits and computing-related topics such as the design and control of microcontrollers, microprocessors, PCs, supercomputers, and other devices. In order to create computer hardware and software, a variety of subjects of computer science and electronic engineering must be integrated into the discipline of computer engineering, which is a subfield of electrical engineering.
What Does a Computer Engineer Do?
Computer Hardware Engineer:
Computer hardware engineers may work in research labs in which they develop and test computer models. They could work in manufacturing as well. To install hardware on a client's property, computer hardware engineers may need to travel to that location.
Computer Software Engineer:
Computer software engineers typically work for businesses that create computer systems or distribute software. Systems software engineers create the systems that power computers and other devices, whereas application software engineers create the programmes users use on their computers and other devices.
Skills you need to become a Computer Engineering:-
During your course duration in any of the popular engineering college in Mumbai, you will be taught major skills that are required to become a pro computer engineer. Candidates must possess a specific set of abilities to succeed in the dynamic field of computer engineering. A computer engineer should have the following abilities, among others:
Skills in analysis and diagnosis
Ability to Solve Issues
Algorithmic and Creative skills
Outlook Programming Skills
Basic understanding of technical writing and web development
Basic understanding of machine learning
Critical Thinking
Skills Attention to Details
Networking skills
Basic knowledge of coding and programming
Databases knowledge
Communication skills
What to Do to Become a Computer Engineer?
The typical educational requirement for computer engineers is a bachelor's degree in computer science. The process begins, though, with enrolling in appropriate maths and science classes in high school. It's a great idea to start learning to code in high school. In high school or during the summer, if it's possible, consider applying for an internship with a computer firm. There are several career routes accessible because the area is so wide overall. A profession in computer engineering also has the advantage of flexibility. It's crucial to remain up to date with the newest advances in technology whether you're a computer hardware or software developer.
Acquire a Bachelor's Degree:-
The first step in becoming a computer engineer is obtaining a bachelor's degree in computer engineering, computer science, computer programming, or electrical engineering. Maths, calculus, computer architecture and hardware, as well as software mathematical structures, are common subjects covered in courses on computer programming. Distance learning is a perfect fit for this subject because so much computer work is done online in computer engineering.
ELIGIBILITY: A student looking to get admission in a Bachelor of Computer Engineering course should have passed their 10+2 or equivalent exam with minimum percentage marks required by the University with core subjects of Physics, Mathematics and Chemistry.
Relaxation for reserved categories as per state government rules.
Top Colleges for Bachelor's Degree in Computer Engineering:-
TERNA Engineering College, Navi Mumbai
Indian Institute of Technology Bombay, Mumbai
NIT Surathkal, Mangalore
Netaji Subhas Institute of Technology, New Delhi
Internships:-
The chance to do an internship is one that many institutions provide for students majoring in computers, therefore any prospective computer engineer should seize it. An internship not only gives a student exposure to the practical uses of computer engineering, but it also gives the applicant work experience. When it comes time to apply for jobs, candidates with on-the-job experience are more likely to be taken into account by prospective employers. Try to locate a computer-related job during the summer or work part-time in the field while continuing your studies if your college does not offer such an internship programme. After you graduate, full-time career opportunities are frequently the result of internships and seasonal or part-time work.
Top Online Platforms include:-
Indeed.com
Linkedin.com
Internshala.com
Acquire a Master's Degree:-
The Master of Engineering courses open countless career opportunities for students. With a bachelor's degree, a computer software engineer may have outstanding work prospects, but many employers prefer to hire computer hardware engineers with master's degrees in the field. A master's degree will typically take two years to complete. If you are certain that you want to pursue a master's degree in computer science, several colleges offer five-year bachelor's and master's combo degrees.
ELIGIBILITY: Candidates may opt for the M.Sc. C.S. programme if they have earned a Bachelor's degree in computer science from any accredited institution with at least a 60% average.
Top Colleges for Master's Degree in Computer Engineering:-
Osmania University, Hyderabad
Maulana Azad National Institute of Technology, Bhopal
Best ME Colleges in Maharashtra- Terna Engineering College, Nerul and IIT Bombay.
Adapting to Technology:-
Computer engineers must always remain abreast of new developments in technology. A job in the computer business requires ongoing education. Since this is an essential investment in their personnel, many businesses pay for the continuous education of their computer engineers. If you want to pursue a career in computer engineering, it is imperative that you keep your skills current by enrolling in classes or adding seminars. These computer engineering courses may be found online. Employees from IT organizations are frequently sent to courses given by suppliers, including well-known hardware and software providers like Google, Microsoft etc.
Career after Computer Engineering:-
Job domains:-
Artificial intelligence and robotics
Embedded systems
Ethical hacking
Computer Manufacturing
Database systems
Web applications
Animation
Scientific modelling
Computational biology
Application and Video Games Development
Data science
Network Administration
Popular jobs with an average salary per annum (in Rupees):-
System Analyst – 4.5 Lakhs
Software developer – 5.4 Lakhs
Hardware engineer – 6 Lakhs
Networking Engineer – 8.2 Lakhs
IT consultant – 9.5 Lakhs
Web developer – 4.78 Lakhs
Database Administrator – 5 Lakhs
Embedded systems engineer – 4.5 Lakhs
Top Recruiters for Computer Engineers in India:-
TCS
Google
Amazon
Flipkart
Microsoft
Wipro
Tech Mahindra
Accenture
Bottom Line
In our fast-paced world where development and modernization are now a constant process around the world, a career in Computer Engineering is a promising one. With modern technologies and new scientific applications coming out ever so often, you cannot go wrong with a career in Computer Engineering if you pique your interest, as it not only promises growth and good earnings but also a chance to bring out your creative side and make the world a better and faster place.To get professional skills from the best faculty, you should choose TERNA above any other engineering college.