The bedroom is often the most sacred, loved, and precious space for an individual in their homes. We want to beautify our bedrooms so that it suits our taste and give it a sense of individuality and homeliness. Decorating the room with fragrant flowers in beautiful and unique flower vases is one of the best and easiest ways of doing so. Of course, that is not the only thing that will add to the charm of accessorizing one's room. A lot of thought goes into personalizing the bedroom.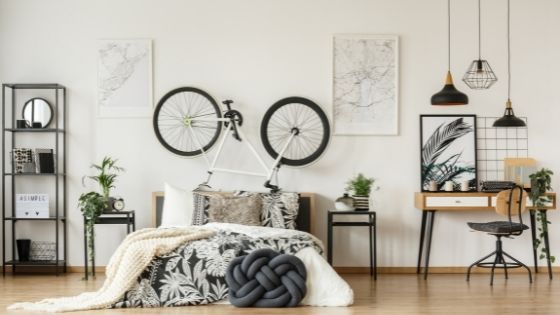 This is done best via pictures! Photographs consist of special memories and moments that we share with different individuals and of different places. Each photo is best accentuated when it is placed in the most striking photo frame. Imagine entering your room after a tiring day and you see some of your best and most enjoyed moments hanging across the wall or put up on your study table. It almost feels like you could relive those memories just by looking at those pictures! Sounds so magical!
Accessorize your bedroom –
We are social beings, memories and the unadulterated preservation of memories play a huge part in our lives. Looking at photographs and reminiscing can bring so much joy and fulfillment into our lives.
Urban Ladder has a range of frames that you could use to protect your beloved memories.
You can use the collage frames, the wooden ones, the metal ones, to adorn your room with some of your most prized possessions – your memories.
You can also try a fresh look with paint patterns to induce a framed look. Try the Dulux waterproof paint for an out of the box look.
Accentuate using vases
Choosing the right accessories to style your bedroom, and even your whole house can be a taxing task. Urban Ladder aims to make your job easier.
When it comes to picking the right accessories, you will have a wide variety of options in terms of price, look, color, shape, patterns, etc.
Depending on the size and space available in the room, you can select vases of different sizes.
The right vase can change the look and aesthetic of your room – it can make the room brighter, highlight the texture and colors of the walls. Yes, that's how powerful a piece of décor, even a vase can be!
With the multitude of options available, you do not have to stick to putting real, fresh flowers in your vase. You can decorate it using artificial flowers of different colors, artificial leaves, and also dried flower décor to give your room the look and feel you want it to have.
When you enter your bedroom, you want it to feel like you. The elements that make up your bedroom will create that space for you. Being selective and choosing the decorative pieces, paints can often be overwhelming. But keeping a budget in mind, is a great way to start off. For example asian paint price, expertise, finish and umteen options are something you can choose to make things easier. Likewise there are a number of professional painting services you can use, online decor help you can resort to and plenty of ideas that you can borrow from various social media pages.