Hello guys today's topic is about social bookmarking i.e when someone is go through the website but don't have much time to be active on that website so they will bookmark that website to look forward that site afterwards when they have time to look and they can share the link to their community to get collective information from that website.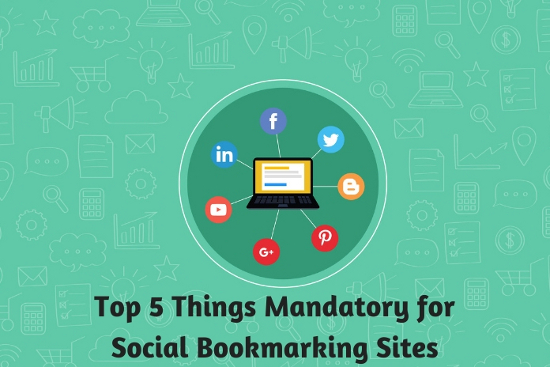 Social bookmarking tool is a part of search engine optimization and it generally helps the audience to get better websites which gives good information to gain knowledge related to your field.It helps to share the link, who search something related to that field, and if users bookmark that website then that link gets generated a backlink which helps to improves SEO (Search Engine Optimization) of website. Generally bookmarking sites help to share, edit, add, manage, & modify your link with 5 things to get submitted in respective sites which has more traffic in their website.
Here we will discuss the 5 main things i.e. mandatory to get submitted your links in social bookmarking sites.
Title
Description
Category
Webpage
Tags / Keywords
1. Title
Titles are important for users to know what your website defines to your audience.
It should be within 50 to 60 words, so that viewers can read your full title. Because sometimes half of the title gets cut off.
It should be a short and informative title to attract users to your website.
2. Description
Description helps users to know a little bit in depth / brief summary about the website.
Description length should be within 50 – 160 words average.
Social Bookmarking sites have a description box to insert description till 256 words max.
Unique content will help users to know more about your website.
3. Category
As every business has a different stream, users will not search for a particular field or business, they will search related to their thing.
Bookmarking gives category so that when you submit your web page select the category, which has multiple fields through that you can choose that field.
Users will also know that site is regarding that stream who wants to collect information.
4. Webpage
You can submit web pages of your website in social bookmarking sites so that your each links generates banklink to improve traffic on your website
When you submit links on social bookmarking sites, webpages are important for users to directly click that link and surf that website anytime.
Without a web page there is no use of using social bookmarking sites, because it helps to give more traffic in your webpage.
5. Tags
Tags are related to keywords, that means your users are searching daily in search engines.
It helps to improve SERP ( Search Engine Result Page ) .
Tags are important in bookmarking sites because when the user will search that search words will help your site to get rank on any search engines first page.
It is directly attached to the niche to generate traffic on websites.
So here are the 5 main things which are mandatory to all social bookmarking sites which gives to your site a bank link for improving search engine optimization. Without these 5 things you can't even submit your page in highest traffic page sites.
Here are the best sites which help to increase traffic, ranking, and performance to your websites which are as follows :-
VieSearch
Reddit
ScoopIt
Mix
Bookmarkstar
Whitelinks
Listly
StartMe
Akonter
Dzone
Diigo
Folkd
PearlTrees
Refind