Millions of people renovate their homes every year, but in the past decade or more motivation has changed from wanting homes to be bigger and more beautiful to a need for houses to be more flexible and efficient so that they minimize maintenance and save us money.
Above all else, rational thinking suggests that energy-efficient systems and eco-friendly materials should top the list irrespective of what the renovation involves.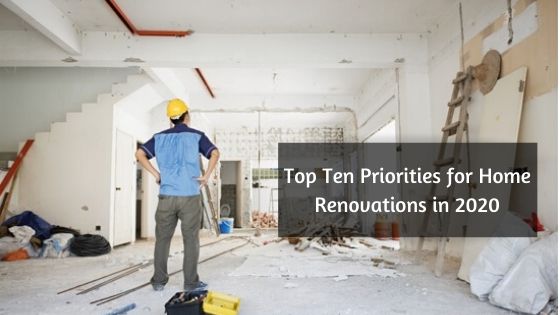 There are many priorities for homeowners considering renovating their homes in 2020, including weatherizing homes, improving insulation, preventing energy and heat loss, and improving environmental comfort and air quality indoors.
It has also become increasingly important to reduce the costs related to energy in the home, including space and water heating as well as cooling. Above all else, there is a strong focus on renewable energy that takes the pressure off our reliance on the grid.
Two primary factors that play a big role in these priorities are the desperate need for our homes to be energy efficient and the impact that the Coronavirus disease (COVID-19) is having on our lives. Taking these into consideration, here is a list of the factors that strongly influence the decisions of home renovators right now:
Energy Efficiency
Weatherizing
Eco-friendly Products
Functionality
Comfort
Health
Maintenance
Water Conservation
Waste
Investment
How homeowners achieve these priorities depends on several factors including how much of a change they want to make and budget.
While there are many home renovation projects that a competent do-it-yourself enthusiast can tackle, more ambitious projects will require the input of professionals. Depending on the renovations undertaken, these may include architects, engineers or other professionals. For example, a company offering HVAC engineering services in Chicago, New York, or any of the world's cities will be able to offer proven solutions for heating, ventilation, and air-conditioning (HVAC) and/or cooling systems.
Now let's explore the 10 top priorities for home renovators in 2020 one by one.
Improved Energy Efficiency
This is a trend that has been gaining momentum for some time. Energy-efficient homes work smarter and cost less to maintain. However, the levels of commitment to energy-efficiency within homes vary substantially.
There is a great deal that homeowners can do to improve the energy efficiency of their homes and, at the same time, lower their energy bills. Captain Green Solar, a company that installs solar panels in Sydney, advise that solar panels are increasing in popularity due to their cost effectiveness and the fact that they are a renewable energy source. Solar panels are now one of the most popular options for people wanting to create an energy efficient home. Another smaller way to increase energy efficiency is all incandescent bulbs can be replaced with compact fluorescent bulbs or light-emitting diodes (LEDs) and other more efficient energy-saving appliances can be used. Where these involve the use of water, the appliances conserve water too.
Heating and cooling systems, as well as those that heat water, often need to be upgraded to make them energy efficient. This might involve the installation of solar voltaic panels, heat pumps, or other innovative systems to at least get renewable energy started. Generally, you will need to elicit the assistance of professionals to do this, perhaps a company that offers mechanical engineering services.
Larger home renovation projects might involve replacing doors and windows and even siding to make them more energy-efficient. These steps will likely involve a building contractor.
Better Weatherization
The basics of weatherization are a definite priority and feature in our top ten. These include effective insulation in walls, floors, attics, and basements as well as good, effective air sealing (one of the best ways to prevent energy loss) around doors and windows, ducts, pipework, and chimneys. Weather-stripping doors and windows is important, as is the installation or replacement of vapor barriers.
The important factor is to reduce the possibility of moisture intruding into the house and to improve airtightness. The steps taken to do this vary but might include repairs to the roof to ensure the envelope of the building performs better.
Increased Demand for Eco-Friendly Materials & Products
Closely linked to the desire to improve energy-efficiency (see above) and reduce waste (see below), the increased demand for eco-friendly, sustainable materials is a major priority right now. These materials range from recycled steel and reclaimed wood to conventional materials that are manufactured locally, so no additional transportation is involved. Precast or pre-assembled products also fit the bill.
Whatever materials are used, it is also important for them to be used efficiently.
Increased Functionality
An increasing number of people want home renovations that a quick and have functional results. Often a relatively inexpensive quick fix will do the job rather than a full-on top-to-toe (or roof to basement) renovation. But the aim is to increase the functionality of the way the house operates. This, too, is closely linked to other priorities including energy-efficiency, improved water conservation, reduction of waste, and a need for comfort and an eco-friendly indoor environment.
More Comfort
People want their homes to be a comfortable haven and one of the best ways to achieve this is to ensure that HVAC systems work well and are eco-friendly. Temperatures and the quality of air are vital for interiors to be comfortable, and ventilation systems should be carefully controlled.
Passive heating is a good example of a system that can improve comfort. Usually, it is employed in conjunction with passive shading that controls the natural sunlight that enters the home and window glazing specifications that result in a higher solar heat gain coefficient.
Superior Health
Homebuyers (and those who are renting) want their environment to be healthy. As a result, non-toxic materials are a must along with superior air and water purification systems.
Human-centric lighting, which minimizes the effect of electric lighting on our circadian rhythm, is a trend that has gained attention recently amongst those whose priorities are strongly health orientated. A lot more complicated than simply using energy-efficient light bulbs, circadian lighting systems vary. The most common type enables the adjustment of brightness depending on what is required (usually more intense during the day than in the early morning and at night), but are set to maintain a correlated color temperature that creates mood and ambiance.
Ease of Maintenance
It is a fact that sustainable buildings are designed as high-performance buildings, and well-designed systems are easier to maintain. It really is as simple as that! But perhaps more importantly, they are cheaper to maintain.
Improved Water Conservation
It's important to save water, which is why water conservation is another priority for home renovations in 2020.
Ways to save water include using faucets and showerheads that have been designed to lower the flow of water, as well as appliances and bathroom fixtures than use less water.
Other sustainable systems include rainwater harvesting, where the rain is channeled from gutters and downspouts into a barrel or tank, and greywater systems that channel used water from baths, showers, washing machines and so on.
Reduction of Waste
Excessive waste is one of the major components of landfill and undoubtedly one of the most un-eco-friendly elements in the environment. But we can change this, and happily, reduction of waste is a top priority for many people undertaking home renovations in 2020.
A desire to reduce waste has led to an increase in the use of reclaimed and secondhand materials. This is a growing trend that has become a priority for many, but it's important to recognize the difference between quality used products and cheap materials that are likely to deteriorate quickly and literally create additional waste!
Improved Investment
A major priority for most people relates to the amount of money spent on home renovations. Generally, consumers are more concerned about functionality and efficiency than luxury. In fact, indications are that luxury remodeling is slowing substantially!
While comfort is important, budget matters and a top priority is that any renovations done must increase the investment owners have in their homes.