Material handling in distribution, storage and moving is a repetitive process. It is very exhaustive for employees, and operation costs are quite high. Warehouses and distribution centres use handling equipment like forklifts, stackers and reach trucks to save time and money.
In recent times, pallet stackers have become quite popular in daily warehouse operations due to their compactness and high efficiency. Although it is an existing concept, businesses and operators must learn more about it.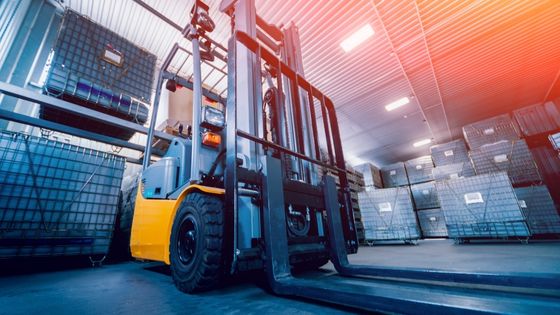 Here is a quick breakdown of everything to know about pallet stackers:
What are Pallet Stackers?
A pallet stacker is a mobile machine used for lifting, transporting and stacking palletized SKUs in warehouses and similar environments. Pallets have a flat horizontal platform or forks for lifting the goods and hydraulic systems and motors to enable forklift operations. These compact and lightweight vehicles allow maneuverability in smaller spaces and improve efficiency while being environment-friendly.
Uses of Pallet Stackers
Pallet stackers are predominantly used in warehouses handling mid-sized and high-volume loads. These stackers vary, ranging from smaller mini-stackers for smaller loads to heavy-duty stackers for bulky loads. They come pre-built with functionalities for tilting when loading or unloading shelves and items without pallets.
Types of Pallet Stackers
1. Manual Pallet Stackers
Manual pallet stackers have motors and hydraulics for lifting goods placed on pallets with open bases. They have two wheels in front and a swiveling one on the back to turn the machine around when transporting goods. They are also effective for heavy lifting and transportation, with carrying capacities up to 1.0 tonne at 1.6 meters high.
2. Electric Pallet Stackers
Electric pallet stackers operate on batteries that drive the motor through electric energy. This energy creates kinetic energy that powers the hydraulic pump by pressing a button. Electric stackers can lift over 1000 kg at heights over 4 meters. For example, the Godrej UNO Electric Stacker can lift 1.5 tonnes at 4 meters using electricity-powered hydraulics.
3. Semi-Electric Stackers
Semi-electric pallet stackers combine the best features of manual and electric pallet stackers. They look like manual stackers but are considerably less physically demanding. They operate on a rechargeable battery with a lifetime of 8-12 hours on a single charge cycle. These batteries power the hydraulic unit to lift more than a tonne of goods on higher racks. The Godrej Semi Electric Stacker lifts 1 tonne of load at 3.3 meters, slightly higher than a manual stacker's maximum height.
4. Counterbalance Pallet Stackers
Counterbalance pallet stackers are best for operating in narrow warehouse isles. They are mostly electric to minimize collision when riding through tight spaces. A material equipment company builds them precisely and compactly for loading, unloading and transporting small and medium palletized goods in smaller spaces.
These stackers are a perfect alternative for forklifts that cannot maneuver easily in smaller warehouses. The Godrej Counterbalance Stacker has a lifting capacity of 1.5 tonnes, with the hydraulic lifts loading up to 4.6 meters high.
Benefits of Using Pallet Stackers
• Low Entry Barrier
Unlike huge mechanical equipment that requires specialized training to operate, pallet stackers are simple in design, making them easier to use. In addition, operators can be trained on how to operate them in-house, minimizing the loss of knowledge resulting from staff turnover.
• Flexible and Effective
Stackers feature less-complex designs adaptable to all kinds of warehousing environments. They are effective in operations that handle multiple types of products. They maintain their effectiveness while being future-proof, and investing in them can be more beneficial.
• Cost-Effective
Pallet stackers combine pallet jacks and large forklifts, which balances their prices. They are affordable for any business that handles 600-1600 kg goods. Even when renting one, they are much cheaper than forklifts. They can deliver SKUs in all areas of the supply chain and eliminate the need for buying extra machinery.
• Lower Maintenance Costs
Although pallet stackers come with multiple components, the sturdy construction translates to easy maintenance. Maintenance practices only revolve around frequent checking of the batteries and hydraulics. The replacement parts are also cheaper and accessible for easy replacements. With cheaper maintenance, it provides a cost-effective alternative to forklifts with a shorter shelf life and costly maintenance.
Factors to Consider When Buying a Pallet Stacker
• The Size of the Business
Pallet stackers exist for different types of warehouses and distribution centers. Operators must select one based on the size of the businesses due to weight variations. Heavy-duty pallet stackers are best suited for heavier loads, while compact ones are great for smaller warehouses.
• Budget
Budget is critical in decision-making since it determines the best solution for daily operations. These pallet stackers are priced differently depending on the types of equipment and handling capacities. Fortunately, there is always a solution for all businesses operating on a budget.
• Future Expansion Plans
Pallet stackers can last longer and adapt to changing work environments. When buying one, businesses should consider their expansion plans. In addition, they must look at whether the equipment will handle growing inventory or it will give out in the long run.
With all this information, businesses and warehouse managers/operators can now make informed decisions about their options. Various material equipment companies are constantly improving the efficiency and quality of these machines for better performance. There is a solution for all industries dealing with small- to medium-sized goods.