'Digital marketing' has been a phrase that is often heard when it comes to the trending marketing strategies of businesses worldwide. Gone are the days when a business could succeed just through the way of conventional marketing.
Today, even though conventional marketing strategies are applicable to a certain extent, going digital is the only way for businesses to reach the epitome of success.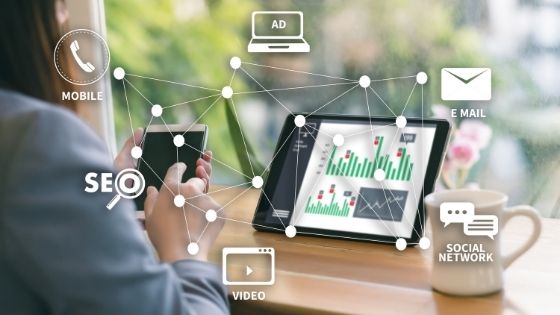 The growth of digital marketing in India was not very significant a few years ago when compared to its immense growth worldwide. However, the good news is that the country is seeing a quickly increasing number of internet users and a massive growth of late.
With over a billion population, India shows an enormous prospect for the evolution and growth of digital marketing and its impact on the economy is only going northward in a positive way. Expert digital marketing services have turned out to be more important than ever before.
All said and done, there arises the question: Is there anything that digital marketing has to do with the economy of the country? Yes, of course! Digital marketing can go a long way in improving the country's economy. Read on to understand why it is important for India economy.
Benefits of Digital Marketing for the Slowing Indian Economy
The economy of India is worth 2.61 trillion US Dollars and is one of the world's fastest-growing trillion-dollar economies. The youth population is of the highest ratio in this country making up to almost 34.33-percent of the entire population.
Though the Indian economy is among the fastest-growing ones, it has been hit by a recession similar to the rest of the globe.
The country has clocked a 5-per cent GDP growth in a quarter of recent times, which is slow when compared to the quarters prior to that.
The advent of smartphones and other portable devices like tabs and laptops has led the contemporary Indians to stay connected for most of the time.
Besides the urban population and youngsters being digitally active, the older population, as well as those from the villages and towns, are also making use of these digital conveniences.
This wave of digitalization and SEO services has helped businesses to reach out to the masses through the internet, which in turn has contributed exponentially to the growth of businesses and ultimately to the economy of the country.
Effect on Marketing Efforts or Corporate Expenses
When circumstances turn grim, customers start controlling their expenses, leading to lower sales, usually resulting in a reduction in investments, cost-cutting and postponing new investments. Digital marketing expenses are also under the scanner, but it is not wise to consider these marketing costs to be optional as this can affect the long-term perspective.
A drastic change in the digital marketing plans can have a negative impact not only on the business revenues but on the economy as well. Instead, businesses can consider reorganizing their strategies rather than curtailing them completely.
It's true that marketing professionals often have to go through difficult phases during recessions to ensure the right balance of sufficient marketing expenditures and returns on investment. Each and every rupee matters a lot during such difficult times.
It's important to select the right medium and the right blend of marketing strategies to be steady during these times. Such phases are also the best times to bring out the best creativity from marketers.
Digital marketing professionals have to consider various mediums instead of placing all eggs in a single basket – all these mediums should be the ones that provide the best value for money.
Any decision that is taken has to be made judiciously as any failure in offering the right brand support can lead to long term problems. All these efforts and the right decision can lead to good times for the business as well as the country's economy.
Digitalization of Indian Economy
The digital revolution has been a significant contributor to India's economic growth with digital economy alone likely to hit the 1 trillion US dollar mark before 2022. This wave of digital transformation has swept the government organisations, finance, healthcare, education and almost every other sector, having a great impact on every aspect of life.
Several initiatives like PayTM and BHIM are making financial transactions easier across India. This ease opens up newer avenues for digital transactions, thus leading to more digital marketing openings. Artificial Intelligence, Big Data, Automation and Machine Learning will further improve productivity and transform the digital economy.
India, being a vast country with plenty of educated skilled labour, offers a great opportunity for digitalisation, which is quickly growing by almost 33-per cent year over year.
This digital revolution is changing the way people live, thanks to the mobile penetration and cheap data, though infrastructure still has to go through the last mile.
This exponential growth potential has resulted in increased job avenues and new business opportunities for people. All that it needs is adequate skills for further development.