Who doesn't like a modular kitchen? And if that comes within your budget, it is quite an excellent deal for any homeowner. This would indeed be an excellent investment. But in this case, you have to be very particular about the design of your kitchen; otherwise, the whole look might get spoiled. Some special expert's recommendations should be followed in this regard. Here are some essential designing elements that need to be included, and unnecessary items creating clutter need to be avoided.
The kitchen design should be functional enough so that you can make optimum utilization of the same. Different cabinet parts should be fitted well to maintain acute perfection in your kitchen space. Modular Kitchen designs are of different types, and therefore you can compare the prevalent models for getting the most suitable one that compliments your kitchen area. If the models are not flexible, then you will not be able to customize the same as per your actual kitchen requirements.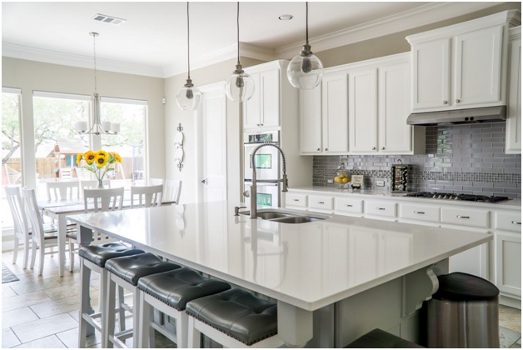 Identify Your Kitchen Work Triangle
A perfect kitchen triangle needs to be maintained where the hob, sink, and refrigerator at the three ends of the triangle. These three items are considered as the essential stuff of every modular kitchen, and thus they need to be positioned correctly for facilitating easy and convenient access. If you take some time out and prepare a rough drawing on the positioning of these three essential items in a proper triangle, then only you will get the chance of utilizing the kitchen space correctly. After setting these three items, you can frame the idea of placing the cabinets and other essential furniture sets in your kitchen.
Ideal Countertop Height
The layout of modular kitchens varies from one to another. You should consider your convenience and kitchen requirements so that the plan can be designed entirely in a completely mess-free manner. It is not only the accessories that are considered, but there are some technical considerations as well. The shape needs to be defined first, and then only the best module needs to be chosen. After that, material selection is essential, which is usually followed by the selection of the countertops. The cabinets need to be planned in a compact manner so that they can easily fit even to the smallest kitchens.
Plan Your Layout
If the countertops are not located at perfect heights, then you might experience acute inconvenience while in the kitchen. Thirty-three inches are found to be the ideal height for kitchen countertops, but some see 32 inches as the most suitable option. Cabinets placed at great heights can cause significant inconveniences, and you might even face unwanted accidents at the time of taking out things from your cabinets. In this case, the average height of your family members should be considered for sure.
Choose Colors Wisely
You should have a sound knowledge regarding how to choose the best color for your kitchen wisely. First, the theme needs to be set, and then the color should be selected accordingly. Extremely lighter shades usually absorb heat, and thus they are often replaced by brighter ones. But exceedingly brighter ones are also not good for kitchen décor all the time, and this is why you are strongly recommended mixing both the shades in a proper way.
Ventilation is Key
Kitchens without chimneys can be suffocating and unhygienic due to a lack of ventilation of smoke. In some cases, exhaust fans are used to maintain a healthy air-circulation within the space. Fireplaces are used for controlling frying fumes produced in kitchens. Some kitchens are also equipped with proper windows or small balconies for passage of the smoke out. This is how perfect ventilation is maintained in modular kitchens.
Kitchen Lighting
Even if you have got a small modular kitchen, don't feel sad about it the small space. You can make your kitchen space look bigger if you have chosen the right kind of lights. Though natural lighting is the most soothing one, you should understand the importance of overhead lighting as well. Countertop activities can be conducted smoothly with overhead lighting, and on the other hand, cabinet lighting is useful for accessing the cabinets, especially while you are cooking foods at night. To brighten your kitchen, you can add Led strips under the cabinet on the top shelves.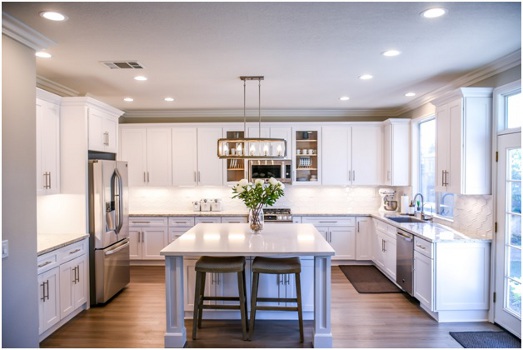 Plan a Smooth Working Area
Three-feet gaping should be there in between the kitchen countertops and various other essential sections, so that ensures smooth movement. The appliances should be integrated well for avoiding clutter and for maintaining a fuller worktop area. Modular kitchens should always be planned practically and elegantly.
Safety First
Kitchen safety is one of the most critical aspects that cannot be ignored ever. There is some basic kitchen set-up that can help you in maintaining your kitchen in a completely safe way. Safest gas-pipes and anti-slip floors need to be used for making modular kitchen safe. The stove should be kept at quite a reasonable distance from the basin, and on the other hand, the electrical appliances should be kept near to switchboards. Make sure wiring is done correctly. If the kitchen is not safely planned, then unwanted accidents might occur at any time.
Don't Ignore Corner Spaces
In most of the cases, it is found that corner spaces of kitchens are ignored, but that should not be done ever. Nowadays, many options can be availed for making productive use of corner spaces, and this makes unused spaces alive. Storage spaces should be planned well in corners so that access issues can be avoided with ease. Best kitchen solutions can now be enjoyed only if corners are being customized thoroughly.
Take Care of Kitchen Trash
People love keeping trash-bins, especially at those places where they can be easily accessed. Usually, they are kept beneath the sink. Trash-bins with cabinet doors are highly preferred these days as they can be washed or cleaned properly. Garbage lines within dustbins should be used; otherwise, the wastes cannot be easily disposed of.
These ideas are quite useful for planning any modular kitchen. Today there are many options to fix the modular kitchen in India. Keep the basics in mind when you plan to design your kitchen or approach your interior designer or talk to stores that sell modular kitchens. Use your creativity and be prepared for rounds of discussion with your modular kitchen planner.