Steam cleaning has been the top carpet cleaning method since it was developed in the 1960s. It provides more benefits than other methods, uses fewer chemicals, and has a long-lasting effect as well.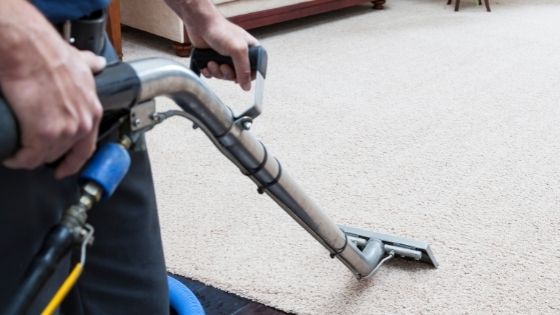 Also, carpet steam cleaning is not just popular in homes. It is also the most preferred option for carpets in offices and workplaces. Workspace carpets span wider, take heavier traffic, and are more prone to wear and tear. Find out below why this cleaning method is best for today's busy offices.
1. Steam Cleaning Just Cleans Better
Needless to say, steam cleaning is the most thorough type of carpet cleaning in the industry. It is sometimes referred to as hot-water extraction because it uses hot water as a primary component in the cleaning process.
Water is heated and released in the form of pressurised steam through a brush or nozzle. The steam, or water vapour, penetrates deep into the carpet fibres and extracts dirt, dust, mites, hair and any other small sediments trapped in it. It removes any build-up of residues that causes staining, discolouration, and undesirable smell in the carpet.
At the end of the process, unwanted elements are removed, the fibres of the carpet are dragged upward, making it look good as new. Therefore, steam cleaning not just eliminates dirt but improves the appearance of the carpet as well. People in the workplace will find themselves in a pleasing environment as they fulfil their tasks.
2. Steam Cleaning Helps Prevent Allergies
Allergies, allergic rhinitis, asthma, eczema – these are common conditions that affect over 20% of Australians. In one study, the Environmental Protection Agency found that indoor spaces contain more allergens than outdoor spaces. There will probably be more than a few employees that suffer from various allergies, and an unkept office carpet is a major trigger for these people.
One of the greater benefits of carpet steam cleaning is its health benefits for people with allergies and respiratory conditions. Since steam cleaning uses a very high temperature, it can neuter triggering allergens. It eliminates fungal, bacterial, and viral infections as well in the steam process.
Steam cleaning uses zero to minimal chemicals as well. No toxic residue is left in place of the dirt removed. It makes an environment-friendly method, and workers will not be exposed to potentially harmful chemicals as well. All in all, everyone, including people with high sensitivity, can breathe easier and healthier.
3. Steam Cleaning Leaves Carpets Nicer for Longer
Re-carpeting a whole office is very expensive and can significantly dent a company's budget. They have to spend on installation, the labour of moving furniture, and the cost of the new carpet itself. That's why it's best to keep the carpet in good condition to prolong its lifespan.
Steam cleaning is the least harmful to carpet fibres of all carpet cleaning methods. It does not wear out carpets with regular cleaning but improves their appearance instead. With carpets looking good as new, it will take many years before the company has to buy new ones.
Furthermore, steam cleaning also has the longest lasting effect in terms of cleanliness, so offices can schedule cleaning at least two to three times a year. The workforce will have less disrupted time for carpet cleaning. With time and budget saved, the management can use these resources for more enriching activities for their employees. Taking all these factors into consideration, it is needless to say that steam cleaning is indeed the best carpet cleaning method for offices.