Perhaps the most creative interior design ideas emerge for the kids bedroom because of their varied interests. The little ones love their toys as well as their own personal space where they like to set up camp, and so a room design for kids needs to be accommodative yet cool enough for them to play around.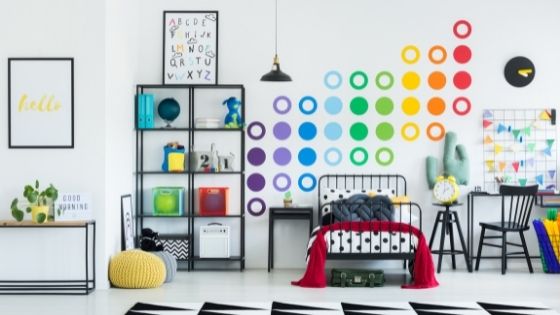 There are some famously popular ideas for kids room décor that have sparked a DIY fest on social media. It all boils down to how some specific kids room décor ideas can be adapted to suit the preferences of the tiny tots because after all, awesomeness is the key to a fabulous kiddies room, ain't it?
While it may seem like a herculean task to keep up with the ever-changing demands of your sweet little devils, you can proudly cross off this particular mission for your kid's room makeover from your to do lists. So, dive right into these too-cool-for-school ideas!
1. Bunk Beds
Classics remain classic for a reason, and for all the right reasons bunk beds are still the most cherished kids room décor item. They combine playtime and fun with a space wear they can relax and call it a day, all in one. Given the various designs and style available, you can choose bunks beds for all sorts of in-door adventures toddlers are into, be it a make-believe mountain climbing expedition or a simple game of hide and seek.
2. Tepee Tents
Let them bury their childhood secrets under these tents and make a memory they'll cherish later in life. Since these are the best days of a persons life, tepee tents can make it ten times prettier and more interesting with its unique power of brightening up the room. As a kid's room décor accessory, this one is a winner.
3. Colours And Shades
Pink and Blue are not the only colours to use for kids room décor, people! You have a plethora of shades, hues and saturations (HSLs and HSVs) to add that pop of colour to the kids room. Play around with different shades that your children adore and use some variation and adjustment to amplify the overall vibe of the room.
4. Themed Wallpaper Designs
To stimulate your child's active imagination and add a little creative touch, you can spruce up the space by adding wallpapers of a specific theme. Ask them what they like the best, be it a jungle theme or a space shuttle, and transform the look in that direction. This creates a safe space for the kiddies to discover and explore their world more. A kids room décor with a theme is a sure way to keep them occupied too!
5. Twinkly Lights
A well-lit room is particularly important for a kids room for safety as well as illumination. For all kinds of activities, sufficient amount of light is essential to protect the kid's eyes from undue strain. Whether it's natural lighting from the window or artificial lighting from the fairy lights and multiple LED lampshades, proper lighting is a necessary kids room décor idea that you must consider.
These 5 ideas are modern yet classic and they never get old. We bet these ideas must have sparked the child in you too! They can be mixed with the different personality of each child and customized to facilitate a stellar kid's room décor transformation.
For various kids room décor ideas besides this easy step-guide, you can consult with professionals and interior design experts like Livspace. With their easy and fast installations, customized styles and curated designs that suit your kids room décor ideas and matches your vision, you're all set.
As your one-stop-shop for all your needs, book your consultation today with Livspace and get a kickstart to an amazing kid's room makeover journey!