As social beings, this pandemic could take a toll on everyone's mental health. The new normal entails less time to walk around the city, fewer days to go to the office, and almost no opportunity to physically bond with friends. It has blurred your boundaries between home and office work.
To escape feeling extremely down because of these restrictions, you might have decided to deep clean and organize everything in your house, starting with the bathroom. Your skincare was all jam-packed in your bathroom sink while the stuff you placed on your cabinet was all over the place.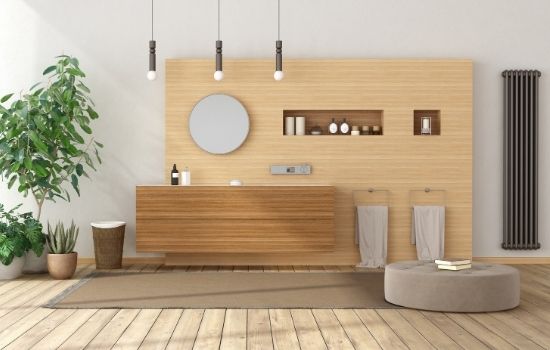 There is a high chance of you searching on google for things that might help you formulate bathroom storage ideas. Pushing through with the best idea can be confusing. So to help you make the right decision, here are the things you must consider before realizing whatever is on your mind.
Answer these simple questions!
All your bathroom storage ideas would involve the need to buy things, such as a cabinet, to create what you envisioned it to be. Before putting your old bathroom furniture in the trash bin, you should first consider several factors to achieve the perfect bathroom storage you have ever dreamt of. Here are five questions to ask yourself before deciding what to choose from a bunch of options.
1. How much is your budget?
We all know that earning money is a difficult task to do. It will cost you your time, effort, physical and mental health just to earn a dollar. You can't just find money anywhere so it is important to spend it wisely.
.
Your estimated budget is an essential factor to consider because it will dictate the overall concept you will adapt to your bathroom storage. I'm sure you don't want to go beyond what you are capable of spending.
Once you determine your budget, you can easily identify ideas you have to reject from those that you can buy. It makes the searching process less difficult and tedious.
2. Is the product of high quality?
Even though you have set a limited budget, it does not mean that you will settle for low-quality products. With the power of technology, you can reach as many stores as you can and you will eventually find out that there are affordable products that offer almost the same quality as high-end brands.
A lot of people have varying definitions of product quality. For you, it might refer to its durability, but for some, these products should improve their efficiency. Both of these definitions can qualify under product quality. Knowing this, you should make sure that the cabinets you should buy as bathroom storage, will last for a long time. Aside from that, it must provide the luxury of opening and getting your products with ease.
You don't want to spend your money on something that will immediately lose its purpose and would make your life more complicated, right?
3. Is it something you need?
The best bathroom storage idea to use is the one that you need. This applies to all the things you spend your money on. Buying something that can't provide you with your needs would only make you waste your money. If the product is useless, then you will only find yourself putting it in your storage room. Throwing it away is the worst-case scenario.
Before you decide to buy a cabinet for your bathroom, determine what product features can satisfy your needs. Are your things too bulky that they can only fit in a big cabinet, or are they conveniently tiny, that small storage would suffice?
4. Does the product follow your bathroom theme?
You must first decide what theme to use before you start creating ideas for your bathroom storage. Maybe you don't want to change your current theme. Or you are already considering the thought of changing everything. It depends on you. Once decided, you must make sure that your bathroom storage can follow it. It is to avoid ruining your bathroom's design and aesthetics. You wouldn't want to make your storage look awkward and out of place.
If the design and color of your storage match the whole vibe of the bathroom, then it will appear pleasing to your eyes. It will increase the satisfaction you would feel.
5. Will the storage size fit your bathroom?
You decided to buy storage furniture to maximize the space of your small bathroom. You have to identify the desired measurement of this storage to order the size that can provide you with the highest satisfaction. It would not make sense if your bathroom storage is too large since it will only limit your movement. You must avoid allocating too much space for your bathroom essentials if it will cost you your personal space. While if it is too small, you would not be able to organize your skincare and other products you place in your bathroom. Answering this question will help avoid buying things that can't even fit in your bathroom door.
In a Nutshell
These five essential questions will help you determine the best and most suitable bathroom storage you can ever imagine. When you use these questions as your guide by the time you will already purchase the product, the likelihood of taking the wrong direction is slim to zero.
Start turning your idea into a reality by answering these questions, searching for products on the Internet, and comparing all of them to arrive at the best options available for you.