In a country like India that faces extreme summers for major of the year, cooling devices are common in almost every house. While air conditioners and room coolers have their own advantages, fans still remain the most popular choice for Indian homes. These devices owe their popularity to a variety of factors such as cost-efficiency, practicality, and low power consumption. In addition, fans are also widely used as supplementary cooling devices to enhance the efficiency of other cooling devices like air conditioners and room coolers.
But even when it comes to a basic appliance such as fans, there are a few things that you need to keep in mind to make sure that you're making the right choice. Let's look at a few of these factors to help you make the right choice the next time you're in the market looking for a fan for your room.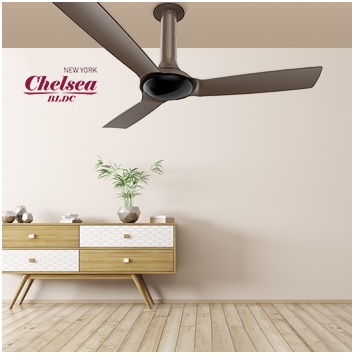 Portable Fan vs Ceiling Fan vs Wall Fan
Many different types of fans are available in the market, but portable, ceiling, and wall fans are the most popular in Indian homes. All of these fans have their own advantages, and you need to pick the right one according to your needs and preferences. Let's try to understand this in a bit more detail –
1. Portable Fans
Portable fans can be of two types – table fans and pedestal fans. The most significant advantage of these fans is that they can be carried from one spot to the other without any hassle. They need no permanent fixtures and are great for outdoor spaces such as balconies and terraces.
2. Wall Fans
Wall fans are also incredibly popular in the Indian market, thanks to their compact size and space-saving abilities. These fans can work excellently as an additional cooling device to support your ACs and coolers.
3. Ceiling Fans
Undoubtedly the most commonly used type of fan, the ceiling fan, is known for its unmatched efficiency that lets it circulate air in even the largest rooms. These fans work well as independent cooling devices and can also help you significantly reduce your air conditioner usage.
Consider the Motor
As many of you would know, the motor is the most important component of a fan. It plays an important role in determining how effective and energy-efficient a fan would be. This is why it's important to check the specifications and make sure to go for a fan that features a powerful, high-impact motor. One such fan is the New York Chelsea fan by Luminous. This fan is powered by the BLDC motor that allows it to work efficiently without taking up a lot of energy.
Don't Ignore the Design
The design of the fan is something that we tend to take lightly. However, a fan is often positioned in the centre of the room and can have a major impact on the ambience of the space. This is why it's important to consider the look at feel of the fan before making your choice. For instance, the Luminous New York Manhattan Night Sky Ceiling fan is a superb option for you if you're looking for a stylish yet impactful fan for your home.
Choose a Reliable Brand
No matter which type of fan you choose, it's important to make sure to go for a reliable brand that offers quality products and ensures durability and efficiency. One such brand is Luminous. Luminous is known for offering some of the best fans in the market. In addition to this, brands like Luminous also offer impressive after-sales service, enhancing your overall experience.
So, if you're on the lookout for a high-quality fan for your room, visit the Luminous website today!