Moving is something that millions of Americans will do each and every year. Some will simply move down the street, while others will need to move to a whole other city or state. While there are several places to move, one of the fastest-growing states in the country is Texas.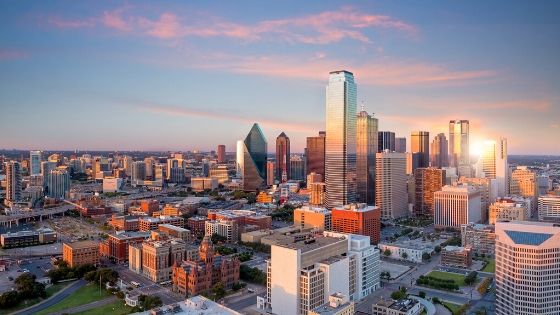 If you are moving to Texas, one of the most obvious cities to consider is Dallas. It is one of the largest cities in the country and is incredibly diverse and features a lot of opportunity for residents. However, before you move to Dallas, there is a bit of research you should do and a few things that you should know.
With that in mind, let's look at 5 things you should know before you move to Dallas.
Know the Neighborhood and Areas
First and foremost, you need to familiarize yourself with the neighborhood and areas of the city. It is a massive city, and there can be various differences from one neighborhood to another. You need to do some research on what area or neighborhood fits you the best. You could ask some people, but generally, heading to the internet is one of your best bets.
There will be a ton of information, reviews and data on the various neighborhoods throughout Dallas. You can learn about the cost of living, the culture, the architecture and more. Whether you are looking for a larger home in Colleyville or searching for uptown Dallas apartments, the internet can certainly help you out. Also, if you head to the city without any research, it can make choosing where to live very tough.
Be Prepared For Lots of Traffic
As you could expect in a city as large and spread out as Dallas, there is a ton of traffic. Traffic is a way of life for most people, as commutes can be long and the roads can be congested. As a result, you need to be prepared to spend a lot more time on your commutes to work, to the store, to the gym and potentially anywhere else you go.
However, until you have truly driven in this traffic, it is truly hard to imagine. So if you come from a place where a 20 minute commute is considered very long, you may want to adjust your expectations and prepare to spend a lot more time sitting in your car. Also, because of this, expect to have to fill up your gas more frequently thanks to the longer drives.
Take Time to Understand the Taxes
When most people think of Texas, they think of the taxes. In the state, there are no state or local taxes on their personal income. For many people, that is a huge plus and can sometimes entice people to move to Texas over other states. However, that doesn't mean there are no taxes being paid.
If there are no personal income taxes, you can be sure you are going to have to pay another way. In Texas, that means paying some of the highest property taxes in the entire country. Also, there is a sales tax you will be responsible for. So while the taxes are generally more friendly than other states, don't expect to move to Texas and be able to avoid all taxes completely.
Get to Know the Transportation Options
While many people in Dallas will have a car, not everyone wants or can afford one. Because of how large Dallas is, if you don't plan on driving, you need to learn about the public transportation options in the city. While they are plentiful with the DART rail system, railway and taxis/Uber, it isn't always a simple area to navigate.
Some of the routes can be inefficient and difficult for people to plan or understand, especially those who are new to the city. If you want to use public transit effectively, it is very important that you do some research ahead of time to familiarize yourself.
Know Where You Want to Hang Out
In a city as large and as culturally diverse as Dallas, there are hundreds of different things to do. There are many shopping centers, museums, restaurants and a near-endless amount of other activities. Before you arrive in the city, you should put a little time into deciding a few places you want to be sure you try out.
Of course, it's good to walk around and learn about and experience new things as a new resident, but with so many options, it can lead to overchoice. This is where having so many choices of what to do can actually make it harder to choose. Having a few ideas of places you want to check out or things you want to do before you move is always a good idea and can prevent this annoyance.
In conclusion, if you know these 5 things, your move to Dallas will likely go much more smoothly.