Google Analytics is one of the most powerful web analytics applications available today. It is an entirely free program to check website traffic on the website. Safari SEO in London advise that Analytics is a powerful tool to track traffic patterns on the website. It gives great insight into how users find your site and can highlight what is and isn't working.
View of Google Analytics Data
When you start getting in Google analytics data, you can start learning about website traffic. If you have more than one website linked to your Google Analytics platform you need to select your website to choose from a list of websites. When you log in to Google Analytics, you will be taken to your Google Analytics Home.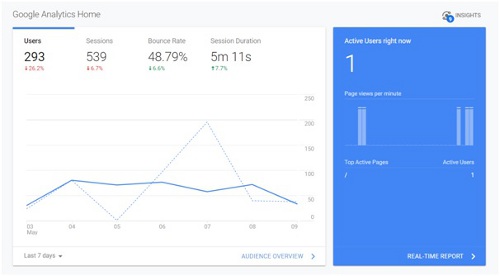 Here you can see Users, Sessions, Bounce Rate & Session Duration.
On the Right-hand side in blue color, you can see Active Users right now on the website.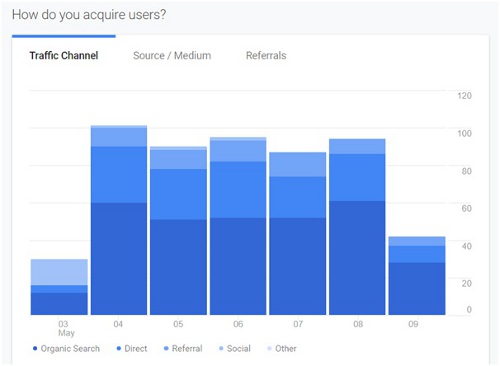 You can also find a bar graph for Traffic Channel which consists of data of Organic Search, Direct, Referral, Social & Other Sources.
Audience Overview
You can view more detailed audience report by clicking on Audience on Left side.
When you click on Overview you view detailed information about your website visitors.
In the top right, you can click on dates to change the date range of data you are viewing. You can also select Compare box to compare your data from one date range to previous date range to compare your data.

You can hover a variety of areas on Google Analytics report to get more information.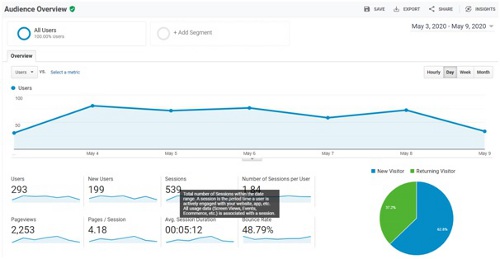 You can view User, New Users, Sessions, Number of Sessions, Page View, Page/Session, Avg. Session Duration & Bounce Rate.
You can also view the top ten languages, countries, cities, browser, operating system, service providers & screen resolutions of your visitors.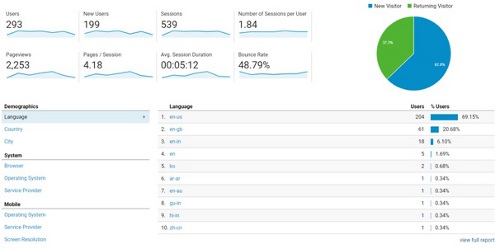 Audience Report also provides you the detailed information you want to know about your visitor. You can find details of your visitors' age & gender (Demographics), general interest (Interest), where the user has come from (Geo>location) & what language they speak (Geo >Language), how often visitor visits your website (Behavior), also user visiting the website is a new user or returning user (Behaviour > New vs Returning), about browser & operating system of user (Technology > Browser & OS), You can also find a user is visiting the website through which device mobile or desktop (Mobile > Overview).
Acquisition Report
These reports will tell you everything you want to know about how visitors visited the website (All Traffic).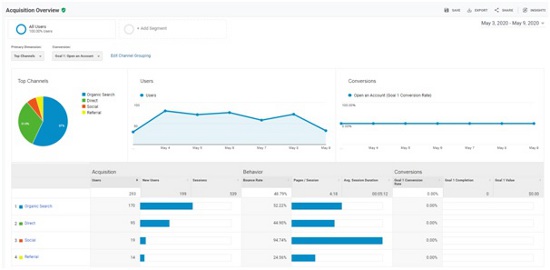 You can also see top channels from where users visit website i.e. from Organic Search, Direct, Social, or Referral.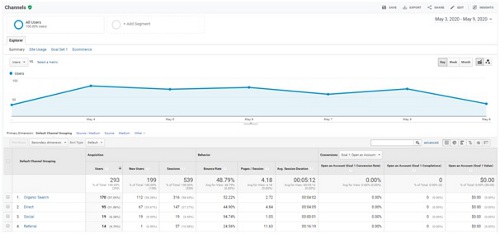 In All Traffic > Channel you can view detailed information about traffic channels.
Here you can find detailed information about User, New User, Sessions, Bounce Rate, Page/Session & Avg. Session Duration for each channel
You can also find traffic from social networks (Social). You can connect Google Analytics to Google Adwords to learn about PPC campaigns.
Behavior Report
These reports will tell you everything to want to know about your website content. You can find Pageview, Unique Pageviews, Avg. Time on Page, Bounce Rate & % Exit.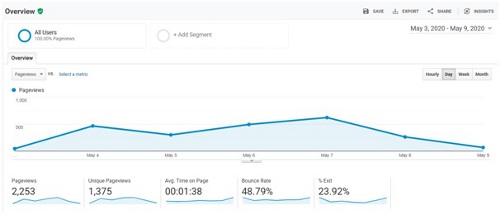 You can also get information about behavior flow i.e. how user visits website, User visit on which landing pages, you can also get to know about second page user visit after home page.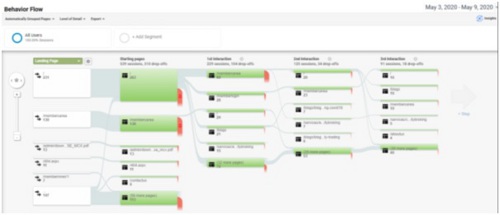 You also find what is website load time i.e. how fast your website loads (Site Speed) & you can also get suggestions from Google how to load your website faster (Site Speed > Speed Suggestion).
Conversion
If you set up Goals within your Google Analytics, you can see how conversions your website has received (Goals > Overview) & about URLs they happen upon (Goals > Goal URLs), You can also check path visitors took to complete conversion. (Goal > Reverse Goal Path).
I hope this article will be helpful for you to learn Google Analytics. Get your analytics setup done today and start analyzing the data. If you want deep insights from Google Analytics data then approach a digital marketing agency in Mumbai and ask them to do the work. It is better to get expert advice sometimes!!