When the summer months roll around, people want to get outside and enjoy nature. ATV riding is one of the best ways to do this. Of course, you want to have the right gear for the job. Everyone has their own take on what to wear. Nonetheless, whether you are looking for the best men's or best women's ATV riding gear for the summer, there are a few must-haves that everyone needs.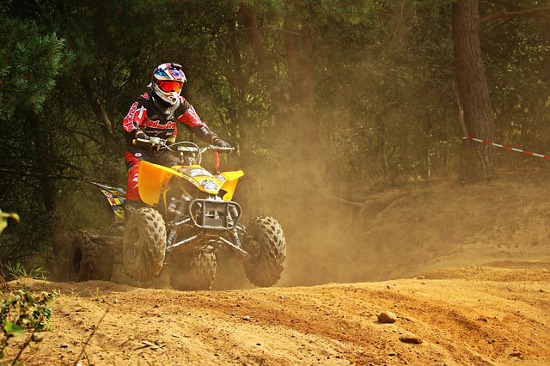 Helmet and Protective Gear
Protecting your head is important. In fact, your helmet may be the single most important thing you can bring with you on an ATV ride. A high-quality helmet will not only keep you safe in the event of a crash, but it will also help you maintain visibility even as you get covered with mud and dirt. Additionally, ATV helmets have a sun visor which also helps to reduce lift at high speeds.
Consider the Scorpion EXO-AT950 Solid Helmet. It features a clear visor that will help keep the dirt and debris away from your face. Alternatively, if you want something a little less subtle, consider the Bell Mtoro-9 MIPS Tomac Replica Helmet. It has a lightweight, comfortable construction and a fun, eye-catching pattern.
For other protective gear, you definitely want gloves and body armor. Protective padding for your chest will keep you safe in the event of a crash. The preferred setup for an ATV is a jersey or suit over separate armor. This is an especially good idea in the summer because it is a surprisingly comfortable way to ride even on hot days.
If you are planning on hitting some higher speeds, get a full set of knee and elbow protectors as well as ATV boots. Taking steps to be safe is always a good idea. The next time you are browsing for motorcycle aftermarket parts on sale, grab some ATV safety gear too.
Tool Kit
Bring a set of ATV tools with you as well. Off-road riding is always a little more fraught with crashes and difficulties. There are uneven trails, sharp debris and other hazards to contend with. Therefore, being ready to fix a minor issue is a good idea.
Consider a set like the Cruz Tools RoadTech M3 Tool Kit. This basic set gives you everything you need to give your ATV first aid when needed. If you break down or minorly damage your ATV, you'll be really glad you brought some tools with you.
Water
It gets hot out there on the trail during the summer. Bring plenty of water so you can stay hydrated. Not only will you be more comfortable, but staying hydrated also helps you stay focused and alert. Taking care of yourself is a must when riding an ATV.
Get Your Summer Gear Today
ATV and motorcycle riding are the most fun when you are properly equipped for the experience. Whether you need ATV summer gear or the best OEM parts for Suzuki GS500, it is worth it to get the right stuff. You'll be glad you did when you are shooting along the trail or down the road. Get your equipment today.