If you are one of the people who is confused between an Executive MBA and a Regular MBA then this post is definitely for you. MBA or Masters of Business management is one of the most popular courses for post-graduation among graduates. There are various B schools in Mumbai offering MBA degrees with various specialisations.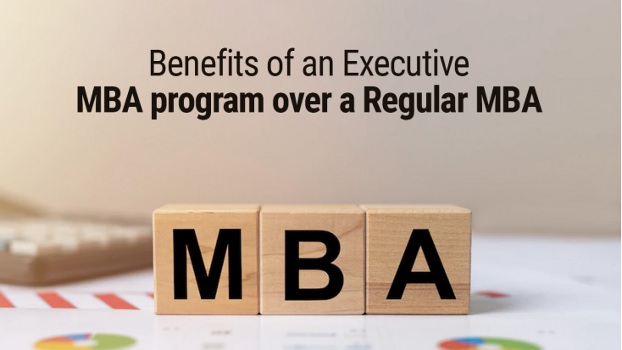 Commonly, there are 2 types of MBA programs that are most popular, Executive MBA and Regular MBA. Executive MBA is more of a professional degree and has various career options. One of the most famous Management institutes in Mumbai is Universal Business School, Mumbai UBS. UBS offers various Executive MBA programs along with other PGDM degrees. If you want to know more about Executive MBA programs and their benefits over a Regular MBA, then do read the given post completely.
What is an Executive MBA?
The Executive MBA/PGDM is a postgraduate management program designed specifically for working professionals who want to improve their skill set in their industry or field of expertise to be able to adapt to the quickly shifting business environment and remain competitive in the job market.
An executive MBA (EMBA) is a one-year postgraduate program in business administration. Some colleges provide an executive MBA program for a duration of 15 to 18 months. Because it focuses more on the finer points of management and less on theory, the EMBA is designed for working professionals.
A working professional with four to five years of experience is most suited for an executive MBA because their advanced management skills will help them grow within their companies.
Why executive MBA over Regular MBA?
More Global elective Opportunities
Universal Business School which is the best management institute in Mumbai offers an Executive MBA to students. If you want to build a global group, you should be able to collaborate with global partners, which means that both you and the business must understand how to get beyond any potential cultural obstacles.
EMBA students become specialists in international business, enabling them to internationalise their profiles, form relationships around the world, and discover opportunities that can be of interest to their companies.
EMBA provides Global Connections
Through global electives, seasoned instructors, as well as the international student and alumni community of an institution, EMBA students may expect to broaden their business networks. This will enable them to connect with people who can aid them in their present professional responsibilities right away.
EMBA teaches more applied team/consultancy
The team/consultancy projects from an EMBA degree can be applied by students to their businesses to address significant problems and challenges for their employers.
EMBA students can contribute significant value while saving their companies money by acting as "homegrown" consultants who have a thorough awareness of the internal dynamics and culture of their business.
Higher Salary Potential
According to The Economist, executive MBA for working professionals typically saw a 51% income rise. The Financial Times reports that compared to applicants for MBAs and MSs, executive MBA candidates are more likely to find employment in the manufacturing or the industrial sector and frequently hold positions with higher salaries and earning potential. However, as they finish their degrees, their earnings also increase.
More Promotions and Upgrading
Executive MBA program graduates not only have greater starting wages and earning potential, but they are also more likely to expand their careers by taking on more responsibility in management roles or founding their businesses.
Many graduates choose to shift careers or explore new opportunities after receiving an executive MBA; these actions may lead to more lucrative roles.
Work and earn an Executive MBA degree
The executive MBA is specially made to allow students to finish their curriculum without compromising their professional activities.
High-level executives' hectic schedules are taken into consideration when designing an executive MBA program. The executive MBA offers online, classroom, and residential formats to minimise the amount of time away from business and personal life.
Career Options after Executive MBA
Students can access many doors to secure dream jobs with the aid of Executive MBA Career Options. It provides students with a wide range of high-posting job opportunities.
After finishing Executive MBA course degrees, students might choose these high-paying employment choices in marketing. After earning an Executive MBA, individuals should think about the following top career options:
Brand Manager
Business Development Manager
Senior Finance Manager
Management Consultant
Senior Business Analyst
Executive MBA Top Recruiters and domains
As compared to the Regular MBA programs, the Executive MBA has various domains and working areas. The employment alternatives are excellent for those who want to hold a prominent position in a business. The course is therefore very well-liked by pupils.
Here is a list of prominent businesses that are hiring people from the Executive MBA program and providing MBA Marketing job openings:
State Bank of India
Punjab National Bank
Coal India
ONGC
National Council for Cement and Building Materials
Telecom Regulatory Authority of India
MTNL
BSNL
Indian Oil Corporation
Hindustan Petroleum
Conclusion
Executive MBA is one of the most famous and rewarding courses of all time in the management field. There are various benefits of an EMBA over a Regular MBA. There are various MBA colleges in Maharashtra and one such is Universal Business School, Mumbai. If you are planning to pursue MBA then do read the above post to know the difference and benefits of pursuing Executive MBA program.