Pharmacy plays an important role in healthcare and is constantly evolving with the advancements in the healthcare industry. The role of a pharmacist includes drug development and distribution, medication management, and patient care.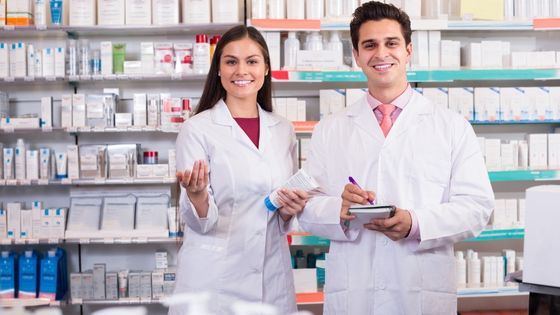 The scope of B. Pharmacy is vast and diverse and covers various areas of the healthcare and pharmaceutical sector. With the right set of skills such as analytical skills, communication skills, technical skills, and attention to detail you can build a career after completing your graduate studies in pharmacy.
Let's take a look at the skills you need for establishing a successful career in the pharmaceutical industry.
What are the skills required for a career in pharmacy?
Apart from academic knowledge and practical experience, you must acquire certain skills and nurture them to build a successful career in pharmacy. Most of them are related to administering medicines with care to patients. Here are some of the important skills required for a pharmacy career.
• Accuracy
Pharmacists are involved in several stages from preparing medicines to dispensing them in the right doses. Mishandling of medicines can lead to severe issues including life-threatening situations. So, a pharmacist must have an eye for detail and should be accurate at work.
• Communication skills
Good communication skills are an essential part of a career in pharmacy. You will have to communicate with other healthcare professionals and patients daily regarding medicines and their dosages.
If you are working as a pharmacist, your main responsibility is to dispense medicines to patients and inform them about the dosages. Interpersonal skills are a necessity in such situations.
• Analytical skills
As a pharmacy graduate, you will be required to analyse complex medical information and make decisions about medications and treatment plans. Analytical skills are necessary to ensure that you can interpret this information accurately.
• Technical skills
As the healthcare system is also adapting to online modes of service, you have to work with computerized systems to manage medication orders and patient records. Basic technical and computer skills will ensure that you manage such situations effectively.
• Customer service skills
A significant part of your job will involve dealing with patients, explaining medications, and addressing their concerns. Good customer service skills are essential to ensure that patients receive the best possible care and have a positive experience.
What is the scope of B. Pharmacy?
From hospital service to drug development and research, B. Pharm graduates are required everywhere in the healthcare industry. As we move forward and the healthcare system is expanding the roles and duties of pharmacy graduates are also widening.
Some of the popular career roles for B. Pharm graduates are a pharmacist in hospitals and clinics, drug development officer, drug inspector, public health expert, etc. You can also start your medical store and kickstart your entrepreneurial journey after obtaining a license. Pharmacists are employed in public and private sector offices as part of the healthcare system.
If you are interested in building a career as a pharmacist, enrol in a B. Pharm programme today.