Orlando is a top destination for national and international visitors alike. It is a particular favorite for families – and for a good reason. If you are finally ready to take your family on their dream vacation to Disney World, Universal Studios, Epcot, and SeaWorld, then don't waste your budget on the overpriced, on-site hotels. There are so many amazing and budget-friendly hotels and resorts that cater to families that will help you stretch your budget while enjoying easy access to the top theme parks in the area.
Spend every day at Disney World. Go one day to each park. Spend just a day or two at one of the top theme parks, and then enjoy a relaxing and fun time with your family at an all-inclusive resort that even features a waterpark. There are so many great ways to spend your vacation in Orlando, especially when you book one of these top 10 resorts.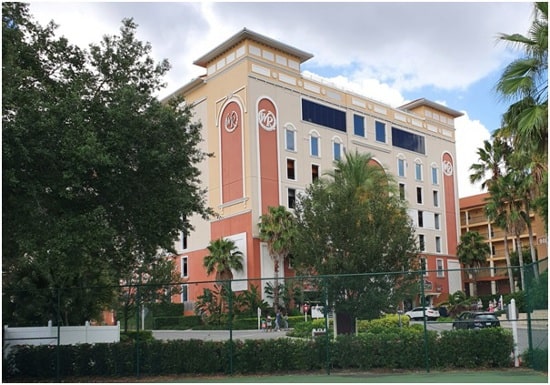 1. Westgate Lakes Resort & Spa
This affordable, off-property resort is perfect for large families and is within a 10-minute drive of all of Orlando's top attractions.
Westgate is a great hotel option for those who want it all. With a variety of accommodation options and some great amenities like a full waterpark, there is every reason to love this resort and choose this destination to be your home base for your big Florida adventure.
You can learn more about their full list of amenities and perks on westgateresorts.com, as well as the other resorts in the area under the Westgate umbrella, but what you need to know now is that you will have a full waterpark, a spa, outdoor activities, contemporary hotel rooms, and great food options all in one resort.
The best part for those in the area to see all the top theme parks in the area is that it is less than 7 minutes away from Walt Disney World resort and SeaWorld Orlando, 6 minutes away from Discovery Cove, 5 minutes away from International Drive, and 4 minutes away from Universal Orlando Resort.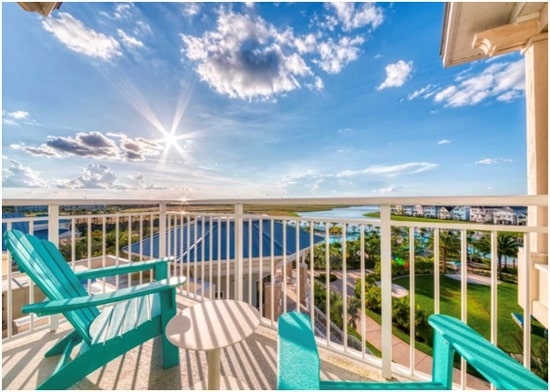 2. Margaritaville Resort Orlando
This fun, colorful, and upscale resort is inspired by the Caribbean and offers everything you need to enjoy a vacation in paradise.
Margaritaville is a fun and upscale resort ready to whisk you away to the tropics while keeping you on the mainland. Here you will have the ultimate vacation, as it is the number one priority of this 4-star themed hotel in Kissimmee.
Find vibrant, colorful décor, incredible pool paradises, and even a waterpark on-site at this resort. When you are done basking in the sun,you'll be able to kick back and relax in your room that comes complete with modern fixtures. Upgrade for a private balcony or suite for even more comfort and tranquility.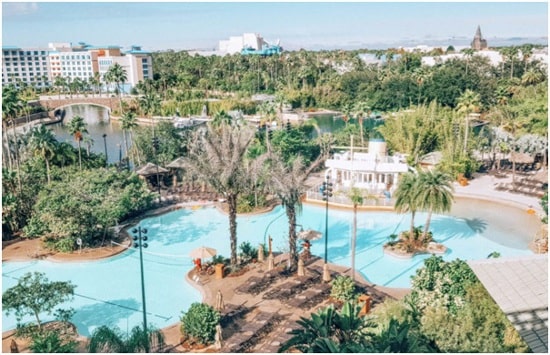 3. Universal's Loews Royal Pacific Resort
This massive resort has 1000 guest rooms and 51 suites to choose from and is also within walking distance to Universal Orlando.
Loews Royal Pacific Resort is one of the on-site hotels and resorts that are located within Universal Orlando itself. You don't need to go far in order to enjoy top amenities, beautiful pools, and luxurious treatments. Instead, have it all just steps away from the thrills and action.
The resort itself has over 1000 guest rooms and 51 suites, so you can customize your experience and bring your whole family with you. Embrace the theme and go to one of the character buffets, or get special early access to some of the top attractions in Universal Orlando.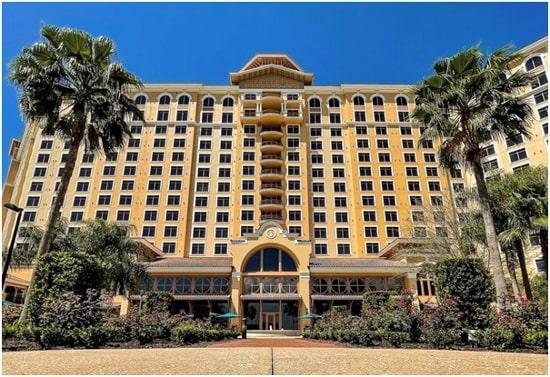 4. Luxury Four Seasons at Walt Disney World Resort
This 443-room resort allows you to stay right inside the theme park and offers beautiful views and private balconies.
If you want to find a glamorous family resort in Walt Disney World rather than Universal Studios, look no further than the Luxury Four Seasons. This resort sits next to its own private lake and has 443 guestrooms and suites. Each offersits own great view of the theme park and hasits own private balconies to sit and relax from afar.
It is ideal for families, couples, and groups of friends. With stunning amenities and décor, as well as six different gourmet restaurants, a spa, and a golf course, you will be spoiled for choice on things to do long before you step foot in the theme park.
5. Grand Bohemian Hotel
This great resort offers luxury, and the contemporary hotel allows guests to stay surrounded by art and is the perfect place to travel in style.
If you are in Orlando for the downtown area, then one of the best hotels in the area is by far the Grand Bohemian Hotel. This hotel is a work of art in and of itself and even has a gallery with over 150 artworks for you to see for free as part of your booking. The hotel has a beautiful rooftop pool that offers stunning views over the city and comfortable amenities that will keep you thrilled throughout the day.
Step outside and enjoy the arts and culture, the shopping, or head over to the theme parks that are set up outside the downtown area. When you head back, make sure to go to the Boheme Restaurant, which offers delicious meals and accompaniment live jazz music to round off your day.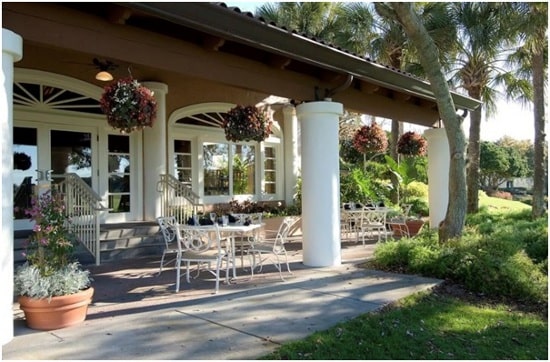 6. Villas of Grand Cypress
This beautiful golf resort is located on a 1500-acre property and offers both suites and stunning villas.
If you want a break away from the hustle and bustle and instead relax and rejuvenate at a stunning villa, then look no further than the Villas of Grand Cypress. These villas are located on a massive property that includes gardens and a golf course, so you can get some peace and quiet in utter luxury.
You can book either a suite or a villa during your stay. Villas are ideal for big parties and even family reunions.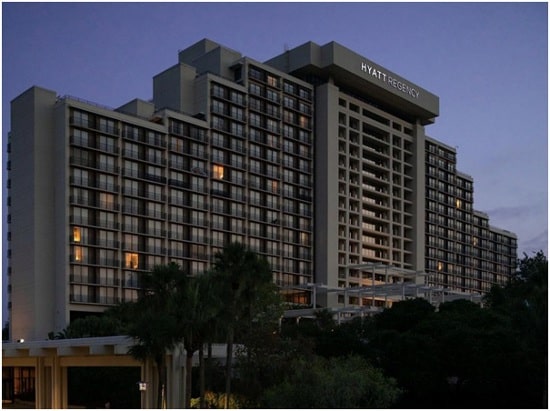 7. Hyatt Regency Grand Cypress
This resort features an 800,000-gallon swimming pool and comes available with 815 different rooms and suites to suit you and your family.
Another great resort to pick in Grand Cypress is the Hyatt Regency. Located near Walt Disney World, this massive hotel and resort offers everything you will need with a variety of restaurants and a massive 800,000-gallon swimming pool complex (that's larger than an Olympic pool) that offers something for everyone and all ages.
The hotel even has a kids-only camp called Camp Hyatt that gives kids the chance to make friends, paddleboat, bike, and rock climb while parents have the chance to relax and get some quality time together at the restaurants, spa, or pool.
8. Rosen Shingle Creek
This resort allows guests to enjoy the stunning natural beauty of Florida and is surrounded by lush, beautiful gardens.
If you want a resort that feels like an escape to the natural world, look no further than Rosen Shingle Creek, which is surrounded by wildlife yet still close to all the action. It is perfect for those that want to relax and enjoy a bit of peace and quiet at the end of a busy day at the theme parks.
You will be able to enjoy a beautiful pool, a luxury spa, a golf course, and of course, the delicious foods available at the two on-site restaurants when you choose to base your Orlando vacation out of this hotel.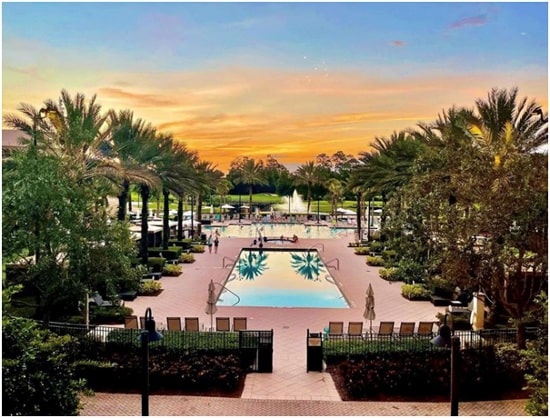 9. Waldorf Astoria
This Disney-based hotel offers decadence to all guests and features pools, a golf course, and even a supervised kid's club.
The Waldorf Astoria is a luxury resort for those who want to pull out all the stops and want an unrivaled luxury experience. This hotel is right on the grounds of Walt Disney World and offers decadent accommodations, tranquil pools, and incredible dining options. There is even a kid's club so you can spend some quality time with your partner while your kids have fun on an adventure where they can make friends, play games, and have fun.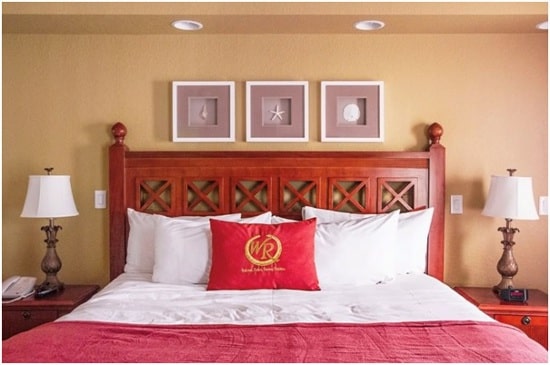 10. Westgate Vacation Villas & Town Center Resort
This resort offers great value and multiple accommodation options, including villas that come complete with multiple bedrooms and a full kitchen.
Another Westgate Resort that has its own waterpark is the duo resorts of Westgate Vacation Villas and Westgate Town Center Resort, commonly referred to as Westgate Vacation Villas and Town Center resort.
This resort offers it all and is ideal for small to large families, thanks to the dual focus of suites and villas. Larger families can enjoy the ultimate base of operations with a villa that houses everyone comfortably and has money-saving features like a kitchen and washing machine.