With the number of payment gateways emerging today, it has become very confusing to choose the one for Travel Company. Travel Company has to deal with huge amounts of money on a daily or weekly basis. A Travel agency or company accepting payments through cards or net banking needs a payment gateway. It's not only important to find an online platform to pay but it must also include all other features, safety and security, and easy payment integration. According to the statista.com, the revenue in the online travel booking segment amounts to the US $ 8069m in 2019. This shows the travel company is growing considerably due to the various easier ways online payment has granted and enabled quick bookings on the website. A payment gateway is the one that is beneficial for seller and buyer, customer and merchant, in short, the one who is paying and is getting paid. Card information is sent through the site to the payment gateway. It further accepts or rejects a transaction. When the information entered matches with that of the information in the company file, the transaction is accepted.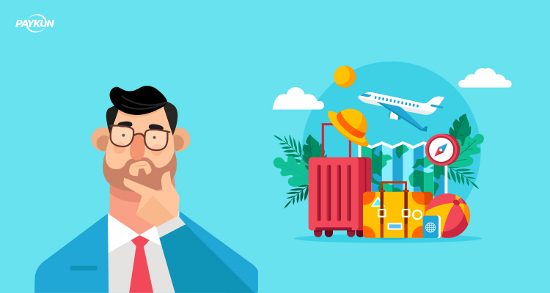 While choosing a payment gateway for travel businesses certain basic points must be considered and kept in mind for the efficient functioning of the business and ultimate satisfaction of the customer.
1. Customer service or support: – This is one of the most important features and requirements. Customer service must be highly responsive as any issues or grievances must reach the company on time to resolve the obstacles or hurdles. Trustworthy, hardworking and friendly customer support is very crucial for travel businesses Company. Paykun is one of the best payment gateways for travel businesses as it has all mentioned features;-
24/7 customer support or service via email, chat or mail is mandatory
A live support system or query or grievances options should be there on the site.
The phone number or email ids must be working.
The time zone of customer support must be convenient.
2. Payment gateway charge and set up time: – Popular payment gateway charges are higher than Paykun. It is recommended to go for low setup fees payment gateways for the new entrants. Also, the time is taken to set up an account matter in such cases. Paykun offers free payment gateway with low set up charges and no extra hidden charges included in it. The integration kit comes with complete guide and documentation which makes it easy to set up.
3. Security: – Travel charges include hotel rents, flight charges, bus fares, taxi fares, tour bookings, etc. which makes a huge amount of money. Hence security and safety are highly important for generating reputation and creating confidence in the customers. When a website guarantees seamless secured transactions it creates trust among the minds of customers. It is an important payment gateway abides with the information technology act 2000 and is certified and level 1 complaint with PCI DSS. PCI DSS makes card payment services secured. High-security features for fraud detection and for avoiding chargebacks must be built into the gateway.
4. Payment gateway integration: – The payment gateway must be easily integrated with the travel business platform i.e. it must be compatible with the system, accordingly they must be selected.
5. Fee structure: – The payment gateway for travel business must be selected keeping in mind its needs and future business. For a travel business paying a monthly fee for a certain number of transactions would be beneficial as the volume of online payments is relatively high. One must always check the transaction fee charged for qualified and non-qualified transactions. Decision making after deep scrutiny in such cases is crucial before jumping for the lowest charges.