Started a trucking business but are curious about its growth? Don't worry, this blog comprises some of the best suggestions on how to grow your trucking business.
Operating a commercial business is not a big task as its growth. Meeting all the challenges and getting enough revenue with time is crucial thing. Being a trucking business owner, everybody wants to see the graph rate rising high and high for their business. But lack of knowledge and experience sometimes let you fall and you may lose your business or you may be ok with the constant running of the business. But a growing successful business is everyone's dream. That's why we are here to help you with some of the best tips and suggestions to follow to achieve whatever you want in your commercial business.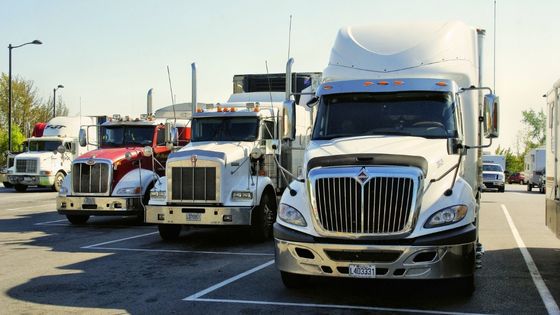 Let's take a look further to get each and every detail of being a successful trucking business owner!
Some Best Tips on How to Grow Your Trucking Business
Always Keep in Mind Your Current Financial State
If you run a trucking company, you very well know that you should give a reliable and cost-saving vehicle to the hands of your appointed driver. To achieve this, you should have a good credit score and have some savings set aside for a down payment. If you think your credit score is not up to the mark then try to work on it on priority. If you don't have enough savings in your current account, then find out ways to save a little money each month to raise your business. Always try to be ready for the downpayment to avoid delays in payments. Also, you can consider leasing trucks rather than buying them as per your financial state to further grow your business.
Always Keep an Eye on Budget
If you don't prepare a budget to estimate all the expenses, then it's high time you should keep an eye on the budget. You can prepare an excel document to monitor your monthly expenses, or you may use any virtual tool to do this for you. There are many virtual tool options available in the market.
When you will thoroughly check your budget, you may find many differences in the current budget situation or when you started the business. It's very good if you see growth and high revenues in your budget now rather than from the starting days. If this is not the case, then be watchful seriously towards the budget of your business. Budget is basic to keep running any commercial business as it tells you about the expenses, savings, and revenue-generating. It is very important for you to know the exact numbers and calculations if you need to grow your business. Maybe you find some more interesting ways to save your money by tracking your company's budget regularly.
Have Suitable Truck Insurance
There are a lot of risks associated with operating trucks on the roads as these are heavy vehicles. And the cost of maintenance associated with the trucks is as big as they are in size. So, why burn your pocket and hamper your business to protect the trucks?
Truck insurance is the answer to this. There are a lot of truck insurance options available in the market from so many insurers. You should consider the required truck insurance policy as per the given points:
Type of truck and its model
Type of cargo to be carried
Your budget
There are many other things that you need to consider before opting for a suitable policy. But once you get the correct policy coverage for your trucking business, you can be carefree when your trucks are on the roads. When you don't have a burden on your pocket to maintain the trucks, then you can easily think about growing your business by investing in other things.
Do Investment in Better Trucks
As you know, the foundation of your trucking business is your trucks. So, as strong as the foundation will be, the stronger and better will be your business. There may be times when you don't have enough funds to buy the trucks and also you can't lease more trucks. The solution to this is to enhance and do investment in the previously running trucks. You should upgrade the current trucks as soon as possible. A newer and upgraded truck may cost you but it will be worth doing so. It will improve MPG, and also drivers will experience fewer breakdowns. And when you think you have enough savings to purchase a new one or lease a truck, then you can go ahead with the latest trucks.
Engage Loyal Staff to Handle Office Work
As a truck business owner, you have a lot of work to do from handling the fleet to checking loading-unloading, doing the bookings, filing all the paperwork and documents, etc. If you feel office work is burdening you and you are not able to handle the fleet and loading work, then it's a good time to consider somebody who will handle the office work for you. As per our suggestion, you can appoint some of the given persons to handle your work:
A certified accountant
A good truck dispatcher
Freight Broker
Maybe you don't have enough earnings to support all these people. In such situations, consider the tasks that take your maximum time and appoint staff for that work. Always try to hire a responsible person with dedication towards the work.
Try to Control Fuel Costs
Consumption of fuel is an important factor in any motor carrier but it can get out of your hands if you don't keep an eye on this. Determining the route to be followed and the fuel to be used is very much necessary if you want to save on this one. It will help to decrease the expense and increase the profit. Sometimes, the calculation of the fuel cost can be a bit tricky as the fuel price varies from place to place and maybe there is a need to take another route than the selected one. But you can prepare an estimate. You can consider taking fuel cards to save some money on this. It will help you to save some amount and grow your business.
The Rub
Wrapping up this article with these thoughts and tips on how to save money and grow your trucking business. Apart from these points, you can always emphasize technology to grow any commercial business. Running a trucking company can be troublesome sometimes, but with such factors, you can go smoothly. Hope these suggestions will help you to keep your business growing with time. If you have other experiences and ideas in mind to enhance the business, then feel free to drop your idea here.
Still have questions in mind, feel free to connect with us. We will serve you as soon as possible!