If you are looking for ways to earn extra cash for your college expenses, here are a few ideas to make some money. From getting a teaching assistant job to dog sitting, there are tons of options you can try. We listed five jobs and activities you can look into and see if any fit your interest and class schedule.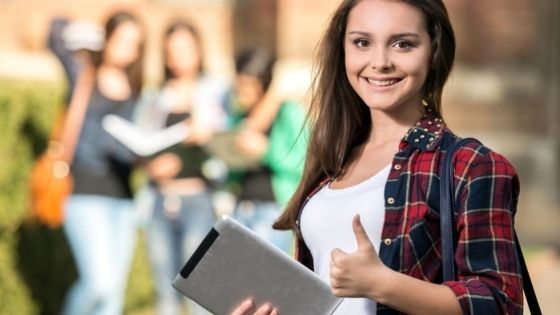 Apply for a Student Assistant Job
Check if your university or school offers on-campus jobs such as teaching assistants, desk attendants, or campus tour guide jobs. These types of part-time employment usually involve checking grade papers, working with other students, or helping with monitoring exams and tests. Taking these roles is a great way to earn a little extra for your living expenses in college.
Sell Your Artwork
If you make hand-made things like scrunchies, bookmarks, soaps, and candles, consider selling them! There are a lot of free online platforms where sellers can advertise their hand-made items. However, note that some of these sites also charge a small listing fee for every item. Selling your crafts is an excellent way to express your creativity while earning extra money.
Another item you can sell online is digital artwork. Drawings and paintings are fit to be offered for sale online. Or, you can also do commissioned art where clients ask you to draw something for them and pay you for your work. Just find the right audience where you can post or advertise your work.
If graphic designing is your thing, you can also offer online designing services for businesses. Most of the time, start-up companies are looking for logos and advertisement graphics. This is a great opportunity to make money while honing your skills in graphic design.
Sell Your Unused Clothes and Other Belongings
Do you have some (or maybe a pile of) clothes just lounging around your apartment or dorm that you rarely or never wear anymore? Don't put them to waste by letting them sit in your closet! Sell these seldomly used clothes, bags, shoes, and other accessories to consignment shops or online.
Look for reputable and trusted online selling sites where you can post photos of your clothes, shoes, and other items. If you plan to sell your stuff online, always take the shipping costs into account when pricing your items.
Try Dog Walking or Dog Sitting
Dogs are on every corner of every street these days. These pets need extra care and tending (plus lots of belly rub!). So, most dog owners who have busy schedules and long workdays are willing to pay extra cash for dog sitters. If you are an animal lover and you adore dogs, you can try dog sitting (just make sure you're not allergic to fur). This is a great way to earn money while enjoying your free time with some furry friends.
Dog walking is another popular side job in the US. If you have a tight class schedule with lots of homework to do, or you live on campus, walking dogs is probably more convenient than dog sitting. You can make extra cash while squeezing in a midday exercise to your routine.
Work as a Part-Timer at Pizza Hut
If you have a Pizza Hut branch near campus, you can try applying as a part-time employee and work in your free time. They offer hourly wages and also provide admirable Pizza Hut employment benefits and perks to their staff. The pizza company shows educational support to its team members by providing Life Unboxed Edu for all their employees, including part-timers, to take advantage of.
Life Unboxed Edu, one of Pizza Hut employment benefits, is a continuous learning program that is available at Excelsior College. The employees and their immediate family members are welcome to enjoy perks such as tuition fee discounts and college credits. They can receive 45% discounts on their undergraduate studies and 15% on graduate programs.
Pizza Hut pays up to $5,250 a year for every participant's tuition fee. With this upfront payment, eligible members can start their studies right away without having to worry about reimbursement. Life Unboxed Edu is Pizza Hut's way of supporting its employees to pursue their education and career goals.