With summer being just around the corner and the world still a bit too far from normal, it is still uncertain if we will get to travel during this summer.
Even if we do, there is no reason why you shouldn't turn your garden into a summer retreat.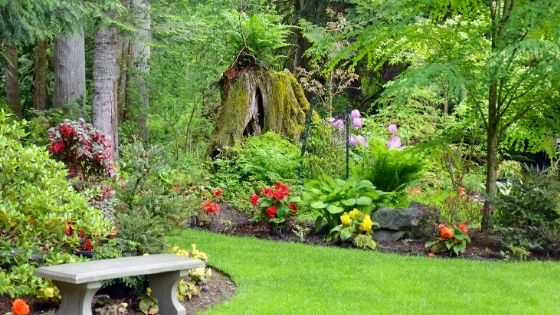 Your garden can be your private resort, a place to chill and relax, or a place to spend some quality time with your family and loved ones. If you feel like it, you can even turn your yard into a place for parties and entertaining guests.
Here is how to make your garden your summer retreat.
Make a play area for kids
If you think back to your childhood, you will remember how much you loved being wet during the summer.
Here is the thing – dirt and water combined tend to make mud, and while muddy kids can be pretty happy, the same isn't true for the parents.
What you want to do is take stone (from Midland Stone, for example) and set it up surrounding an even area of your garden to create a sand pit. There, you can set up a Slip n slide for the kids to play or simply let them go wild with a water hose.
You can also pave part of your yard and let your kids draw a hopscotch board on the stone or let them go wild and paint their play area with crayons. If you don't feel like constantly cleaning the stone, simply set up an outdoor blackboard for your kids to draw on.
Once you are all done, your kids can even have a great summer party in this area.
Set up a flower garden
Big or small, in the city or the countryside, your garden will look much better with an area loaded with flowers.
Pick up a few planters and fill them up with a mix of perineal and annual plants to make sure that you have lovely flowers blooming in your garden for the better part of the year.
To make sure your flowers get enough nutrients, you can cover the ground with some grounded eggshells. Also, you can make compost out of almost any kind of paper – just make sure to shred the paper first.
Shredded paper in the compost will retain water and valuable materials that feed your flowers for longer, while the eggshells will make sure your plants get enough minerals.
Add a fireplace
Nothing is as cozy and inviting as fire is.
You can build a fireplace, or simply just gig up a hole in the ground and surround it with some rocks, depending on your budget, your aesthetic, and your preferences.
What matters is that you will end up with a place that is great for you and your loved ones to gather around during the chill summer nights.
If you really enjoy the fire and the pleasure it brings, you could invest in a modular outdoor set that you can arrange in a way that fits you. You can add an outdoor oven, a chimney, and all the bells and whistles that come to mind.
Set up an outdoor bar
An outdoor bar can be as simple as a single plank lying atop a brick wall, or it can be a structure that you have built with precisely this idea in mind.
What matters is the idea.
These days, you can get almost any appliance you might need in a sturdier, outdoor-friendly variant, starting from the fridge to a keg tap and even a sink.
One thing to keep in mind is to have enough seating for all the folks you plan to entertain. Just make sure that your seating is also made from materials that can stand the test of being outside all year round.
Consider outdoor dining
If you are determined to turn your garden into a true summer retreat, you have to treat yourself. This is also true when it comes to dining outside.
Forget about plastic cups and silverware and paper plates. Instead, treat yourself to a proper meal with cloth napkins and all the fancy things that mark a fine dining experience.
Set up some lounge chairs and colorful throw pillows in the garden as well, so you can spend the time after the meal just relaxing and doing nothing.
Make an outdoor living room
If you find yourself enjoying the idea of spending time in the garden, why not go all the way and make an outdoor living room?
The concept is simple – create an area on your deck that resembles your actual living room. Hang a few pictures, throw down a rug and place some furniture in a way that feels like your indoor living area.
There are many companies that specialise in outdoor living spaces (for example, garden rooms by creative), who can create well insulated spaces that can be used for lounging, dining , entertaining and more.
The mere act of stepping outside will be enough to stimulate your brain and give your mental health a boost. Humans are creatures that crave change, and sometimes all you have to do to achieve it is set up your living quarters on your home patio.