If you have a passion for all things theatre, film, and what it really takes to create a realistic world for viewers to enjoy, you might want to consider a career in costume design.
Costume designers have the opportunity to turn concepts into reality for actors across the globe. They typically work wherever actors do, so in film, TV, theatre, and even theme parks.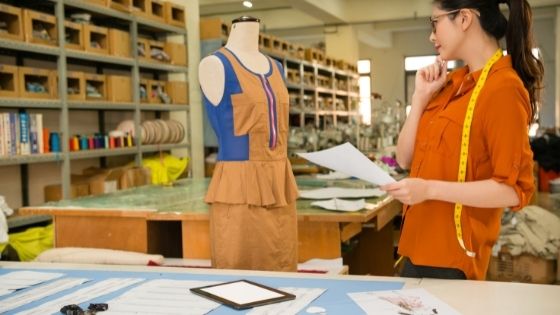 The role doesn't just involve dressing the actors. You'll play an integral part in enhancing the overall feel of each scene and making stories come to life.
The good news is that a specific degree in costume design isn't always required – meaning you could get started right away. That said, many costume designers find a degree in fashion design, costume, or other textile-related subjects pretty handy when pitching themselves for work.
So how do you land your dream role of becoming a costume designer?
Learn the basics
As with any career plan, you need to learn the basics before diving in. And, once the basics are mastered, continue your learning forever. With costume design, there's always something new waiting to be learned.
To be a great costume designer, you need to be able to understand storylines, eras, locations, and characters in depth so that every little detail is correct. A designer will do plenty of their own research into the story, and the period it was set in, in order to ensure that all costumes fit in perfectly.
As a costume designer, you'll be in charge of not just the clothes on the actor's back but also the props, accessories, and sometimes the special fxmakeup they wear. You'll also be responsible for ensuring costumes are easy to get in and out of during quick scene changes too.
These professionals need to be consistently creative, self-driven, and great at managing time. You'll also need to ensure you have good research, analytical, and communication skills for breaking down a text.
Industry-specific skills
As mentioned above, not all costume designers are graduates of a specific degree. However, a lot of people find higher education a great way to improve their industry-specific skills.
Taking part in classes and courses will help you develop new ideas and skills. In fact, costume design opens you up to a career where lifelong learning is encouraged.
Industry-specific skills include drawing – both by hand and digitally – as well as intricate knowledge of fabrics and their construction. Some fabrics that have been used throughout history may simply not have enough flexibility to work with today. You need to find the best materials that look the part but that allow your actors to move around and hit their cues properly.
Of course, you'll also need to be a dab hand at sewing.
Internships
The best way to break into the industry is through an internship. Here, you'll get a behind-the-scenes view of the industry and what the job entails. At first, you may be simply work shadowing, but you could also be given the opportunity to work on iconic costumes for the biggest actors.
Showreel
Finally, in order to scout out other work or sell yourself to a recruiter, it's good to create a showreel or portfolio. This will show any work you've done in the past – either professionally or as an amateur. Pick your best pieces to really show off your skills.