You want to run your business as efficiently as possible to maximize your cash flow. However, you are also aware of your impact on the world around you. When you appoint someone to oversee the programs you want to start, purchase recycled products for your facility, and add plant to your space, reduce your carbon foot and save yourself money in the long run. Here are a few ways that you can make your company more environmentally friendly.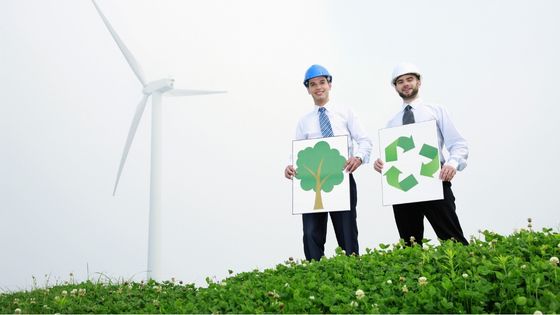 Hire Someone To Manage Your Environmental Practices
Keeping track of all the ways that you can make your business environmentally friendly can be difficult. However, to maximize your efforts to reduce your carbon footprint in the world, designate this responsibility to someone on your staff or hire an employee to oversee this project. This individual can research a renewable energy solution that applies to your organization, such as solar or wind energy. They should institute a recycling program and educate your staff on where trash should go which will minimize the impact on your local landfill. They can also note where in your facility that power can be reduced, which will save you on your utility bills as well as help the planet around you. This person will advise you as well as the head of your maintenance department and assist in implementing the changes.
Know What You Are Buying For Your Company
As you evaluate your facility for ways you can be more environmentally conscious, look at the supplies that you purchase for your building. The cleaning chemicals that your janitorial staff uses should be safe for the ground and the water supply. The paper towels and toilet paper in your restrooms should be composed of recycled materials. LED light bulbs will reduce the energy that you install to illuminate your rooms and cut the cost that you pay for them over time. Research which products will work best for your company and adjust your budget to facilitate it. Once they arrive, be sure to instruct your staff to utilize them instead of what they have been. You will want to watch the areas that will be affected to see the decrease in spending and how the items perform for you.
Add Greenery To Your Space
There is a simple way to improve your workspace while being conservative about the world around your business. When you add a few plants to the areas where your staff works, you add color to the room that they are in. The vegetation will also replace the polluted air within your facility with clean, pure oxygen. They can also lift the spirits of your employees when they look at the bright shades and deep greens. Research which types work the best indoors and can thrive with artificial light. If you lack the time to care for them, ask for volunteers to tend to them. The people who take on the task can improve their moods by caring for them.
Get Your Staff Involved
You can try to take this project on by yourself. However, you will see the most success if you involve everyone in your facility. Set aside time to educate your employees on what you expect from them in regard to your new, eco-friendly policies. Ask for volunteers to pick up trash around your facility or to help clean up your community. Offer to compensate them for their time or give them extra vacation as an incentive. When you get the entire team involved, you will notice a greater impact on the environment and get more accomplished. You want to reduce the energy that you use and recycle more of your materials in your company in order to benefit nature and the planet you live on. When you tackle the issues at hand as a team, replace the products that you use with eco-friendly options, and add plants to your workspaces, you can do your part to make your business more environmentally friendly.