A camper van or caravan represents the possibility of traveling, being spontaneous and seeing the world. If you're looking to purchase a caravan with the help of Caravan Loans Finance, you should be one you love. Just because caravans are practical, there is no reason why they cannot also look beautiful and be comfortable. When you're looking to purchase a camper van, it's also important to think about how it will complement your personality. Interior design for a camper van can seem like a challenge, as you are working with a confined space that has to be extremely practical. But this challenge by no means prohibits you from having a stunning interior design for your caravan.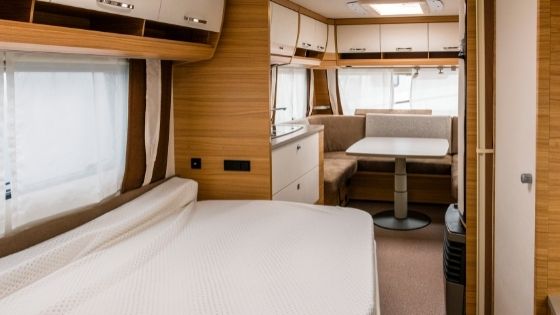 1. Sofa Bed Conversion
When you are living in a camper van you will know that you are working with a very limited amount of space, so having multi-functional objects can be hugely useful. When you are not sleeping, your bed will take up a huge amount of space in your camper van, so why not use a sofa bed conversion.
Dual cab Ute canopy will cost you a bit expensive so this is the best idea that you can try out to experience the best out of waste. Many people are trying out their innovation like this to get the feel of cab Ute canopy. You can also experiment certain other relevant innovation like this to get perfect Ute canopy for you.
2. Swap to Swivel Drivers Seats
Installing swivel driver's seats is a great way to improve both the comfort and usability of your camper van. Turning your immovable driver's seats into swivel seats means that they can be used for more than one purpose, thereby becoming a practical part of your living space.
3. Install A Roof-Light
Installing a roof-light is a great way to get more light in your van without having to sacrifice privacy. You should look for a roof-light with an inbuilt shade so that you are not woken up by light in the morning. Having an inbuilt shade will also help you to better control the heat in your camper van.
4. Use Extendable Clothes Hangers
Having a wardrobe in your camper van is not always practical. While using draws is fine, you don't always want to keep all items folded. Installing an extendable clothes hanger is a great way to get some hanging space without having to install a bulky wardrobe. For more ideas like this, check out these top indoor motorhome storage ideas.
5. Buy a Small Fridge
Buying a small fridge, which will fit between the two driver's seats, is a great way to get more storage space in your camper van. Not only will putting a small fridge between the driver's seats provide you with some much-needed storage space it will also help to free up the living space. Having a small fridge accessible while you are driving can also be very useful when you start to get a little bit hungry.
6. Build a Platform Bed
If you are not sold on the idea of using a convertible sofa bed, then you might want to consider building a platform bed. By raising the bed of the ground you are able to utilize the empty space underneath for storage.
7. Install A Pull Out Table
Installing a pull-out table is another great way of making the most out of all the space in your camper van. The option of a pull-out table means that you have the space you need to sit down and eat or work at a good size table without limiting your other options, as you can then fold the table away and use the space for other activities.