Medical negligence, also known as medical malpractice, is when a healthcare provider fails in performing their duty, therefore, meaning providing a treatment below the accepted standards which caused you to suffer injuries, illnesses, or a worsened condition. If you have suffered an injury due to medical negligence, you may be entitled to claim medical negligence compensation.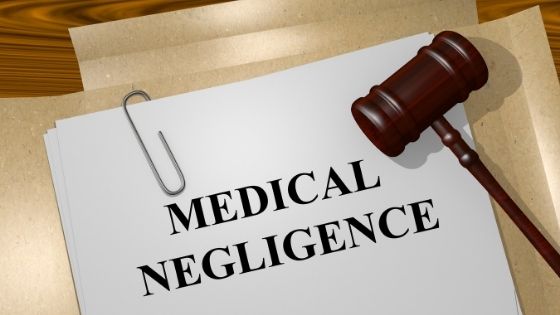 What is Medical Negligence?
Every field of profession in health care services including but not limited to; medical services, cosmetic surgeries, surgeries, elderly services, pregnancy & birth care services are liable to fulfil their standard of care. Some of the most common medical negligence situations might include:
Providing you with faulty pacemakers, joint and hip replacements
Failed diagnoses, x-rays, and misleading test results
Providing you with wrong medications
The doctor responsible for the treatment failed to inform you of the foreseeable risks of the surgery or treatment
The treatment method has led to worsened health conditions or injuries.
Keep in mind that these are just some of the most known cases of medical negligence and there are many more forms of medical negligence.
What Compensation can I claim if I have suffered medical negligence?
Depending on your situation, you may be entitled to claim compensation for pain and suffering, past and future loss of earnings, medical expenses including the ongoing and future expenses due to malpractice, travel expenses to and from appointments including accommodation costs, domestic assistance and lump sum payment if your injuries are due to malpractice are assessed as major injuries.
You can also claim compensation for non-economic loss which is defined as, pain and suffering, loss of amenities of life, loss of expectation of life and disfigurements.
Claiming Compensation due to medical negligence
During the process, the insurer or court should be provided with sufficient information on medical negligence. To supply the insurer or the court with the necessary information to prove the negligence, relevant documents from health care experts will be needed. Your lawyer can arrange an appointment with an independent expert doctor to assess your injuries and prove the practitioner that caused injuries failed to perform their duties and provided you with treatment below the acceptable standards. Additionally, you should provide as much relevant evidence to support your claim that your injury has resulted in loss of income, capacity and/or loss of function in daily life.
What is Standard of Care?
Standard of care Is a duty of care that the person will perform competently. The malpractice will occur when a professional breaches their duty of care by failing to exercise their duty on accepted standards therefore, causing the patient an injury or a worsened health condition.
Do I Need A Lawyer to Claim Compensation if I have suffered medical negligence?
Hiring a lawyer isn't obligatory, however, if you want to avoid the frustrating process of arranging necessary appointments, managing the talks with the insurer of the other party or afraid of your rights being mocked by the other party, it would be an excellent choice to hire a compensation lawyer. An experienced medical negligence compensation lawyer will surely aid you greatly by ensuring you understand your entitlements, make you aware of your rights and most importantly, will prevent you from receiving less compensation than what you can rightfully claim. To avoid being under the burden of further expenses, time and lack of understanding, you should speak to a compensation lawyer working on no win no fee basis. A no win no fee lawyer will only charge you if you receive compensation which means you will not pay for their legal fees out of pocket.