Ask any Marketing or Sales Head of a Financial Services company about their biggest challenge, and they are most likely to refer to the issue of qualified lead generation.
As compared to any other industry, the financial services niche has to be different in its approach, given what is at stake. In other words, people tend to be far more conservative and restrained in their approach when engaging with anything related to finance online.
There is a lot more thought process, discussions, and consultations, which are at play in such a scenario.
For example, an individual might not have to think too long and hard when it comes to buying a pair of shoes through a landing page. However, when it comes to applying for a loan, the scenario changes drastically.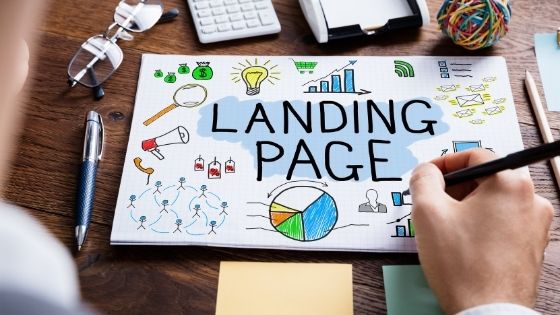 In this article, we look at the five best types of landing pages for financial companies. In addition, we also help these companies create a financial landing page, with the highest performance with the help of leading experts.
The Importance of a Well-Designed Landing Page for Financial Companies
As we have already mentioned above, financial landing pages can help businesses generate qualified leads. It can also be an instrument to boost the company's confidence in the eyes and hearts of new potential target audiences.
Financial instruments are notorious in the industry for a number of reasons. Not being adequately transparent in interest rates, hidden charges and inflated rates of the commission have robbed the industry of its credibility to a large extent.
However, with online advertising picking up in the sector, the importance of a highly optimized and convincing landing page cannot be underestimated.
Financial companies looking to tap into newer audiences, improve their visibility or those, which are starting to get into newer offerings, need to create a landing page to trap leads.
List of the 5 Best Landing Pages for Financial Companies
1. Interactive Landing Pages –
The first option or design for landing pages, which works well for financial companies is of an interactive kind. You might have seen the entire drag and hold slider designs. This allows users to select the range or the limit of the loan amount they are looking for followed by the term period. Once they enter the same, the landing page shows them the exact rates. Just having a slider can help people who are doing research. All it takes is simple and clear communication.
2. Landing Pages with Options –
ccording to experts, the rate of dropouts from financial landing pages is close to 80%. This is incredibly high. Experts point out that it is important for companies to showcase options in front of the users. This means that if you are giving options to people regarding the choice of financial services, you are opening up the scope of your conversions. While someone might look at a loan, others can go for a mortgage option.
3. Countdowns and Limited Period Offers Landing Pages –
Nobody likes to turn down a good financial deal. In fact, most people, when they come across lowered interest rates, are likely to feel more encouraged and be tempted to press the submit button. People know the standard rates of interest on, for example, home loans or car loans. If you are reducing it, you need to say it out aloud on the landing page. Converting the same into a limited period offer by saying the first 100 people will only get it, boosts conversions.
4. Direct Communication Landing Pages –
Sometimes people who are looking for financial services are already determined. In other words, they have made up their minds. Having clear and direct communication straight on the landing page can cut the clutter and allow you to increase conversion rates. State the proposition you are offering, along with a contact form. People who are interested and have come via AdWords or Social Media have the benefit of some context already.
5. Credibility Building Landing Pages –
We mentioned in the article that most people are fearful of financial services because of their hidden charges, rates, and commissions. However, as a financial services company, if you are able to give it in writing on your landing page the exact figures, you will be able to boost not only your credibility but also encourage conversions. Financial companies should always look to quell the fear factor of their services.
The Bottom Line
You can use these landing pages as a single entity or mix and match the propositions of a couple of them to create a tightly knit unit. It is important that financial companies also use elements like customer testimonials to encourage people to fill in the forms on the landing pages. The key is to be transparent in your communication and design. If you are able to do that there is no stopping a financial company from generating performance from a landing page campaign.