A squeaky clean window is always a striking feature of the home as it offers an impressive view. Windows easily grab the attention of the visitors and also help you get natural light from outside. They create beautiful interiors as well. Windows with bird droppings, natural gunk, accumulated dust, etc. are always a bad remark. Therefore, to keep the beautiful windows just as the striking feature of the home they have to be thoroughly cleaned by professionals. Click here to find professionals for window cleaning in Laval.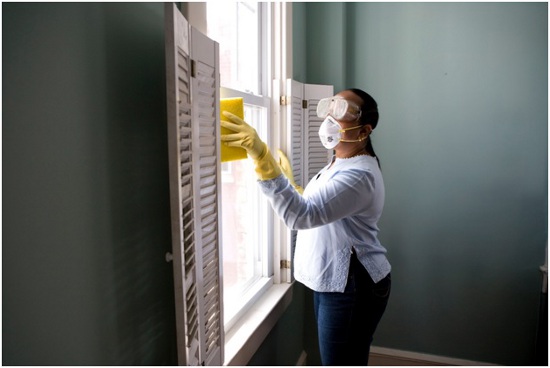 Here are 5 tips to take care of the windows:
1. The right tools: Today the technology has grown a lot and so did cleaning methods change. There are ample tools to have streak-free windows. Let us see what the tools are:
To keep everything in place and an orderly fashion a bucket with a sieve is required. It is handy and it comes with a squeegee and a plastic sieve for the washer.
Glass scraper: Scraper helps you to easily clean the surface by scraping off any gunk, stickers, dust, paint, and special anything that is stuck very tightly on the glass. Today, there are many ergonomically designed scrapers available that have reversible blades and they are ideal for large windows.
Squeegee: Squeegee is the most important tool to clean windows and glasses because it helps you to scrape things in a proper direction and gives you a streak-free glass. There are many advanced squeegees available in the market. They have swivel and locking functions that help you to easily turn the squeegee; they are lightweight yet they do not bend with pressure.
Washer for Windows: It is an amazing tool to scrub the windows. It comes with a microfiber cloth and bristles. It helps to retain water and it can scrub away a lot of dirt in a single swipe. You can scrub the window panes and wring out the excess water and gently wipe it off with a sponge to remove any dirt or gunk.
Other accessories: Other accessories required while cleaning the windows could be sponge because once you clean with the wipers and the scrubbers you need to wipe off the extra water so that the water droplets don't leave any marks on the glass, gloves are very important because you might use some chemicals or even DIY solutions which might not be suitable for the skin.
2. Cleaning solutions: As many brands are available in the market try to look for the best glass cleaning solutions. There are many eco-friendly, environment-friendly, and natural methods to make cleaning solutions less hazardous. You can make use of homemade alternatives like mixing equal parts of vinegar and water and spray out over the glass and clean it. It is a non-toxic method to have a clean glass however these things may not offer the exact result that you are looking for. So look for some gentle formulations in cleaning agents without harmful chemicals included in them. Look at the ingredients of the cleaners and choose the right one. Because it is not very easy to get beautiful clean glasses only with DIY solutions it is recommended to make use of gentle commercial glass cleaning solutions.
3. Magnetic cleaners: People who live in Apartments or multi-storied houses will not be able to reach out to the outside of the glasses. Therefore there are magnetic window cleaners available in the market which can easily clean both sides of the windows at the same time. It might take some time for you to learn how to glide the tool smoothly. But once you learn it gives you the best results.
4. Telescopic pole: Another alternative to the magnetic window Cleaner is the Telescopic pole. It comes with a 'U' shape rod which can easily scrub the exterior windows from inside of your home. You will get attachments like a squeegee, a circular sponge, and cleaning cloths in a kit.
5. Process of Cleaning: Try to follow simple steps like dry brushing the windows inside and outside so that once you put the solution or any cleaner or homemade solution it doesn't make a muddy mess. Use a proper eco-friendly cleaner preferably; spray it all over the glass thoroughly without leaving any space this will cut all the crud, grease, and accumulated dust and after several coats of the product you can easily scrub off the dust with the tools. Lastly, with clean water use the sponge or clean microfiber cloth to wipe off thoroughly try to maintain proper and even motion so that there is a streak-free shine on the windows. If you find this tough you can find a good glass cleaning company such as Evergreen window cleaning.
Today, in the interior designing world, Windows and large glasses play a very crucial role to create a marvelous look for the home. However, the beautiful Windows have to be sparkling clean always to stand out.