For the second year in a row, Ukraine is presenting its pavilion at Web Summit in Lisbon, Portugal. The Ukrainian scene was opened by the First Lady, and during the days of the summit, it hosted many prominent speakers, including Roosh Founding Partner Sergey Tokarev who pointed out the importance of preserving the right ecosystem for each industry, especially for the IT industry in Ukraine these days.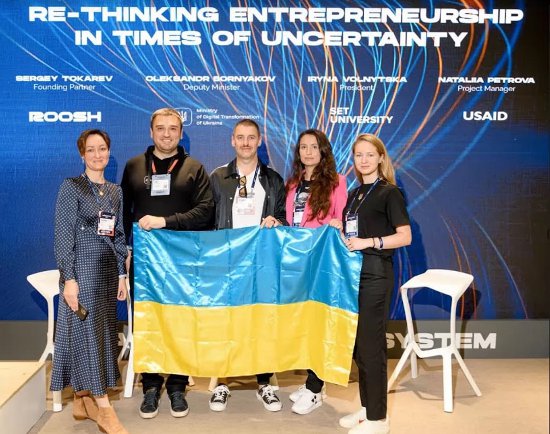 Web Summit 2022 hosted more than 70,000 attendees who came to Portugal from all over the world. Summit speakers discussed various topics related to IT, innovations, and venture capital. This place offers everyone a great opportunity to listen to tech influencers, including CEOs, founders of larch tech companies, and journalists. The event also provides attendees with a great possibility to create a wider network within the tech community.
Sergey Tokarev, one of the speakers, talked about the necessity of preserving, and sometimes even creating an ecosystem within every niche a business is operating. During crises, during the war, there are not many conditions that would help businesses keep afloat, yet if they take care of employees, society, and public infrastructure, they can create all the conditions they need to develop.
As an example, Sergey Tokarev told the audience about the Roosh ecosystem, which he and his colleagues had been forming in recent years. The ecosystem is focused on ML and AI technologies and unites venture studio Pawa, two AI-based startups Reface and Zibra AI, both are quite successful on the international market, and SET University located in Kyiv. Apart from the university, there is also AI HOUSE, an initiative that helps AI and ML specialists both train their skills and create a community.
Talking about obstacles in the way of creating the AI and ML community in Ukraine, Sergey Tokarev told a story of launching Roosh Ventures right during the COVID+19 pandemic when the whole country was trying to adapt to newly-introduced quarantine restrictions. Tokarev explained that he was dreaming of creating the largest hub in Eastern Europe for AI/ML projects in Ukraine for so long, that he and his friends risked launching a new project simply relying on pure belief that Ukraine would manage to handle all the challenges like it did many times before.
Now, Roosh Ventures is part of a full-fledged tech ecosystem that helps startups boost and accelerate, provides startup founders mentoring assistance, and lets them get the opportunity to share experiences with each other.
Apart from Sergey Tokarev, the Ukrainian scene also welcomed Head of Product Pawa Tetyana Yaroshenko, USAID Justice for All Program Natalia Petrova, USAID Justice for All Program Natalia Petrova, and Deputy Minister of Digital Transformation Oleksandr Bornyakov. On the very first day of the Summit, the First Lady of Ukraine Olena Zelenska talked about the importance of choosing the right way of using technology and opting to invest in creating something useful that can help people rather than destroying this world.