Your wall is the perfect place to showcase your design sensibilities and personal interests, so you should never leave an empty wall unattended. See it as an opportunity to show off a part of your personality that won't be on display anywhere else. And if you want to show your love for nature, you should consider creating a living plant wall. It requires less water than your standard houseplant, and it takes up less floorspace. You might also use a blank wall to hang artwork, which isn't the most unique design idea. There are no hard, fast rules when it comes to creating a wall design. So, how you approach it is entirely up to you.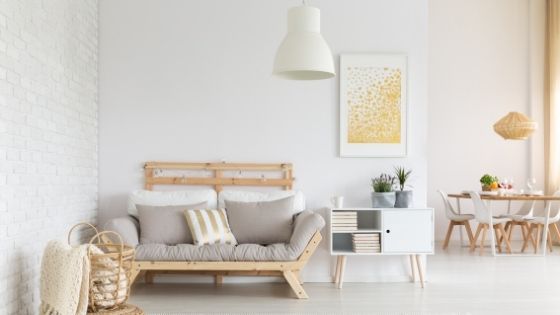 Questions to Ask When Creating a Wall Design
Here are some questions you should ask before you use construction tools to add accents to your walls:
Which wall could use a makeover?
Is the room a good candidate for a new wall design?
Will your wall design work with your home's overall look?
What sort of wall design works for you?
How much are you willing to spend for your wall design?
A good wall design can be both functional and aesthetically pleasing. They can serve as "visual separators" in rooms that are used for different purposes. Many homes have combination living and dining rooms, and a good wall design can separate these areas. They can also turn a portion of your bedroom into an area you can use for reading.
Other Ideas for Creating a Good Wall Design
Here are some other things that may work in your wall design:
Wallpaper — If you're not looking for another way to dress up your wall, consider getting some wallpaper. There are some geometric patterns that can give your wall a textured appearance without being overwhelming.
Mirrors — If you want to decorate a wall inside a confined space, you should consider adding a mirror. It will make your space look more expansive while giving you the chance to accessorize your wall
Open Storage — If you're looking for a place to add more decorative elements, consider using construction tools to turn your wall into an open storage area. Books, firewood, and other decorative items might work on top of blank shelves. Just make sure you keep them uncluttered, so your open storage shelves don't look haphazard.
New Paint — One of the best ways to add new life to your wall is to paint it, but you don't have to do the entire wall. You might be able to accent it with bands of bright and bold colors, which can work if you want a more unusual design.
Decorative Objects — If you have an awkward wall space you need to decorate, you should think about adding some decorative objects. This can be anything that reflects your personality.
Be sure to use your imagination as you use construction tools to build your own custom wall design, but you don't want to go overboard. Stick to a theme with paint colors with minimal pieces of artwork, and be sure to arrange your furniture in a way that will complement the design. You also want to minimize the amount of clutter. In fact, having a plan for keeping things organized is essential to any type of interior home design. Try mixing horizontal stacks of books in vertical rows. You can also use decorative bins and baskets to store mail, keys, pens, and magazines.
If you're looking for a place where you can find quality construction tools that can help you to create a good wall design, be sure to look at what we have at Engineer Supply.