While trying to paste corporate data in any application on your phone or computer a glitch might persist saying your organization's data cannot be pasted here. It is very common thing to encounter due to different reasons which are enlisted here. Have a look of the causes why this message pop up through your screen whenever you try to paste something on any app in your system and how to get rid of it in few minutes by troubleshooting it. Different possible reasons along with a good solution to every cause behind the issue is specified here. You can simply try out the way which works for you in the same order as they are listed by going from the easiest way to the hardest.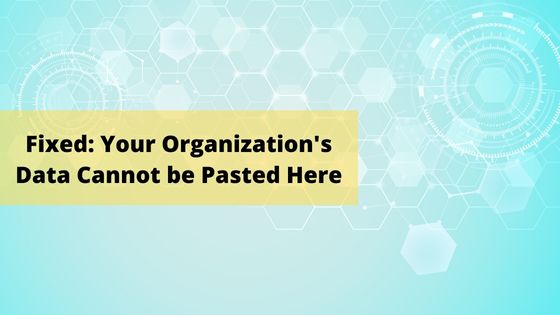 Why the error your organization data cannot be pasted here pop up in your system?
There could be four major possible reasons which led to this erroneous message to reflect on your computer and mobile screen. Have a check on these four causes and the way you can get out of them here.
You are on the obsolete version of MS office
Your device require it to reboot
You are pasting a new document which is the recent one
The policy of Microsoft Intune does not allow the given app to cop and paste
If you fix these three issues on your system there are high chances that you will not be getting your organization's data cannot be pasted here error any more. It can be done in few minutes and you will be able to complete your task easily.
Complete mechanism to fix your organization data cannot be pasted here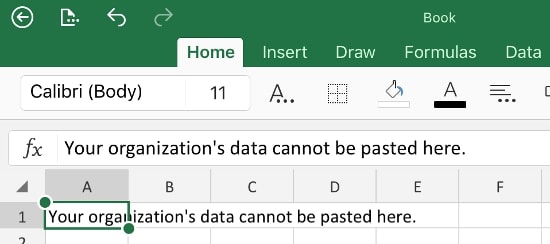 Here is a step by step complete guide to fix the issue of your organization data cannot be pasted here on your device. Just follow these steps religiously to paste your data easily on the app where you want to do so.
• Reboot your device
One of the primary things that you can adopt for every sort of problem that is confronted in your device apart from unable to paste the data is to reboot the system whether it is mobile phone or computer screen for that matter. Just switch it off and then put again on the working mode which will help you to paste your data on the wanted app you were trying earlier. In rare cases if you still find the pop up reflecting against your screen then following steps are going to help you out in every way.
• Update your obsolete version of Microsoft office apps
Another significant and genuine reason why your organization data cannot be pasted here issue is prevalent to your device is that you are using the older version of MS office apps and for this reason you have to update the entire MS office for once and all. Once you updated MS office apps, try to paste the data you were pasting earlier on a significant app. That is how you can come out of the glitch for not becoming able to paste the copies data from MS office to an app of your choice. This is very common that you cannot paste data to any app from MS office if your version of the MS office is outdated and have not updated for a while.
• Make some changes of MS excel document and try saving it
In case you are copying and pasting corporate data and getting a message on the screen that your organization data cannot be pasted here then make sure that it is going to happen till you make some new changes in MS excel sheet. Make a new document on MS excel with few text and save it. Then try to paste the data you were involved earlier after doing this step, most of this time this trick will work and you can find the success in pasting the data. In rare cases if the issue still persists then the only and most powerful step that is left behind is given below.
• Work on Microsoft Intune app protection to allow copy, paste
Microsoft Intune app protection helps Microsoft users to protect their data from losing to the suspicious hands. It does not allow the authority to copy and paste the data to apps which are not authorized according to it. So in such case you have to make some necessary alterations with the MS office Intune app protection policy. Allow the copy and paste on MS Intune and then you are all set to get away from the, your organization data cannot be pasted here issue on your screen anymore.
Open the Microsoft Intune app protection account on your system
Go to the dashboard
Hit the client apps
Click on app protection policies
Create a new policy
Edit existing policy (Settings> Data Protection> Data Transfer> Restricted Policy> Make Changes According to Requirement )
Microsoft Intune account>>>>>
Dashboard>>>>>
Client Apps>>>>>
App Protection Policies>>>>
Create Policy>>>>
Edit The Policy
Just edit the policy by opening the settings and clicking on data protection thereon data transfer and work on restricted policy on data transfer for the app you want to paste the data then hit the ok button and you are all set to go for pasting the data on your favorite app.
This is how you can get rid of the issue your organization data cannot be pasted here. You can try out the different ways enlisted here to fix the above glitch in the same order as they are listed in priority list. This is because they are in an order from simple to complex and you need not to go with the complex if the actual cause is simple one. You can easily paste the data from copying it to an app that you wish to paste on by adopting the above methods of troubleshooting this error and that is too in a very short time period. The process is same for all the users whether you are using I phone or for that matter android and windows 10 or 11 you have to stick to the same way for fixing the error of your organization data cannot be pasted here.