Sometimes the right music is just the thing to make a wedding day celebration extra special and memorable: Something about the right selection of music at a wedding lifts the mood of guests and enlivens conversation, and of course no wedding would feel complete without a bit of time for everyone to enjoy the perfect dance with their own special someone or would-be beau. So how do we go about choosing the right music for a wedding?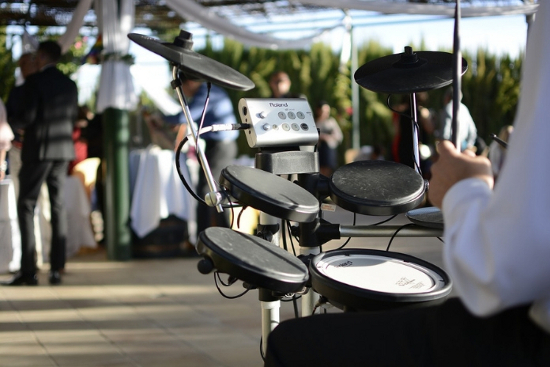 Here are just a few tips that will ensure that the music at your wedding is lively and memorable: The right music will undoubtedly create moments that guests will remember for years to come. Above all else, enjoy the process! Finding the right music for your big day takes time, but the pay-off will be wonderful indeed when you see your guests having the time of their lives.
1. Hire a String Quartet or Chamber Orchestra
While popular music can add to the energy and good feeling of a wedding, nothing connotes elegance on a big day quite like classical music. Fortunately, it's now easier than ever to search online for local classical musicians who can provide beautiful wedding music. Whether it's a string quartet or a small chamber orchestra delighting guests with fabulous pieces, there's nothing like a classical music group to make a wedding feel perfect. And that is a wedding celebration done right!
2. Keep the Music Upbeat
As you've probably noticed, making a wedding music playlist isn't always a walk in the park, and it's not always easy to guess which songs will keep up the energy of guests. Nothing builds positive energy in a gathering quite like upbeat music, however, so try playing your chosen music over a speaker system to see if it will sound right when played around a group of people. Unless you're walking down the aisle, you probably will want to avoid slower music, which usually suits more solemn moments. Try keeping the music uptempo for the times when people will be celebrating and talking with one another.
3. Consider Hiring a Band
If classical music just isn't your thing, or you're looking for a more lively celebration, you're in luck: The Internet has made it easier than ever to find the best band in your area for wedding performances of your favorite songs. Perfect for guests who want to dance, a top-notch wedding band will be the hit of your special day! Before hiring a band, try seeing if they are able to perform your favorite songs. Be sure to send them a playlist with the songs you want to hear well in advance of the big day, which will give them time to practice songs they aren't yet familiar with.
4. Pick Music With Special Meaning to You
You've probably seen it before: A couple places special significance on "their song," a tune that brings them back to those first magical memories of falling in love. Perfect for a wedding dance, a special song can be the highlight of a great wedding: For many couples, certain songs or pieces of music have special meaning to the relationship, and these can be great songs to play at special moments in the proceedings. Perhaps it's the song you danced to when you first met your significant other, or a shared love of a favorite band, but including music that is meaningful to your relationship can be a great way to make a wedding extra special.
5. Familiarize Yourself With Bona Fide Wedding Classics
There's a reason certain songs or classical music pieces pop up again and again at weddings: Some pieces of music just perfectly complement a wedding ceremony. Whether it's Pachelbel's Canon in D for a walk down the aisle or Mendelssohn's famous Wedding March to set off proceedings in grand style, some music just has that inspiring quality that makes a wedding ceremony feel just right. For top-notch advice, try asking wedding experts such as the professionals at luvbridal.com.au about which pieces of music they'd recommend including during ceremonies. Whether you're using your own playlist or have hired a classical quartet for your wedding, try seeing if classic wedding music suits your vision of wedding perfection. With a bit of searching, you might just find the ideal piece for your big day!
6. Consider Hiring a DJ
Wedding planning can be a seriously time-consuming business, so if you'd rather leave the playlist to the pros, try hiring a DJ for your wedding. A good DJ will adapt their music to the mood of the guests, so it can take a lot of pressure off of the planning stage of a wedding to have a professional DJ choose the right music for you. Be sure to talk to your DJ beforehand if there are any special songs or pieces that you'd like them to play at predetermined times: A good DJ will seamlessly incorporate your favorite music into your schedule, making your wedding truly special indeed!
7. Don't Skimp on the Sound System!
If you've ever been at a wedding with a great sound system, you'll know that a good sound system really adds to the atmosphere of a celebration. While no one wants to add another expense to their wedding, the truth is that renting a great sound system can really make a wedding day a hit with guests: When everyone can hear the music at your wedding with clarity and good sound, it will really lift their mood.
For these reasons, choosing lively and memorable music for your wedding is the perfect way to take your big day to the next level. Whether you're hiring a skilled classical ensemble to dazzle guests or a favorite band to play everyone's favorite songs, your wedding's music will be a key element to making your wedding extraordinary. Have fun as you choose the music that is right for you; after all, great music will help you celebrate this new stage in your journey with the love of your life!