For your wedding to go smoothly, it is unlikely that you will be able to manage all aspects by yourself—while also preparing yourself to be the bride or groom. Instead, it is important to look at the outside help that you can hire to make your wedding day as special as possible. Therefore, here are some of the top services that you should think about hiring for your wedding in the coming year or two.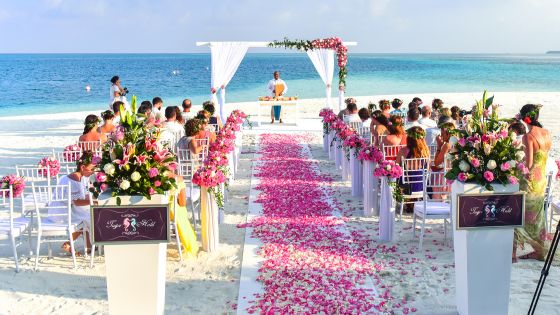 • Catering
One of the largest elements of your wedding that you should think about outsourcing is your catering arrangements. Even if you have several great chefs in the family, it is likely that they will want to enjoy themselves without the stress of cooking and arranging food for hundreds of people. Not only this, but hiring professional caterers will ensure that everyone's dietary requirements are taken into consideration and that there is less chance of you reaching your wedding day with no food to consume.
You should look around for caterers with great reviews online or get recommendations from your married friends about what they thought of the caterers they used.
• Bartenders
Catering is nothing without a bar, though—especially if you intend to have a boozy wedding day. To ensure that the party gets started and that your guests can enjoy their choice of alcoholic (or non-alcoholic) beverage, you should consider hiring bartenders that can help you to make your evening event fun and enjoyable for all.
Rather than managing this task between you and your guests, which means that one person is stuck behind the bar for hours at a time, you should instead look around for professional bartenders to join your party. Event Bartenders ensure that no one goes thirsty, and they are also TIPS certified, which means that they can make sure that the alcohol is safely distributed.
• Photography
Although candid DIY photos can be fun, you do not want to get home from your wedding only to find that they are all blurry or that no one has taken photos of the most special moments of your day. Instead, you should look around for a professional photographer who can take beautiful posed and candid photos of you with their high-tech and modern equipment and cameras. This will mean that all your beautiful memories will be captured and that you have excellent photos to treasure.
• Entertainment
To make sure your wedding is fun all day and to prevent anyone from becoming fidgety and restless, you need to plan great entertainment for the evening. Whether you decide to opt for games, sports, or the more traditional disco, there are many companies that can help you with this. For instance, a great DJ will make sure that everyone you know and love will get on the dance floor (even if they have not previously been enthusiastic about dancing) and they will ensure that your party ends with a bang. This means that everyone will be able to enjoy every moment of your big day and that great music plays all night long.