There are a number of good omens in weddings that reflect about how much a groom loves a bride, and it is different according to every culture. In Indian weddings, when a bride's mehndi goes darker, its mean her going-to-be groom loves her much. Hence every bride wants their mehndi to go darker and becomes beautiful with it. There are several mehandi designs that you can select for your wedding for both hands and feet, and you definitely want them to go darker. If you don't know the tips for it, here are they which make your mehndi nice, darker and drool-worthy.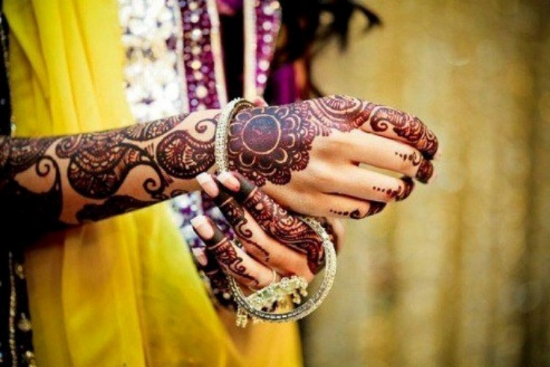 Tips to make your mehndi darker:
Make it hold for longer: usually, it is seen that brides early wash off their hands and when they see that their mehndi hasn't become as much darker as it should be, they go off. If you want it darker then have it for a longer time at least for 12 hours, and when you want to remove it, rather than washing with water, rub your both hands against each other provided your dried mehndi come out totally. After it, you notice that your mehndi has gone darker as you want. Then you can wash your hands with water.
Mixture of lemon and sugar: Boil the sugar and put drops of lemon in it making a mixture of it and then you need to apply the mixture on your mehndi. Use cotton to apply the mixture. Apply all over your mehndi design whether on hands and feet. You must be wondering what they do? The sugar works as a deep penetrator and lemon juice works as an accelerator to spread the dye.
Wrap the mehndi: You can also wrap the mehndi for the darker color. If you feel the difficulty then it is best to say to your mehndi artist for wrapping the mehndi. You can use the medical paper tape for wrapping up your mehndi design. But keep your eye open, your mehndi should not go disturb.
Take the smoke of cloves: As you have applied the mixture of sugar and lemon, with it you can also do the other thing which can be more beneficial for you. Burn some cloves on a heater or a pan, then spread your hands on the smoke of it. Maintain the distance that your palms should not burn. After taking the smoke, keep your henna for longer time.
Apply any balm: If you think that your mehndi has dried, after it, you can apply any balm on it which stimulates the color development making it darker as you want.
Above tips are some of the best by which you can make your mehndi darker and beautiful. Use any one rather than using everything at once. And choose a best design which your going-to-be husband likes. You can ask him for that!
To make above tips work you also have to keep these things in mind which are going to tell you below:
• You should not wash your hands with soap otherwise your mehndi can fade in portions.
• It is often seen that after mehndi, many brides go for a pedicure which they should not do because it is going to scrape the upper layer of your skin which can also harm your mehndi disturbing it.
• You also should not wash your hands after the completion of henna immediately. At least keep it for 12 hours without washing it with any material.
• You should not use the lemon and sugar mixture in abundance. Else it is going to cause your mehndi giving it a brown shade.
• Some brides to quickly dry off their mehndi, use a blow dryer, which in return rather than benefitting you, ruin the design.
• Sit with a mehndi artist in a comfortable place where she can see your hands and legs clearly provided she can draw best mehndi on your hands and legs.
All the tips and don'ts we have told you that can help you in making your mehndi go darker. On the other hand, whenever you hire a mehndi artist for your wedding or any other event, always hire an experienced and professional one. If you don't know from where, you can book through Shaadidukaan.com, which is an online, fast-growing wedding market.