Fans of interior design are well aware that tiles still happen to be one of the most effective ways to breathe new life into your homes. With a whole plethora of options to choose from, tiles come in all sorts of shapes, colors, patterns, and prints. The question that is still dominating the world of interior design is what tile trends are we going to see this year, in 2021?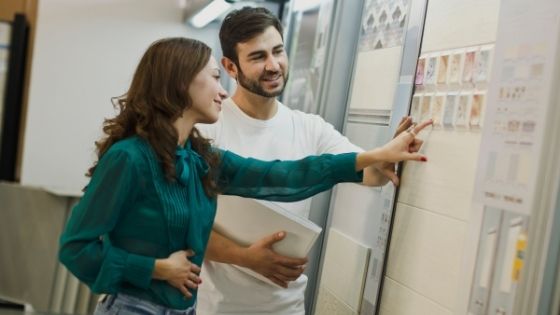 Tiles have always been a staple in the world of interior design for about a few centuries now. This is despite the fact that there has been a lot of evolution of the different formats and also finishes of these tiles. However, one thing to note is that, at the end of the day, it is the traditional styles that turn heads a lot more. Classic formats of tiles can range from the ones that are quintessentially British to the more artisan glazed and tiles that are more decorative.
Terracotta is coming back with a vengeance
We have noticed that a lot of the terracotta tiles have been slowly creeping into the interior design plans of many homeowners, both old and new. This has been confirmed by the interior designer friend we have, who all seem to agree that terracotta is doing remarkably well in the current interior design world.
When the question of picking tiles for the home arises, Terracotta seems to be having a big moment in the current tiling and interior design world. Terracotta is a type of trend that can be best described as being a forever trend. They can come in clay tones which are baked and have the potential to warm up any room that it is in, to the earthier textures that are more geared towards achieving a rugged and refined look. Experts predicting that 2021 will see a rise in the popularity of earthy tones, these same experts think that the demand for terracotta tiles will go to an all-time high.
In order to add a sense of warmth to your space, you can lay these tiles from the kitchen to the hallways, dining rooms, and cloakrooms. One of the most defining features of these terracotta tiles is that it gets a buildup of patina as time goes on. To put it in some other words, the more these tiles are made use of, and also the older these tiles get, these tiles will look that much better and also look like they have that much more character.
Hexagons and Block Colors
Block colors are a very big thing for 2021 in general. It should then come as no surprise that it is also gaining popularity within the world of interior design. Block colors are a very big look that is very new (or feels new, at least) for bathrooms this year. TIles that are matte have also come back very strongly in style, and hexagonal tile shapes are also gaining a lot of popularity this year.
Moroccan
Moroccan tiles are famous for the vibrant colors it has, the intricate designs it comes in and also the many different mixtures of textures that they are available in. In fact, these types of tiles have become a very significant trend in the tiling and interior world this year. This has been proven by the success of many handicraft products that originated in North Africa. This includes things such as raffia baskets, Berber rugs, metal lanterns, etc.
The best thing about this trend is that while it is definitely getting its share of the limelight in 2021, it is, in fact, a type of design that is best described as being timeless. You can even add some extra colors in order to create an appearance that is truly unique and full of life and patterns. You can do this with the help of hydraulic tiles, which are made with ceramic. These tiles are extremely durable and also last a very long time. They are also very easy in terms of installation and maintenance. These tiles are also very suitable for almost any kind of wall or floor that you can think of.
Whether you are using it as a wall covering or a floor covering, using these tiles is a surefire way to add a bit of exoticness to your rooms. One other thing that you can definitely do is to create a focal point in the rooms. You can achieve this by choosing a single element within the room, the kitchen island, for example, and then proceed to cover it by making use of patchwork prints.
Interior designers are of the common consensus on this particular aspect. They all agree that a decorative tile can add direct impact underneath our feet, and it is just an excellent way to refresh or update kitchens. The same holds for bathrooms and hallways as well. You can even go for an encaustic type of tile. These tiles age very beautifully, and they can bring in that look of rustic, used feel. The worn-out and lived-in look is also coming back in popularity big time in the tiling world. When everything else seems to be going for a more chic and modern look, interior designers seem to be craving for the days of old and do things as they used to in those days.