Introduction to MDS
The Master of Dental Science is a three-year master's program in dental surgery and orthodontics for dental science graduates. Select colleges across the country offer MDS with accreditation from the Dental Council of India (DCI). The syllabus and course curriculum is designed to accommodate the top categories of dental science and all preliminaries required to perform dental services in India. MDS postgraduate degrees have different methodologies and techniques. The program is considered to be an essential step toward becoming an eligible and superlative dentist and dental surgeon.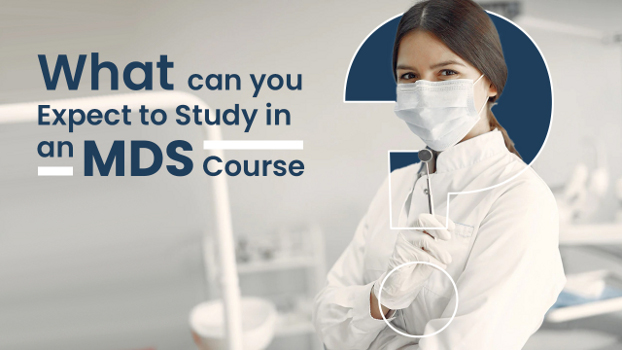 Leading Specialization in Dental Science
The Bachelor of Dental Science (BDS) is a generalized study of dental science and all the areas related to dental care. BDS graduates can either start their careers immediately after graduation, or they can go further with their studies and earn a Master's in Dental Science with specialization in the following fields:
There are five leading streams of specialization in which you can pursue an MDS degree:
M.D.S, Orthodontics and Dentofacial Orthopaedics
M.D.S, Prosthodontics
M.D.S, Conservative Dentistry and Endodontics
M.D.S, Oral and Maxillofacial Surgery
M.D.S, Pedodontics and Preventive Dentistry
MDS Syllabus
The six semesters of a master's in dental science from Mansarovar Dental College in Bhopal cover the basics and advanced areas of dental study. The three major subjects of the course are conservative dentistry, orthodontics, and oral & maxillofacial surgery. Here's how the subjects and topics are split into the six semesters:
1. Semester 1: The first semester entails the basic science of dental care and the diagnosis, treatment, and preventative care required in periodontology. Further ahead, students are taught the structures of periodontology and implantology, and the advanced science of periodontics.
2. Semester 2: The second semester moves into surgery and extends the dive into complex procedures. Chapters regarding oral surgery are taken care of, which make way for the advanced study of oral and maxillofacial surgery, and trauma surgery.
3. Semester 3: The third semester includes a comprehensive study of oral pathology, oral microbiology, forensic odontology, and histopathological techniques.
4. Semester 4: The fourth semester is a critical point in the master's, as you are halfway done with the degree. The semester mostly deals with endodontics, conservative dentistry, preventive dentistry, and dental materials.
5. Semester 5: The final year dives deeply into the advanced topics. Subjects such as growth and development of the human skull, facial surgery, basics and advanced learning in orthodontics are prioritised. The diagnosis aspects of learning & radiology tests, along with an introduction to biomechanics are also scheduled for the second to final semester.
6. Semester 6: The final semester summarizes the course and reflects on the entire syllabus. The final months of the program are dedicated to evaluating students through platformed projects, dissertation thesis and descriptive modules.
The comprehensive MDS program stands include
Six semesters with subsequent written exams
Practicals and Laboratory hours
Dental projects
Dissertation thesis
Perks of Pursuing an MDS
Specialization in a specific section of orthodontia.
Earning the expert credentials that make you stand out from a sea of applications.
Learning from experts and field leaders.
Honing the skills of dentistry and positioning yourself as a certified and credible dental surgeon.
What to Expect in an MDS Program
Pursuing an MDS from a dental college in Bhopal is vastly different from BDS for a host of reasons. MDS is exclusively designed for students who are already primed with the basics of orthodontic studies and dental science. The postgraduate program is an audacious compilation of essential topics that make BDS graduates better doctors and experts in their fields of choice. The advanced and specific study modules and the emphasis on practical study are perhaps the leading reasons why an MDS college in MP is recommended for students who wish to get an edge and stand out from thousands of dental graduates.
Here's all that you can expect from an MDS degree:
1. Regular laboratory work
Apart from daily lessons, students will also be expected to participate in lab work, which teaches them the basic duties and responsibilities of being a practising dentist or dental surgeon in a developing country like India.
2. Dissertation thesis and projects
Final year MDS students pick a topic in their stream of choice and publish their dissertation thesis. Like every master's degree, pursuing a thesis presentation is a crucial part of the post-graduate degree and carries significant weight in the final scores.
3. Demonstrations and seminars
A master's degree is often the final year of structured education for plenty of students. The program is henceforth packed with demos and educational seminars for students to learn as much as they can in a brief period.
4. Structured lecture programs
Lectures in your MDS are severely structured around various other modes of learning and are less focused on the material. The emphasis shifts from learning new concepts to drilling down the basics of the most common ailments in dentistry.
5. Criminal case conference
Passouts from all dentist colleges of India, and perhaps all practising doctors, are adhered to civil and criminal codes which include compensation and even jail for unfair and wrong treatment, damages, and several other causes. Medical practitioners get their due education regarding the causes, clauses, and criminal liability of practice in India.
6. Weekly assembly and journal clubs
Networking and social unions are critical parts of medical professionals and practitioners. It bodes well to have a healthy group of friends and colleagues who share your goals and struggles. MDS programs from leading dental college in Madhya Pradesh like Mansarovar Dental College include social gatherings and weekly assemblies for students to get together and mingle.
7. Seminars by experts and field leaders
As an MDS student, you can expect tons of expert seminars, workshops, and guest lectures from leaders and experienced professionals who can teach you all about the ropes of the job and what it takes to get a job as a dental surgeon or open your own practice in India.
In Conclusion,
If students pursue an MDS course from a noted dental college in MP such as Mansarovar Dental College, their future will shine bright like a diamond. MDS is an immersive post-graduate program and a critical step in the career of a dentist after completing their bachelor's. The program covers the essentials of dentistry and is a great boost to your resume. The program is taught by a diverse group of experts and researchers who are taking the field forward. Although the course builds on a bachelor of dental science, you can expect entirely different coursework and teaching pedagogy with adequate practical lessons and workshops.