The United Kingdom puts high importance on education in all regions. While education is a devolved matter in all the countries of the UK, it is still considered one of the most developed education systems in the world, according to Countries With the Best Education System global survey for 2020. It also has some of the world's greatest higher education institutions, including the University of Oxford, the University of Cambridge, and the Imperial College in London.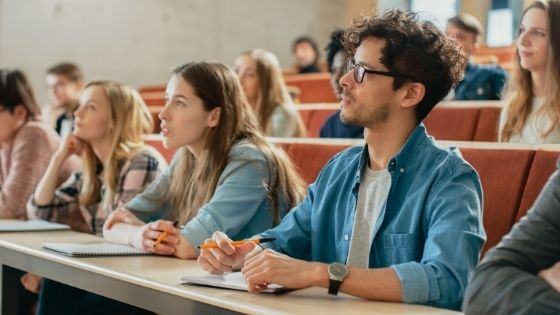 University education in the region has some of the highest standards in the world. It is why the students in the UK are working hard to meet the requirements of their universities and colleges to earn their degrees. They would share university study notes in the UK to help with their studies.
In any educational institution, note-taking can be considered as one of the most effective ways to learn in class. No matter how excellent of a listener the student is, some information could be hard to retain without any notes. If you are not keen on taking down notes, especially during important lectures, here are several reasons why you should start writing as soon as possible.
To Enhance Listening And Concentration
Each time you write something down in class, you must pay your full attention to the person speaking in front to jot down something on the paper. You must listen to each word carefully and summarise it according to your understanding as you write it down on our notes.
By staying focused on the lecturer and noting the most important points, you will have increased concentration and not be tempted to drift off into another world. This will also ensure that you won't miss out on any important points that are raised.
When you are not taking notes, you can get easily distracted with all the events happening in the classroom. It will prevent you from focusing on what your teacher is saying. For this reason, note-taking can help improve your listening and concentration skills.
To Organise Study Materials Properly
You may find it easier to organise all your study materials if you make a bulleted list of all the essential points of the lecture. Whenever you are in class, you must jot down the highlights of the lecture in bullet form so you can remember the points mentioned by the lecturer more vividly.
Organising and revisiting your notes after attending lectures can help you to figure out any areas that you don't fully understand that you may need to work on. You can also expand on your notes, do further research into key terms mentioned in the lecture and look into resources or readings recommended by your lecturer to solidify your knowledge. You might find it helpful to re-write your notes with your additional post-lecture research included and then highlight the completed notes so you have a more visual aid to learn from.
If you do this, you can come up with other useful visual aids like bar graphs, block diagrams, or pie charts to help you understand the lessons properly.
To Improve Performance In Class
Various researches claimed that students who take down notes usually score better in quizzes and rank higher in class compared to those who opted not to write on their notebooks. It can be the result of the retention of the important lecture points that they absorbed while writing.
Also, those who have the notes can always skim through their notebooks if they need to review for an upcoming exam. It can help them save time instead of browsing through thick textbooks. Students may also exchange university study notes in the UK to help them prepare for a graded quiz or other important exams.
To learn actively
When students choose to take study notes, they are processing and starting to learn the information they are recording simultaneously while writing them down. They will also stay more interested in the subject area. The key to making notes is to keep them brief and only jot down the subject area's most important and relevant points. By taking notes, highlighting them, and breaking them down into small chunks, you will start to piece together the information, which will give you a better chance of remembering when it comes to exam time.
To find what works best for you
Students have lots of options when it comes to taking effective notes. Some might prefer to jot everything down by hand, while others might prefer to type their notes on a computer. There is no right or wrong way when it comes to taking notes but finding what works best for you is crucial to effective note-taking that will actually help you to retain the important information you need to know.
There are different note-taking methods, with many people opting to make what is known as 'linear' notes, which are written going down a page with lots of subheadings that give the learner plenty of space to add detail to their notes. When making linear notes, it is important to use headings for the main concepts and then include sub-headings under the headings to address the key points within the idea. By using bullet points, you can then ensure that you cover a topic per line which will help you to keep your notes clear, concise, and easy to understand when you read back over them. This form of note-taking allows you to underline or highlight key areas, and it is crucial to leave lots of space on your page between the text to make your notes easy to read and to give you room to add further detail if needed when reflecting on them.
Some people learn better by keeping their notes visual, and one way to do this is to sketch out what is known as a mind-map or spider diagram. These tools are usually kept to just one page, allowing you to easily digest information and process your notes at a glance. To take mind-map notes, it's crucial to use paper that is at least A4 in size to give you enough room to jot everything you need down. You put the subject in the middle of the page and then branch your subsequent notes outwards from this, outlining how they are connected on each joining branch. This method also allows you to add smaller branches of relevant details and examples to reference. Due to them being visually striking and easy to look at, spider diagrams and mind-maps allow you to easily identify gaps in your notes and lets you know what else you need to learn.
Regardless of which method you prefer to take notes in, it will be easier to understand your notes if you keep them brief and selective about the information you choose to jot down. As mentioned, it is important to outline how various points relate to each other in your notes to solidify your understanding of a topic and to put points into your own words and make them memorable by adding colours and underlining them. As effective note-taking is key to successful study, there will be an element of trial and error for you to find the ideal note-taking method for you.
To have a backup
Today, there is a whole host of course resources that are available online to help students get ahead in their subject areas, and online study is growing increasingly popular. It would be easy for students to think that they don't have to take notes because everything they need is easily accessible on the internet. However, what happens if the website or their internet connection goes down when they need to revise for an exam or when they need to double check a theory before submitting their coursework? This is where taking down physical notes from a seminar or lecture as a backup is most important, regardless of whether you are studying for an online degree or attending university in person.
Having said this, signing up for an online course like an EdD Program Online with no GRE requirement brings with it plenty of benefits. By choosing to study online, you can enrol on any course based anywhere in the world, and you can learn at your own pace and on your own terms, fitting study in around your current commitments.
Course resources, additional support, seminars, and lectures are usually available online for you to access at any time. However, by ensuring that you have a set of notes jotted down in a notebook or saved in a document on your computer is the sensible thing to do and will save any student's skin if they find themselves in a pickle if their internet won't connect.
Taking down notes is very important for any student in the UK to be able to meet the stringent educational standards of the region. It could be the best study guide that could help you remember all the crucial study points, so you no longer have to research it in your textbooks. If you regularly write or share study notes, you will perform and score better in class.