When people wear glasses, they wear it not only to see better but also to look better. It won't hurt to add a little style to the glasses while it corrects vision. Before getting prescription glasses, there are several factors to consider to ensure there won't be any regrets once the glasses are worn.
Fortunately, there are different types of glass frames you can choose from to suit your needs. You need to know what frame best suits your face. People have different head features such as the eyes, nose, hair, lips, etc. All of these features are essential factors in determining what kind of glass frame to get.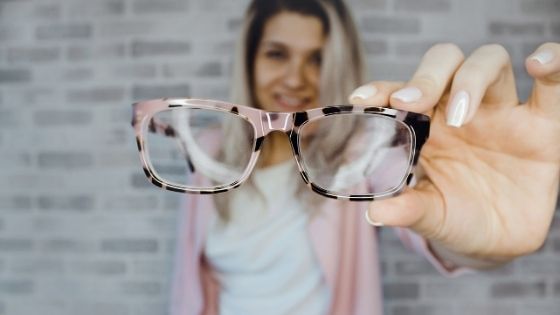 What's the Importance of Choosing the Right Glass Frame?
As mentioned before, you need the glass frame to suit your needs. Comfort and style must come into play with glass frames, especially if you wear the glasses every day. Sometimes, people prefer to choose a lightweight frame instead of a heavy one because it may put weight on the back of the ears and the nose bridge.
Usually, there are a few questions to ask yourself when choosing eyeglasses.
• Is it for everyday use?
What you need is a sturdy frame that won't easily break when it falls. Usually, a thicker frame is best for daily use.
• Do you need glasses for a special occasion?
In these situations, wearing a glass frame with colours or prints that match your outfit is a good option.
• What is your daily environment?
Matching your glasses with your daily environment matters, especially when you habitually take it off and put it on a surface. Outdoor environments, for example, will require you to wear sturdier, thicker glasses. But if you seldom use the glasses, a thinner glass frame will do the trick.
• Do you move a lot?
Fragile frames are not suitable for activities that require a person to move around a lot. It would be best if you had a frame that keeps your spectacle lenses intact no matter how wide your range of movement is.
Once you have answered these questions, you should have a clear image of how to treat and wear glasses.
Determining the Face Shape
Not every frame fits exactly into someone's head. The glasses may look good on one person but may look unappealing on another. Some have a wider head, so small glass frames will never fit them. The face shape is just as important as the other features of a face because it helps determine the size and design of the glasses.
Oblong – The suitable frame for oblong-shaped faces are longer than they are wide. A good example of suitable glass frames is aviators.
Oval – Frames that span the widest part of the face is suitable for oval-shaped faces. It's also the ideal shape because of its symmetry.
Square – A square-shaped face usually has the jaw and forehead width. The best glass frames for this shape are the narrow ones. When a person wears this, it adds length and softens its angles.
Round – A round face needs a glass frame that adds length and angle. A rectangular, narrow, and rimless frame will suit any round face.
Make sure to discuss with optical experts if there are doubts when choosing a glass frame. They can give a more detailed advice when it comes to glass frames.