Haircare is one of the most important parts of everyone's daily routine. The choice for types of hair oils is almost endless. Every type of oil has its own advantage. So, you need to know the best herbal oil for your use. Everyone suffers from different types of hair problems. So, the choice of hair oil also depends on the solution that particular hair oil provides.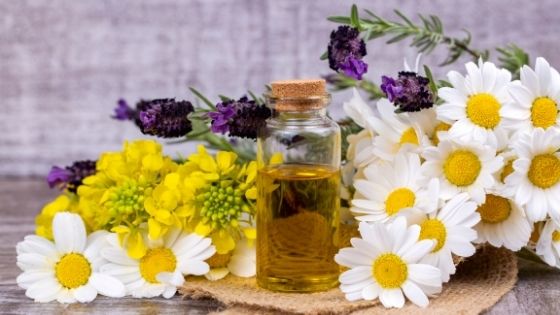 In this article, we will take a look at the top 5 herbal hair oils and the different hair problems that they treat.
Best Herbal Oil for Hair Care
Are you ready to know the top 5 herbal hair oils and their benefits? Let's get right into it.
1 – Coconut Oil
Coconut oil is probably one of the most popular hair oil used worldwide. It helps to protect against heat. It moisturizes hair strands and prevents hair from breaking and getting physically damaged. It also helps to avoid hair fall and in turn helps to grow lush, thick hair. As coconut oil tends to retain moisture in the hair, it stays active for a longer time.
This makes coconut hair oil one of the most popular and effective herbal oils for hair care.
Coconut oil contains fatty acids. The fatty acids get deep into your hair, even better than normal hair conditioners. Coconut oil is the best choice for silky, and shiny hair.
2 – Argan Oil
Argan oil is extracted from nuts of the Argan tree, which is found growing mainly in Morocco. It is also called Morocco oil and is wonderful for making your hair soft and smooth. The oil of Argan contains numerous beneficial compounds, including fatty acids, antioxidants, vitamin E, and ferulic acid. Antioxidants in the Argan oil are excellent for preventing hair damage from the UV rays in sunlight.
Only a few drops of Argan hair oil is enough to nourish and moisturize your hair. It is also excellent to prevent damage from heat. Also, Argan oil helps to remedy dry hair and frizziness by making your hair softer. As Argan oil is not as greasy as coconut oil, it is highly recommended to be used more frequently. It can be used as the perfect styling oil too.
For best results, simply rub a few drops of Argan oil on your palms and spread the oil evenly on dry or moist hair only. Use daily for more noticeable results.
3 – Castor Oil
Castor oil is derived from castor seeds. It is one of the best herbal oils for faster hair growth. Thanks to the numerous beneficial components, such as proteins, minerals, vitamin E, and antioxidants, castor oil helps create keratin in hair. This makes your hair longer and stronger. Cold-pressed type of castor oil is highly recommended by hair care experts. Pure, virgin castor oil has immense benefits, such as fighting hair loss, preventing dandruff, and infections on the scalp. It is also excellent to keep hair moisturized and avoid split ends. Castor oil is not just good for your hair, but can even be used to keep your eyelashes long and lush.
4 – Jojoba Oil
Jojoba, pronounced as "ho-ho-ba", is extracted from the Jojoba plant. Its properties are extremely similar to sebum, which is the natural oil produced by our scalp. This ensures that it is highly suitable for your scalp and hair and has no side effects.
Jojoba oil is excellent to keep the hair hydrated, moisturized, and the hair follicles healthy. The jojoba oil is highly recommended for the treatment of scalp problems and dandruff.