Are you a nature lover? Do you love the feeling of being outside and spending time relaxing with nature and just taking it all in? Between the crisp fall air, the fragrant flowers of spring, the abundant sunshine, and the sounds of the birds chirping, nature offers us so many wonderful things to enjoy.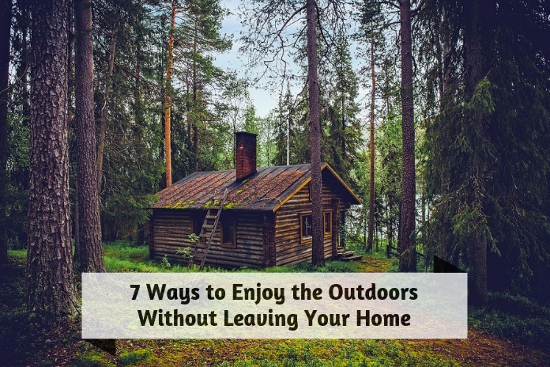 Wouldn't it be wonderful to incorporate some of the joy and wonder of nature into your home? How would you like to be able to enjoy nature on a cold or rainy day when you otherwise wouldn't be able to go outside? Wouldn't it be lovely to wake up each morning in your own natural oasis?
Well, with just a few small changes and upgrades, you'll be able to enjoy all the relaxing and wonderful aspects of nature from your own home!
Decorate Your Home with Plants and Flowers
One reason nature is so beautiful is because of all the vibrant colors found on the plants and flowers. In order to make you feel like you are out in natures, bring some flowers and plants into your home. Pick a mix of colors, sizes, and heights of flowers to help add some flair to your decorating! There are a lot of plants that grow well inside and are easy to care for. These will give you the best of both words. They will give you the touch of nature while also not taking up too much of your time with caring for them. Here are some plants that are great for the indoors:
Spider Plant
Boston Fern
Bamboo Palm
Gerber Daisy
Snake Plant
Aloe Vera
Chrysanthemum
Dwarf Azalea
Let the Light In!
The sun's bright rays light up the sky over beaches, fields, mountains, and canyons. There is a definite difference between sunlight and artificial light from lamps. You can't create the look and feel of nature without natural lighting! Look for areas in your home where you can let more natural light in. Maybe it means opening your blinds and curtains more. Maybe you need to trim back a few branches on the tree in front of your window. Perhaps, you could even consider adding skylights or a screened in porch or sunroom. Whatever you do that increases the natural light that makes its way into your house will help you feel like you are out in nature even though you are in your own living room!
Use Natural Materials for Flooring
There are so many natural flooring options that can bring that outdoorsy feeling inside! Ditch your carpets and laminate flooring in favor of more natural materials, Beside, you can use carpet cleaners that will add distinct beauty to the floor. Look for hardwoods, cork, bamboo, or even wool. These surfaces will bring the warmth and feel of nature right under your toes! If you are interested in replacing your flooring with more natural materials, you can visit this website for some ideas and inspiration!
Install a Glass Balustrade on Your Deck Or Patio
Another way you can enjoy nature from the comfort of your own home is through taking in gorgeous views. Take time to sit on your deck or patio. Relax and read a book, talk with friends or family, or simply just take in the beauty of nature! Installing a glass balustrade on your deck or patio can improve the view even more! You won't have railings blocking your view and you'll feel more at one with nature! Brisbane Glass Balustrades are a great option you can consider to help you improve your view!
Choose Paint Colors That Mimic Nature
Liven up your space and choose paint colors that mimic the colors you'll find in nature. Boring white walls don't stimulate your senses the same way that the green grass, blue skies, and colorful flowers found in nature do. So, ditch your dull walls in exchange for brighter colors. You could even paint (or have someone paint) murals on your wall depicting some of your favorite scenes from nature. A bright and sandy beach in your bedroom, snow-capped mountains in your dining room, or a tropical rainforest in your living room could really brighten your day every time you see them.
Bring the Smell of Nature Inside
Nature has very distinct smells. Whether it is the fresh pine smell in the mountains, the warm salt air at the beach, or the fresh flowers in a garden in the summer, the smells of nature entice and excite our noses! Recreate some of these smells in your home through the use of fragrant candles. Many stores sell candles that smell like different locations in nature. You can even consider making your own candles. This website teaches you how to make your own lavender rosemary scented candles. This fresh smell will help relax you and bring the feeling of nature to your home.
Another simple way to make your home smell more like nature is to open your windows and let fresh air in. On nice spring, summer, or fall days, trade your air conditioner for a natural breeze. Open windows or doors that across from each other to create a comforting and cool cross breeze! Not only will your house smell more like the outdoors, but it'll also feel more like the outdoors with the cool breeze!
Create a Nature Playlist
Bring the sounds of nature right to your living room by creating a nature playlist for those times you just want to relax! Find relaxing sounds such as waves crashing on the beach, birds chirping, or a brook babbling over rocks. Just close your eyes and it will be quite simple to start to feel like you are in nature with a front row seat to that babbling brook or those birds chirping in the treetops!
There are so many simple ways to bring the outdoors into your own home. With just a few changes, you'll start to feel as if you are out enjoying nature when you are really just relaxing in your living room, bedroom, or out on your patio! Hopefully you have found some inspiration to bring the outdoors into your home!