Your bedroom should be your retreat – a place where you can relax, unwind, and recharge. But all too often, bedrooms become cluttered catch-alls for everything from clothes to paperwork. If your bedroom needs a makeover, there are plenty of reasons to give it a stylish update. If your bedroom is a mess, it can be tough to relax. Having a tidy and contemporary space to retreat to at the end of the day will help you unwind and de-stress.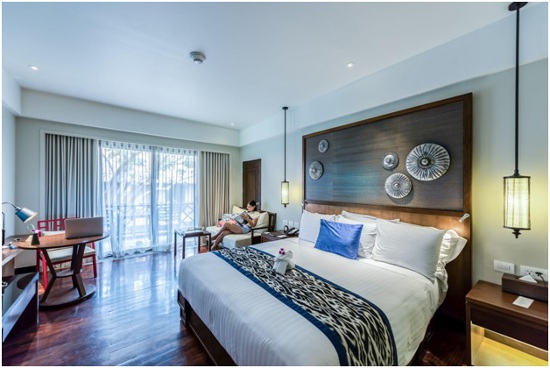 Walking into a cluttered, messy bedroom can be an absolute mood-killer. A stylish bedroom, however, can help you start your day on a positive note. Here we got some tips to help you in styling your bedroom:
Consider Bright And Neutral Colors
Decorating your bedroom can be a daunting task. But if you want to make it look good, here are a few things you should keep in mind. One of them is to use bright and neutral colors.
Bright colors will help make your bedroom look more spacious and inviting. They also help reflect light, making the space appear bright and more open. On the other hand, neutral colors create a calming and relaxing atmosphere. It is perfect if you want to get a good sleep at night.
So if you are stuck on what colors to use for your bedroom, go for bright and neutral tones. You won't regret it!
Right Size Furniture
As it's about choosing the right furniture for your bedroom and size matters, you want furniture that will fit in your space, but you also need pieces with the right proportions for the room.
Think about the scale of your bedroom and choose furniture that will complement it. A small room might be overwhelmed by a large bed, while a large room can feel cold and empty with too small furniture. As it's about complementing, you can add a chest of drawers for your bedroom for an improved look.
Choosing the right furniture for your bedroom will help to create a balanced and inviting space. You can buy some bedroom furniture online to add a stylish look to your bedroom.
Bring Some Greenery
Your bedroom should be a haven and a place where you can relax and rest. But sometimes, it can be hard to relax when your bedroom is cluttered and have no peaceful vibe. If you are looking for ways to make your bedroom more serene, one solution is to add some green.
Adding green to your bedroom can help create a more relaxing atmosphere. You can do this in several ways, such as adding green plants, painting your walls green, or even using green bedding.
If you are not sure how to get started, why not try adding a few green plants to your bedroom? They can add a touch of nature to your space. If you are not a fan of plants, you can also try painting your walls green or using green bedding. Whatever you do but adding a touch of green to your bedroom can help create a more serene and peaceful space.
Shine On
Good lighting makes your bedroom look more inviting and pleasant and can also help you to relax and feel more at ease.
Here are a few things to consider when choosing the best lighting for your bedroom. Firstly, decide what type of atmosphere you want to create. Do you want an intimate space or a bright and airy one?
Once you have an idea of the mood you want to create, you can start to think about the practicalities. What kind of light fixtures will work best in your space? You may consider ceiling lights, table lamps, or floor lamps.
It is also crucial to think of the level of light you need. If you find that your bedroom is too dark, you may want to opt for a brighter light. Conversely, if you find your bedroom is too bright, you may want to choose a softer light.
Finally, you can think about the style of your bedroom. If you have a modern bedroom, then you may want to choose a more contemporary light fixture. However, choose classic light fixtures if you have a more traditional bedroom.
Get Vibe With Mirrors
There are lots of reasons to add a stylish mirror to your bedroom. Not only will it make your room look good, but it can also help you get ready in the morning and make your room feel more spacious.
It can make your room look bigger and more spacious.
It can help you get ready in the morning by providing a place to do your hair and makeup.
Adding a mirror to your bedroom is a great way to improve the look of your room and make it more functional. Take the time to shop and find the perfect mirror for your bedroom! There are a lot of different styles of mirrors to choose from, so you can find one that fits your taste and needs.
Create A Great Atmosphere With Candles
Scented candles are a great way to add a touch of luxury to your bedroom. Not only do they make the room smell great, but they also look fabulous. Candles come in all shapes, sizes, and colors, so you can find the perfect one to match your bedroom décor.
For one, they can help you relax and unwind after a long day. If you have had a stressful day, lighting a scented candle and taking a few deep breaths can help you to relax and forget about your troubles.
Scented candles can also help to create a romantic atmosphere. Whether you are trying to set the mood for a special night with your partner or want to make your bedroom feel more romantic, candles are the way to go.
Conclusion
You will not be able to get a stylish bedroom overnight! But you can give only a little effort, and the tips mentioned above in the article will surely decrease your effort.