"I have a 64gb flash drive which won't allow me to access my data. I am getting prompted message when I try to open any document file such as The file or directory is corrupted and unreadable. Even though, when I try to format the drive, it also shows me an error message such as The disk is write protected. I have tried so many manual ways to remove write protection from flash drive, but I didn't get any satisfactory output. So, please provide me with an alternative solution to remove write protection from flash drive. Any ideas and suggestions will greatly be appreciated."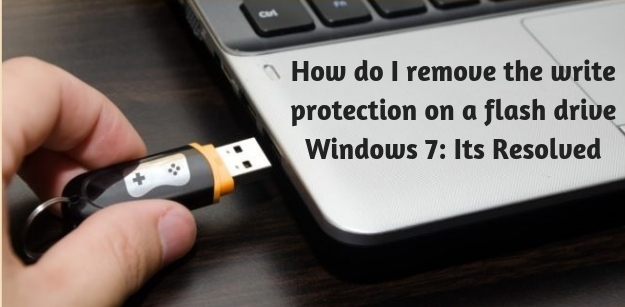 Keen Glimpse On Write Protected Pen Drive Issue
Write protection is a new term for those who never confront this kind of issue while working with USB. But, write protected pen drive is a very common error. This is generally faced by so many users across the globe. The write protection in flash drive is not an error if it is utilized in an appropriate manner. Most of the users intentionally set the write protected pen drive settings to protect the important information of USB flash drive. Mainly, this keeps your pen drive data away from any unpredicted editing or changing etc. Besides, this issue also occurs due to corruption in a registry entry, the system administrator has placed limitations and much more. In both of scenarios, a user becomes unable to access and format write protected pen drive properly. But, do not worry, because here we come up with alternative solutions to resolve the most common query such as how do I remove the write protection on a flash drive. Moreover, in the oncoming segment, we will be going to explained free techniques for the same. Let's have a look:
How to Remove Write Protection from Pen Drive Manually?
This section involves various techniques to remove write protection from flash drive for free. All the methods are discussed in an appropriate manner. Simply follow any one of them as per your comfort.
#1: Check the availability of write protection switch in USB
Manufacturer of some USB flash drives provides a physical switch which permits a user to lock or unlock write protection. The location of that switch is different as per their company. So, you have to ensure that the lock switch is slid up to unlock status. In case, if it is locked so, it shows an error such as the disk is write protected. Moreover, if you do not have that pen drive which consists of that physical button. So, move to another technique.
#2: Remove write protection from USB in windows 7 using cmd
Using the below-listed steps, you can easily remove write protection from flash drive.
Primarily, to open the Run dialog simply, press Win + R
Then, input cmd in the provided field and press Enter to open Command Prompt utility.
Here, to open the diskpart you have to type diskpart and hit Enter key
Now, type list disk and press Enter to proceed ahead.
Mark: You should have to know the drive number of your write protected flash drive appropriately.
Afterward, choose drive 0 (Here, 0 is your write protected flash drives number) and press the Enter key
Lastly, add disk clear readonly after that hit a click on Enter to disable write protection from pen drive.
If you still confront the same error message such as the disk is write protected while working with a flash drive. So, switch to another method.
#3: Remove Write Protection from pen drive with Computer Registry
Firstly, plug in your pen drive from which you need to remove write protection error with Windows 7 PC.
After that, press Win + R to start the Run dialog.
Then, add regedit in the given field and press the Enter key to open Registry.
Now, click HKEY_LOCAL_MACHINE and extend the system.
Here, select Current Control Set in System list>>Control to proceed forward.
Subsequently, check the Storage Device Policies option and then change DWORD value into 0 and select OK.
Ultimately, you have to reboot your desktop and check the write protected USB issue resolved or not.
Hopefully, you remove write protection from flash drive issue via this technique. In case, if you do not get the desired output. So, you can go with another alternative method.
#4: Format write protected pen drive using cmd
In most circumstances, formatting is the foremost solution to resolve the issue properly. So, follow the below-stated steps to format write protected USB flash drive in Windows 7.
Initially, insert your pen drive to your desktop.
Then, open This PC.
Now, right-click on your pen drive then click on Format from a drop-down menu.
In the next wizard hit on Restore device defaults option.
Here, hit on Start to begin the formatting procedure.
At last, select OK when a warning messages appear to your screen.
This format procedure takes a few minutes for completion. After that, you become able to utilize your flash drive perfectly without write protected flash drive error message.
Attention Note!
After implementing the above-explained manual methods. You may lose all of your crucial data from write protected USB flash drive. Do not worry! Because your deleted data is retrievable. It can be easily recovered with the help of SysTools Pen Drive recovery software. This recovery application is prominently used by many professional and personal users all over the world. Basically, it facilitates the user-friendly interface. So, a savvy user can also utilize it without even thinking twice. Moreover, this USB drive recovery tool is programmed with advanced features, which help to provide a flawless recovery procedure. You can utilize this recovery utility via visiting our official website.
Final Verge
Its time to conclude basically, we explained the best techniques to remove write protection from flash drive. But, the free solutions having some limitations like it may lead to data loss issue etc. So, you can take help of pen drive recovery software to get your deleted, formatted and corrupted data back from a USB drive. Thus, you can go with any technique to remove write protection from flash drive without the fear of data loss.