Today Smartphones, Smartwatches, Headphones and Tablets are too common for performing various kinds of tasks. But, still, laptops are considered as the most favorite gadget for the workplace. The laptop provides you with a large number of facilities for almost all kinds of tasks. You can make documents, edit photos and perform many other works like your desktop computer and you can easily carry it like your Smartphones.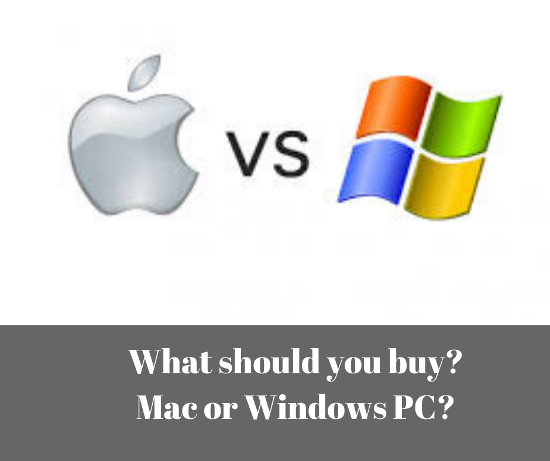 But before buying or renting a laptop, you should compare all the features of the laptop according to your budget. If you are confused between buying Mac or Windows PC, here we are discussing some things you should keep in mind before finalizing the decision.
Hardware: If you want a stylish device, then without any doubt MacBook is the perfect choice for you. The Apple logo is itself the ace of style. The ultra-thin MacBooks looks so attractive. But the cost of MacBooks is quite higher than Windows laptops. If your budget is less then Windows laptops can also be a good deal. The pros of Windows laptops over MacBooks are; there is a wide range of Windows laptos. Windows laptops come in many different sizes and color but MacBooks only come in 3 sizes. MacBooks are less customizable than Windows laptops. If there are any issues in your MacBook then repairing is little expensive than Windows laptops. If you have any issues in your laptop or MacBook then contact Laptop Repair In Gurgaon for quick and good service.
Software: Apple has many prominent applications like Photos, iTunes, Maps, FaceTime, Keynote, iMovie and many more. You can talk to other people; create music or movies, edit photos and some other task easily. If you want additional apps then you can install them from the Mac App Store. On the other hand side, you can use a large variety of applications in Windows laptops. Most of the applications are free for download, and some are available for purchase. But most of the applications don't come with the machine, you have to download and install them.
Security: For security purposes, MacBooks are the best. Macs suffer from less malware attack than other Windows laptops. Now internet attacks and hackings are increasing day by day, these attacks also influence the security of Macs. But still, the attacks are very less in comparison to Windows laptops.
Gaming: If you are a gamer then Windows can be a very good accord for you. Playing your favorite MMORPGs like Aion or DOTA on Windows 10 has its own satisfaction. Windows laptops can stream recreations from PlayStation 4 and Xbox One. So if you want a device for gaming purpose then go for Windows laptops.
Work: It's true that MacBooks are way costlier than Windows laptops. So if you need a machine for simple work like net surfing, shopping or for creating documents then Mac may not be the good option for you. If you can perform these tasks easily on Windows laptops then why go for expensive one. But if you have to perform powerful tasks, then Macs are perfect for you. MacBooks are a very powerful machine and the security feature is also very impressive.
The tips mentioned above will make your work little easy for comparing Mac and Windows laptops. Check all features before buying it and get the best one within your budget.