A personal loan is an ultimate solution to sailing through your financial emergencies. It provides you with instant funds and doesn't require any collateral to be kept as a security. They come with a wide array of benefits. One such key advantage of personal loans is that they help improve and maintain one's CIBIL Score or credit score. Usually, lenders and banks seek a good credit score to offer you the personal loan, but few of them offer it to individuals with a low CIBIL score as well. Though the applicant must comply with the eligibility criteria and shall have the documents in place.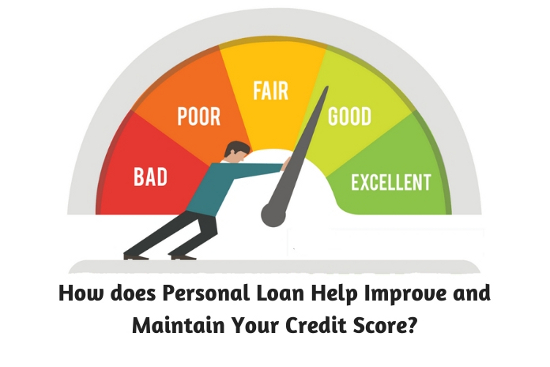 Why Should you Opt for a Personal Loan?
A personal loan is your saviour in times of financial crunches and emergencies. It offers you a lump sum amount in one go and allows you to repay it in easy monthly instalments in a few years. Since these loans do not require any collateral, there is no risk involved in losing a vehicle or property to the lender in case you default. Also, the best part about personal loans is that the applicant can use the money as per his jurisdiction. He can pay for other debts, meet out medical emergencies, home renovation, travel, financing wedding or education etc. A personal loan is offered by several banks and NBFCs with instant approval so that you don't have to wait for long during the need of the hour.
What is Credit Score?
A credit score is a direct reflection of your creditworthiness. Also known commonly as the CIBIL score, it is a statistical number which is given on account of your credit report managed by the Credit Information Bureau India Limited (CIBIL). All banks and lenders check the credit score of the borrowers before approving their loan. A credit score gives an insight into one's credit history, repayment history and ongoing credits and loans. CIBIL score ranges between 300 and 900. The higher the credit score, the better the creditworthiness of the applicant. Also, a high credit score gives you negotiating power to get the best deal and offer in terms of loan interest rate and loan amount.
How does Personal Loan Help Improve and Maintain Your Credit Score?
A personal loan can help you in improving your credit score. Here are some ways to use a personal loan in your favour to better your CIBIL score.
1. When credit card debt is replaced by personal loan
Credit cards are an easy way to avail credit. People indulge in more than one credit cards forgetting that these are actually debts which comes with a high rate of interest and needs to be paid back. Multiple credit cards tend to increase your outstanding balance which incurs more interest and ultimately hampers your credit score significantly.
To overcome this, one may use a personal loan to consolidate all the credit card debts. This decision of shifting to a personal loan to ease on the credit card debts shall be taken before the credit score goes down. Personal loan for debt consolidation has several benefits like:
It is cheaper than credit cards.
You are liable to pay for only one loan with a fixed EMI.
You are aware of the repayment term in a personal loan, unlike credit cards which have a rotation system. Paying regular EMIs helps improve your CIBIL score.
2. Using a personal loan to repay higher interest rate loans
Personal loans are provided by different lenders at competitive interest rates. Personal loans at a low rate of interest can be used to pay off the loans with a higher rate of interest. This helps in saving on some money which can be used to repay the personal loan on time with easy monthly instalments.
3. Maintaining a strong credit history
Personal loans play a pivotal role in maintaining a strong credit history in the long run. The only condition is that the borrower needs to pay the monthly instalments on time without any significant delays and defaults.
4. Using credit utilization ratio
The credit utilization ratio is the amount of credit you are currently using divided by total available credit. Paying off the credits of credit cards using personal loans helps in reducing the credit utilization ratio and enhancing your credit score stats.
Before committing yourself to a personal loan, thoroughly abreast yourself with the monthly EMIs. Personal loan EMI calculator gives you a rough estimate of the amount which you will have to pay every month. With so many advantages, one can go for a personal loan to improve their credit score. LoansJagat offers an excellent platform wherein you can compare different lenders of their interest rate offerings, get to know about EMIs using their EMI calculator and get the personal loan approved instantly.